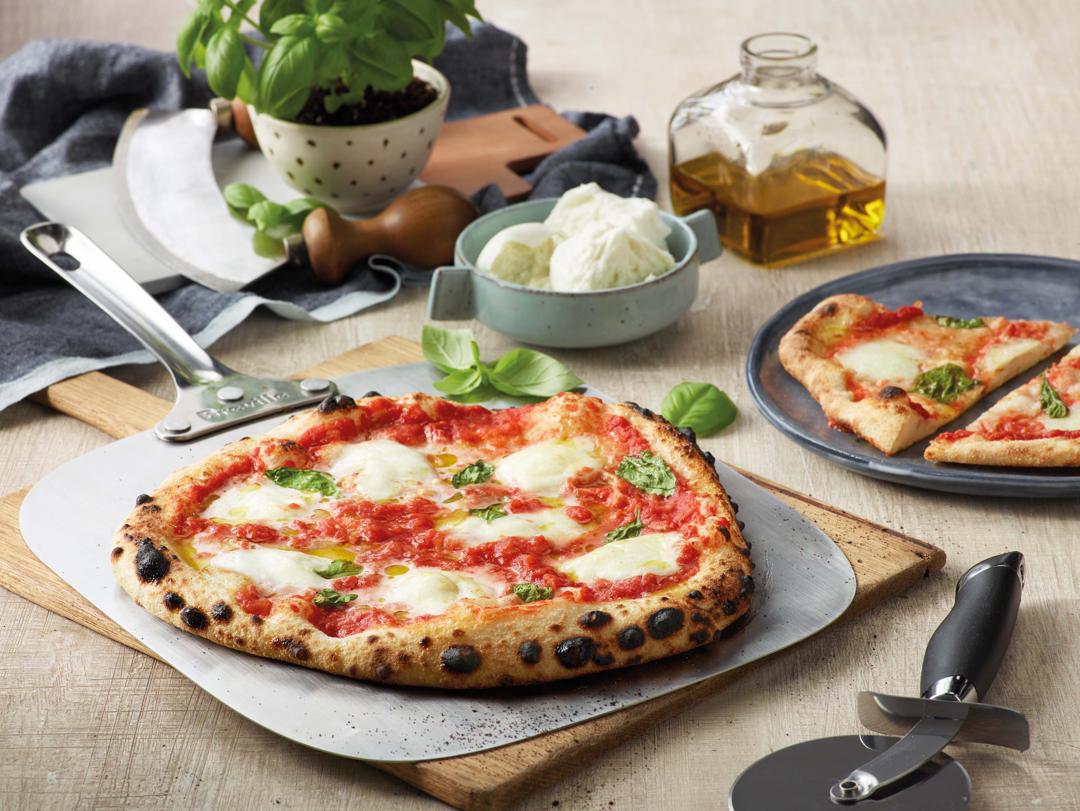 Ingredients
---
3¾ cups (1¼ lb) bread flour

1 tsp instant dried yeast

1½ cups (12 fl oz) cold water

Semolina mix

for sprinkling (see TIP)
For the pizza sauce:
14 oz can crushed tomatoes
For the topping:
12 oz fresh buffalo mozzarella

drained, torn into small pieces

1 cup (1 oz) basil leaves
Instructions
1

Combine the flour, salt and yeast in the bowl of a stand mixer. Add the water. Using the dough hook, knead on low speed for 5-6 minutes until the dough is smooth and elastic.

2

Cover the bowl with plastic wrap and let the dough proof in a warm place for 1 hour, until doubled in size.

3

Turn the dough onto a lightly floured countertop and divide evenly into four pieces. Shape each piece into a smooth ball.

4

Lightly sprinkle two baking sheets with the semolina mix and place the dough balls 4-inch apart on the sheets. Drizzle a little oil over each ball and spread to coat the dough. Cover with plastic wrap and refrigerate for at least 6 hours or up to 5 days (refrigerating the dough for 1-3 days is ideal but it can be refrigerated for up to 5 days).

5

When ready to prepare pizzas, remove the dough from the refrigerator and let stand, covered, at room temperature for 1 hour.

6

Meanwhile, to make the pizza sauce, process the tomatoes and salt in a blender or food processor until smooth.

7

About 20 minutes before the dough is finished resting, select the WOOD FIRED setting and preheat the oven (preheat can take up to 20 minutes).

8

Sprinkle clean countertop generously with the semolina mix.

9

Transfer one dough ball to the prepared countertop. Keep the remaining dough covered to prevent it from drying out.

10

Coat the dough ball in the semolina mix and working from the center, press it into a 6-inch round, leaving a ¾-inch, then gently stretch it into a 9-inch-11-inch circle.

11

Lightly sprinkle the pizza peel with the semolina mix. Carefully transfer the dough onto the pizza peel, gently shaking off any excess semolina mix.

12

For the topping, spread one-quarter of the pizza sauce evenly over the dough, leaving a ¾-inch border. Sprinkle with one-quarter of the mozzarella and basil leaves.

13

Use the pizza peel to transfer the pizza to the oven. Cook for 2 minutes, until the edge of the crust is spotted brown and the cheese is melted.

14

Slide the pizza peel under the pizza, remove it from the oven and transfer to a cutting board. Lightly drizzle with oil and cut into slices to serve. Repeat with the remaining dough, sauce, mozzarella and basil.

Tip: To make the semolina mix, combine equal quantities of semolina and all-purpose flour. Store in an airtight container in the pantry.