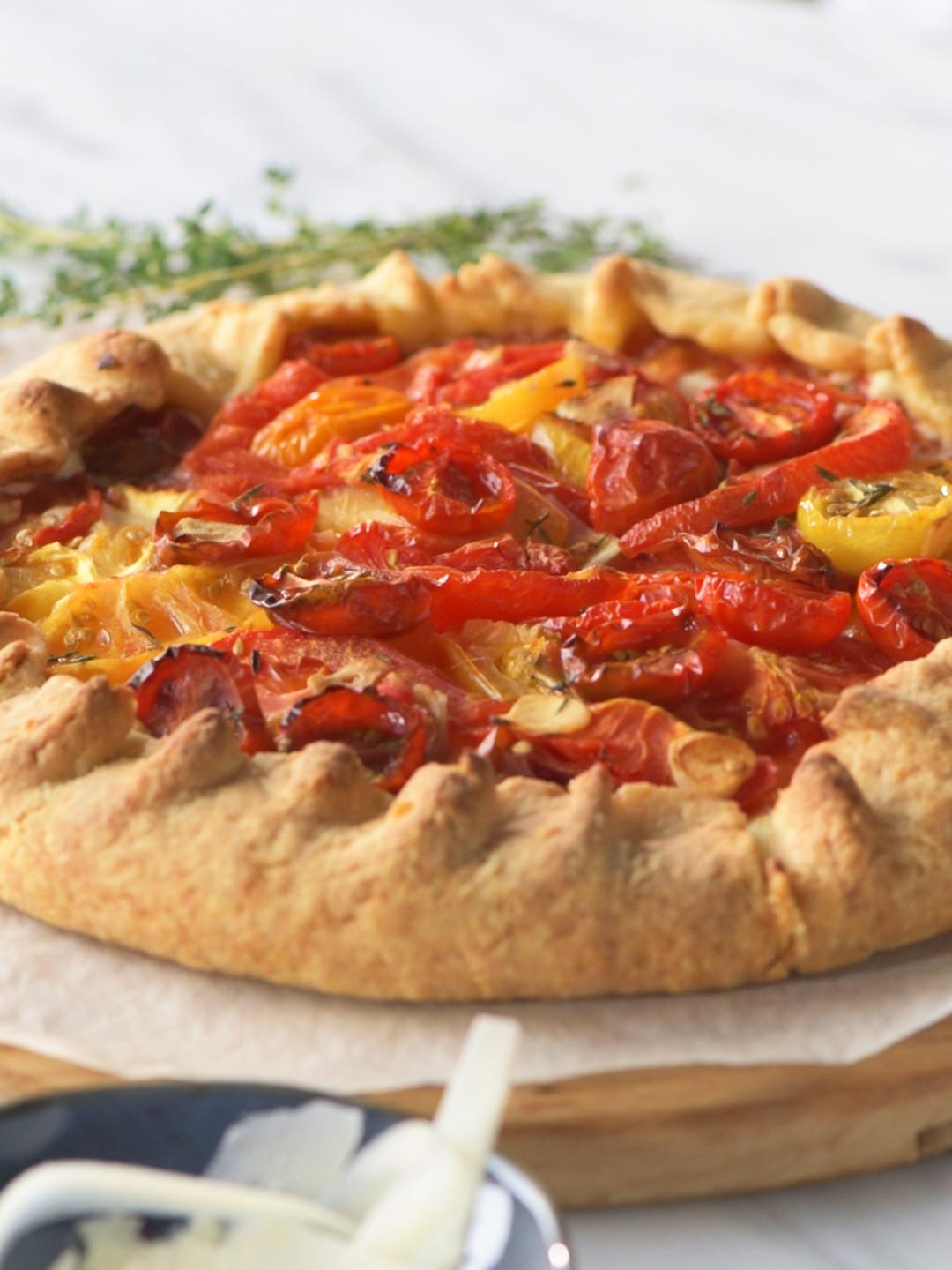 Tomato and Goat Cheese Galette
With a parmesan-flavored crust cradling fresh seasonal tomatoes, this rustic pie makes the most of the best summer produce.
Ingredients
---
For the dough:
1½ cups (8 oz) all-purpose flour

¼ cup (¾ oz) grated parmesan cheese

5 oz cold unsalted butter

cut into ½-inch cubes

¼ cup (2 fl oz) iced water
For the filling:
1½ lb mixed tomatoes (heirloom, cherry, vine-ripened)

2 cloves garlic

thinly sliced

5 oz goat cheese

at room temperature

Extra-virgin olive oil

to serve
Instructions
1

Pulse all the ingredients listed below until the mixture resembles coarse crumbs.

2

Pulse until fine crumbs form. Overworking the dough can cause it to shrink during cooking and become tough.

3

Shape the dough into a ball, flatten, and wrap in plastic wrap. Refrigerate for at least 1 hour to allow the gluten to relax. This makes it less likely to shrink during cooking and creates a more tender crust. Meanwhile, prepare the filling.

4

If using large tomatoes, cut them in half and then into ¼-inch slices. If using cherry tomatoes, cut them in half.

5

Add the garlic and sprinkle with the salt and sugar. Gently toss to coat. Cover and stand for 1 hour to draw out the excess liquid. This allows the crust to crisp during cooking.

6

Then add the thyme.

7

Grease and line the pizza pan with parchment paper. Roll the dough on a lightly floured countertop into a 12-inch circle and place it on the pan.

8

Spread the goat cheese, leaving a 1-inch border. Top with the tomato mixture.

9

Bring the edge up and over to partially cover the tomatoes, overlapping and crimping to seal. Refrigerate for 15 minutes to firm up the dough.

10

Insert the wire rack into position 5.

11

Once preheated, place the pan in the oven and start the timer.

12

The base should be browned and crisp. If not, give it a bit more.

13

Transfer to a wire rack and cool for 30 minutes.

14

Drizzled with oil.