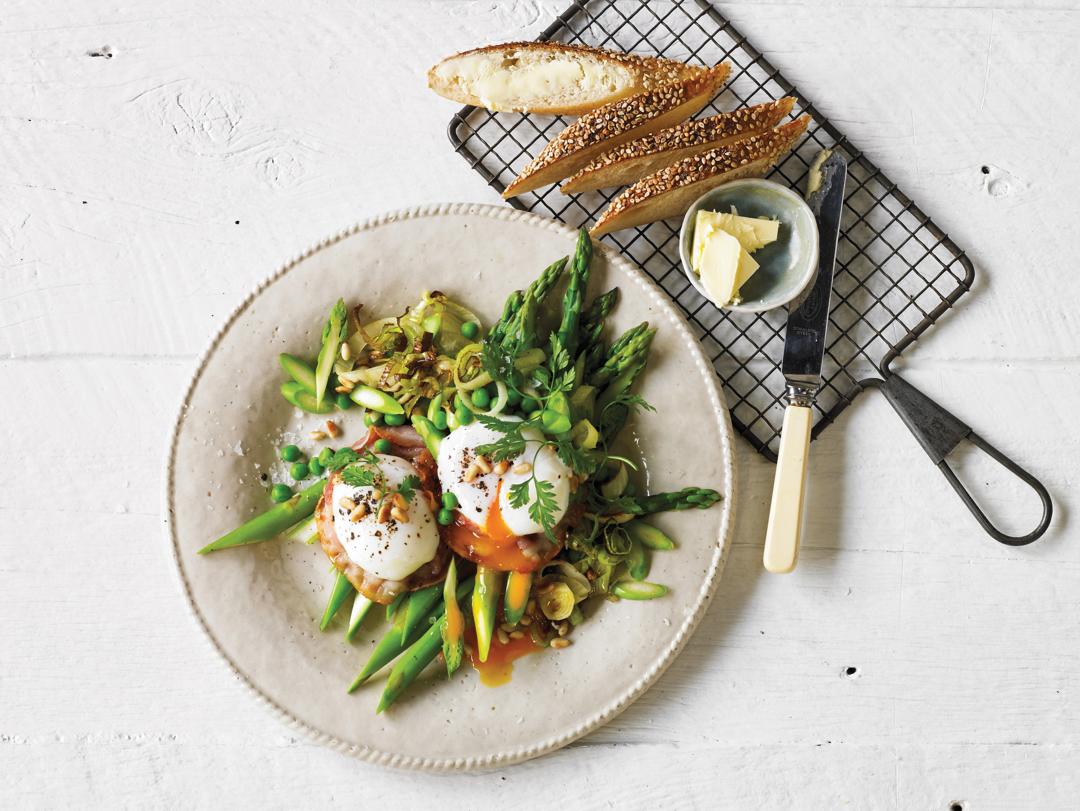 Eggspert Eggs on Sautéed Greens and Crispy Pancetta
Ingredients
---
8¾ oz asparagus

woody ends trimmed

1 leek

trimmed, white part thinly sliced into rounds, rinsed well

1 lemon

zest finely grated

1 cup (5¼ oz) frozen peas

at room temperature

Freshly ground black pepper

to season
Instructions
1

Place the eggs on the egg tray and lower into the pot of the Precision Poacher. Fill with water up to the EGGSPERT fill line. Cover with the lid and insert probe through the vent. Press METHOD button to select EGGSPERT. The default temperature of 167°F and 8 minutes are shown on the LCD screen. Press START.

2

Meanwhile, preheat a large non-stick skillet over medium-low heat. Add the pancetta and cook for 5-7 minutes, turning once, until light golden and crisp. Divide among 2 serving plates, cover to keep warm.

3

Reheat same skillet over medium-high heat. Add the asparagus. Cook, tossing, for 1-2 minutes until bright green and tender crisp. Divide among the serving plates, cover to keep warm.

4

Reheat same skillet over medium heat. Add the butter and leek. Cook, stirring occasionally, for 3-4 minutes until softened. Add the garlic, lemon zest and peas and cook, stirring, for 1 minute until fragrant. Season with salt and pepper, then divide among the serving plates.

5

Once the eggs have finished cooking, remove and run under cold water until cool enough to handle. Use the egg topper to top the eggs. Transfer the eggs to the serving plates. Serve sprinkled with pine nuts and pepper.