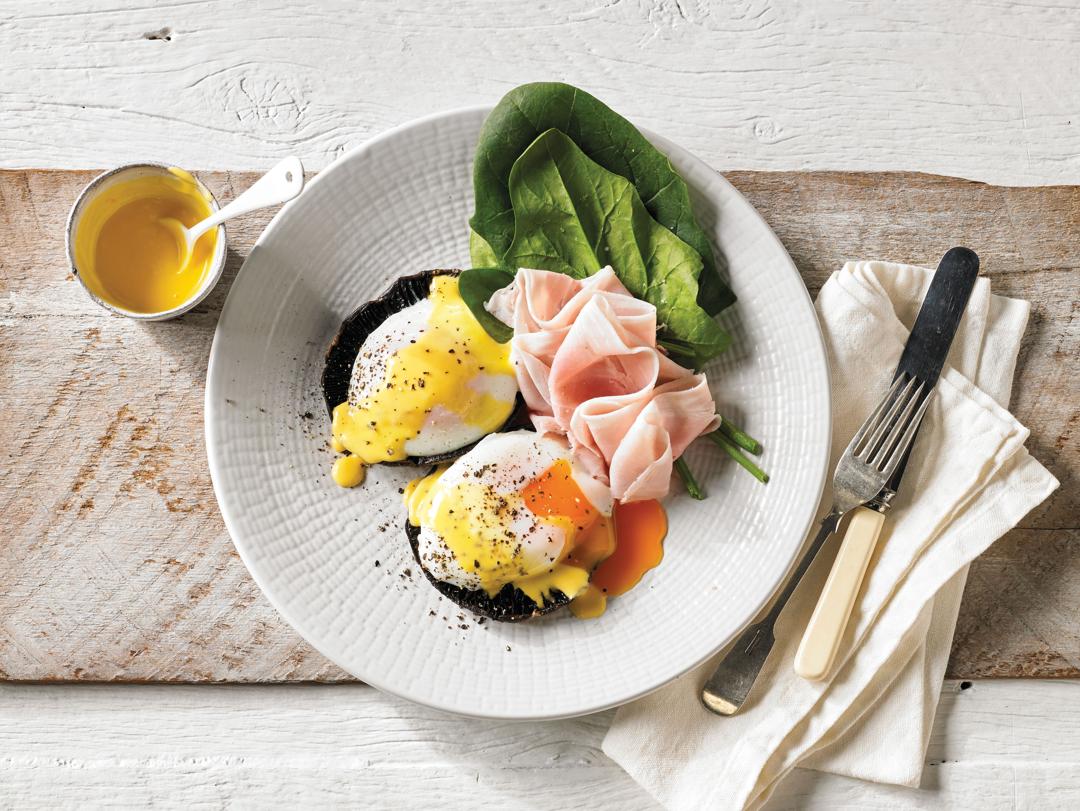 Ingredients
---
4 Portobello mushroom caps

3½ oz spinach

washed and trimmed
For the hollandaise:
3½ oz unsalted chilled butter

cut into small cubes

Boiling water to loosen

as needed
Instructions
1

To make the hollandaise, whisk the egg yolks and lemon juice in a large heatproof bowl. Place the bowl over a small saucepan of gently simmering water. Whisk for 3 minutes until the mixture becomes thick and pale. Add 1 cube of butter, whisk until melted and well incorporated. Repeat with the remaining butter, one piece at a time, (this will take about 6-8 minutes). Remove the bowl from the heat. Season with salt. Set aside. The hollandaise will thicken as it stands and cools, whisk in 2-3 teaspoons of boiling water, as needed just before serving to give a thick pourable consistency.

2

Fill the pot of the Precision Poacher with water up to the POACH fill line. Cover with the lid and insert the probe through the vent. Press METHOD button to select POACH/ BOIL. The default temperature of 185°F and 4 minutes are shown on the LCD screen. Press START to preheat the water.

3

Once preheated the unit will beep. Carefully crack the eggs into the water. Cover with the lid and insert the probe through the vent without touching the eggs. Press START to poach the eggs for 4 minutes.

4

Meanwhile, heat the oil in a large skillet over high heat. Add the mushrooms. Cook, turning occasionally, for 8-10 minutes until just softened.

5

Divide the mushrooms among 2 serving plates, cup-side facing up. Add the ham and spinach leaves.

6

Carefully remove the eggs using a slotted spoon, placing one poached egg inside each mushroom cup. Spoon over the hollandaise and season. Serve.