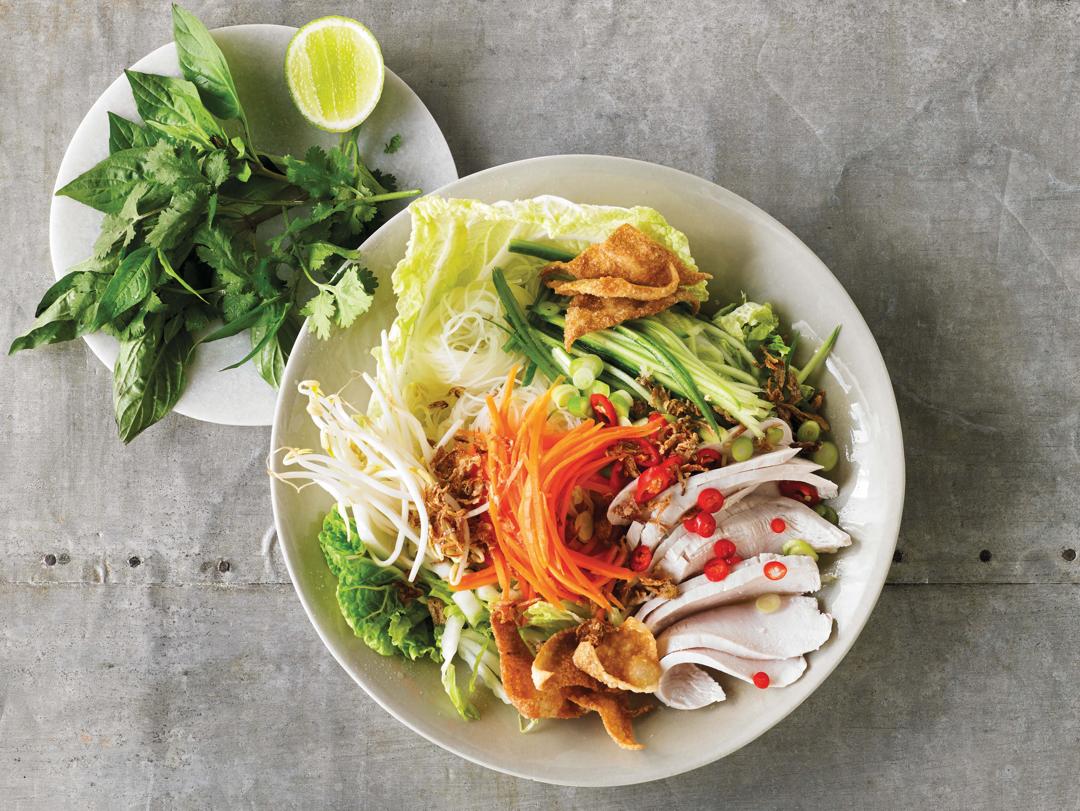 Ingredients
---
2 (7 oz) boneless and skinless chicken breasts

8¾ oz dried rice vermicelli noodles

½ Napa (Chinese cabbage)

leaves separated, then torn

1 cup (3½ oz) bean sprouts

1 cucumber

seeded, finely julienned

2 green onions

thinly sliced

2 small hot red chili peppers

thinly sliced
For the Vietnamese dressing:
¼ cup (2 fl oz) fish sauce
Instructions
1

Fill the pot of the Precision Poacher with water up to the POACH Fill Line. Cover with the lid and insert probe through the vent. Press METHOD button to select POACH/ BOIL. Press TEMPERATURE button to select 205°F. Press TIME button to select 20 minutes. Press START to preheat water.

2

Once preheated the unit will beep. Lower the chicken into the water ensuring it is submerged. Cover with the lid and insert probe through the vent.

3

Press START. Poach chicken for 20 minutes. Check if cooked through. The thickest part of the chicken breast should register 165°F. Cook 5 minutes longer, if needed. Remove and allow to cool, then thinly slice.

4

Meanwhile, make the Vietnamese dressing, combine all the ingredients in a small jar or pitcher and stir until the sugar has completely dissolved. Set aside.

5

Put the noodles in a large heatproof bowl and cover with boiling water. Let stand for 5 minutes until softened and opaque. Drain well.

6

Divide the noodles, napa, bean sprouts, carrot, cucumber, herbs, green onions and chili pepper among four bowls. Add the chicken. Drizzle with the Vietnamese dressing. Serve with pork crackling, crispy shallots and lime wedges.