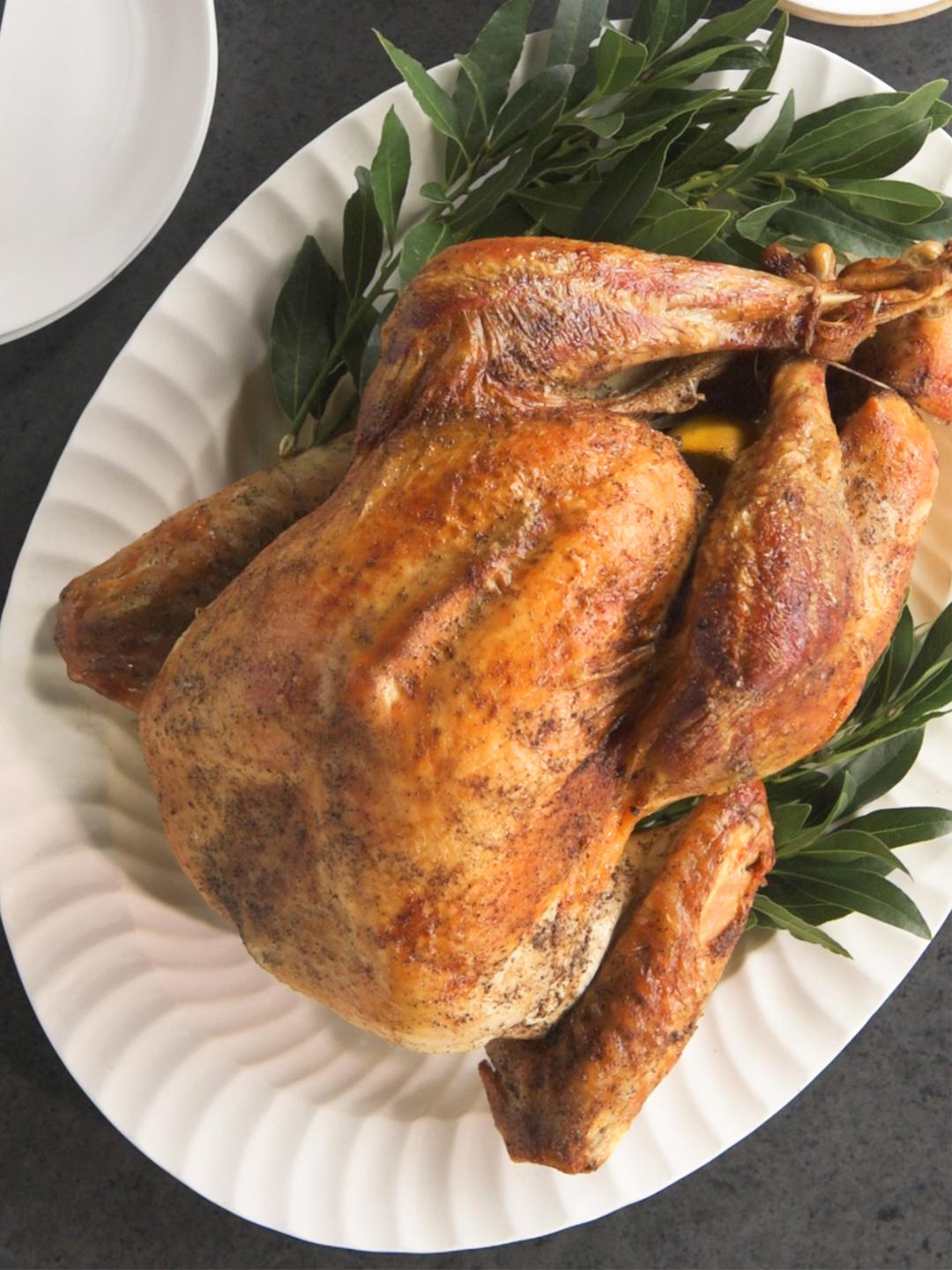 The Ultimate Roast Turkey
The key to a beautifully moist and tender roast turkey is to not overcook it and to always rest it before carving.
Ingredients
---
2 tsp freshly ground black pepper

¼ cup (2 oz) unsalted butter

melted
For the gravy:
1½ tbsp all-purpose flour
Instructions
1

Remove and discard the giblets and neck. Rinse under cold water and pat dry with paper towels, inside and out. Allow to come to room temperature for about 1 hour.

2

Combine the salt and pepper and liberally season the turkey, inside and out. Stuff the cavity with the onion, garlic, lemon and thyme to help infuse the flavor.

Tip: Other herbs can be substituted.

3

Tuck the wings under the back and tie the legs together.

4

Insert the wire rack into position 8. Meanwhile, continue to the next step.

5

Place the broiling rack in a 13-inch roasting pan. Place the turkey on the rack, breast side up and brush with the melted butter. This will help color and crisp the skin.

6

Once preheated, place in the oven and start the timer. When the Rotate Remind signals, rotate the pan.

7

The turkey is ready when a meat thermometer inserted into the thickest part of the breast reads a minimum of 150°F, and the thickest part of the thigh reads 165°F. If not, give it a bit more.

8

Loosely cover with foil and stand for 30 minutes before carving so the residual heat continues to cook it.

9

Strain the pan juices into a jug and skim off the fat, 1¼ cups (10 fl oz) is needed to make the gravy, if more liquid is needed add chicken stock or water.

10

Melt the butter in a saucepan over medium heat. Add the flour and stir until smooth and bubbling. Add the pan juices and cook, stirring until the gravy boils and thickens slightly. Reduce the heat to medium-low and simmer, for 1 minute. Stir in the thyme.

11

Carve and serve with the gravy.