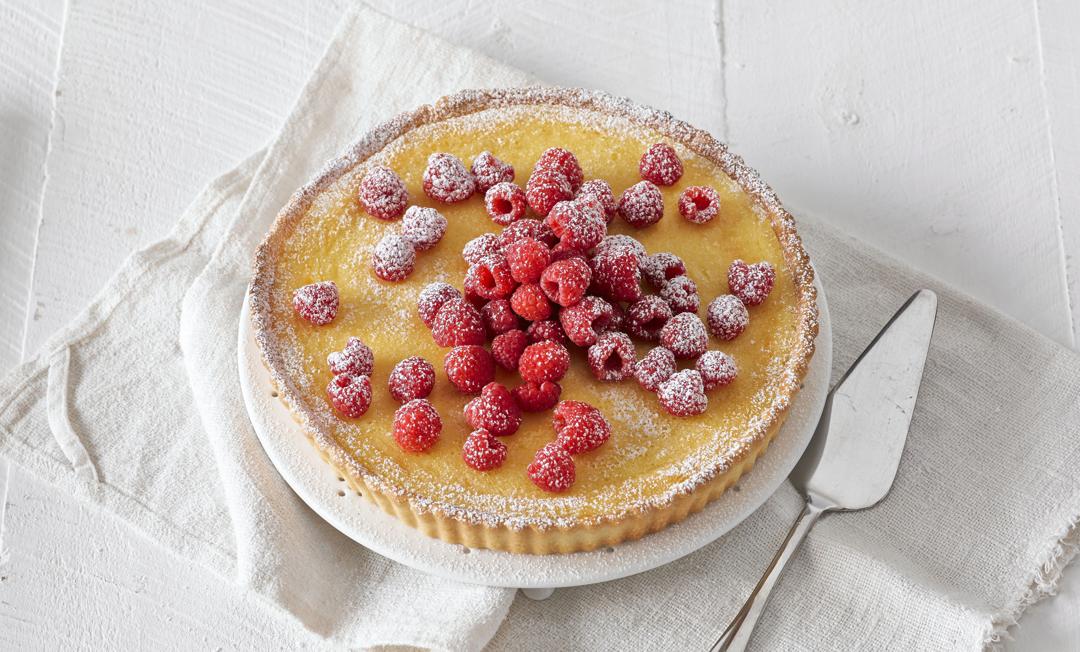 Ingredients
---
1½ cups (8 oz) all-purpose flour

⅓ cup (1½ oz) powdered sugar

4½ unsalted butter

chopped

1 tbsp ice water

approximately
For the lemon filling:
2 tbsp finely grated lemon zest

⅓ cup (2¾ fl oz) fresh lemon juice

1 cup (7 oz) superfine sugar
Instructions
1

Assemble the mixer using the glass bowl and scraper beater. Add the flour, sugar and butter to the bowl. Slowly turn the mixer to FOLDING/KNEADING setting and mix until it resembles sand-like texture. Gradually add the water until pastry forms.

2

Remove the pastry from the bowl and place onto a clean surface. Shape into a flat disk. Cover the pastry and refrigerate for 30 minutes.

3

Grease a 9 ½-inch round loose-based tart pan.

4

Roll the pastry between sheets of parchment paper until large enough to line the pan. Line the pan with pastry, gently easing it in without stretching. Trim the edges. Cover and refrigerate for 30 minutes.

5

Meanwhile, preheat the oven to 400°F.

6

Put the tart pan on a baking sheet. Line the pan with parchment paper then fill with pie weights, beans or rice.

7

Bake for 10 minutes. Remove the pie weights and paper and cook for a further 10 minutes until the pastry is light golden. Remove from the oven and cool.

8

Reduce the temperature to 350°F.

9

To make the lemon filling, whisk the zest, juice, eggs, sugar and cream in a large bowl until combined.

10

Carefully pour the lemon filling into the pastry crust.

11

Bake for 25-30 minutes until set (mixture should still be slightly wobbly).

12

Cool completely at room temperature then refrigerate until ready to serve.

13

Serve lemon tart topped with raspberries and dusted with powdered sugar.