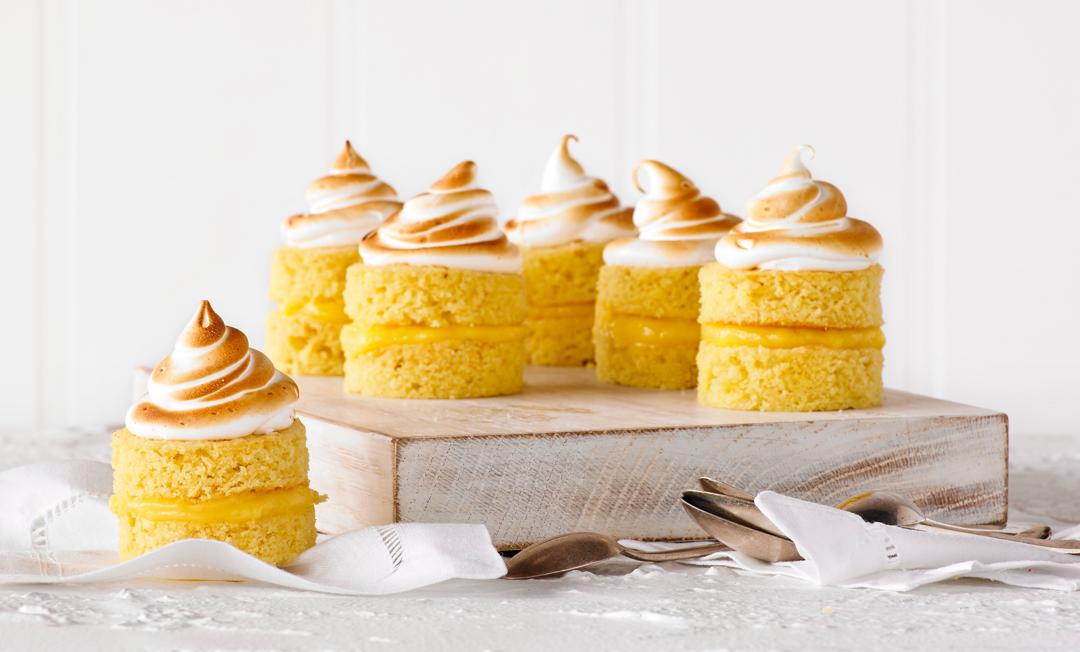 Little Lemon Meringue Cakes
Ingredients
---
1¼ cups (6½ oz) all-purpose flour

5¼ oz unsalted butter

at room temperature, chopped

¾ cup (5¼ oz) superfine sugar

1 tsp pure vanilla extract
For the lemon curd:
½ cup (3½ oz) superfine sugar

1 tbsp finely grated lemon zest

⅓ cup (2¾ fl oz) fresh lemon juice

2½ oz unsalted butter

chilled
For the Swiss meringue:
¾ cup (5¼ oz) superfine sugar
Instructions
1

Preheat the oven to 180°C. Grease a 9-inch square cake pan with parchment paper, line the bottom and sides with parchment paper, allowing the paper to overhang the sides.

2

Sift the flour and baking powder into a medium bowl and set aside.

3

Assemble the mixer with the scraper beater and the large mixer bowl. Add the butter and sugar to the bowl. Slowly turn the mixer to CREAMING/BEATING for 3 minutes until pale and creamy.

4

Place the cream, egg yolks, egg and vanilla in a liquid measuring cup and whisk to combine.

5

Reduce the speed and add half the cream mixture, then half the flour mixture. Repeat with remaining cream mixture and flour mixture until just combined. Spread mixture into the prepared pan.

6

Bake for 25 minutes until a skewer inserted into center comes out clean.

7

Cool in the pan for 5 minutes before turning onto a parchment paper lined wire rack to cool completely. Use a serrated knife to level the cake, if necessary.

8

Meanwhile, make the lemon curd, put the egg and egg yolks in a small bowl and whisk to combine. Strain the egg mixture into a large heatproof bowl. Add the sugar, lemon zest, lemon juice and butter and stir to combine.

9

Place the bowl over a saucepan of simmering water, making sure the base of the bowl does not touch the water. Stir the mixture over simmering water for 15-20 minutes until the lemon curd has thickened.

10

Transfer lemon curd to a new bowl (this prevents the curd from over cooking). Cover with plastic wrap leaving a small space open for steam to escape. Refrigerate until cold.

11

To make the Swiss meringue, put the egg whites, sugar and cream of tartar in the small mixer bowl. Place the bowl carefully over a saucepan of simmering water and gently whisk for 3-4 minutes until the sugar has dissolved and the mixture has warmed through. Assemble the mixer with the scraper whisk. Whisk the egg white mixture on AERATE/WHIP for 2 minutes until the mixture has thickened but is not stiff.

12

Using a 2 ¼-inch round cutter cut 16 rounds from the cooled cake. Top half the rounds with 1-2 teaspoons of the lemon curd. Pipe or spoon the meringue over the remaining rounds. Place meringue rounds on top of lemon curd rounds.

13

Using a kitchen blow torch, lightly brown outside of meringue.

14

Serve.