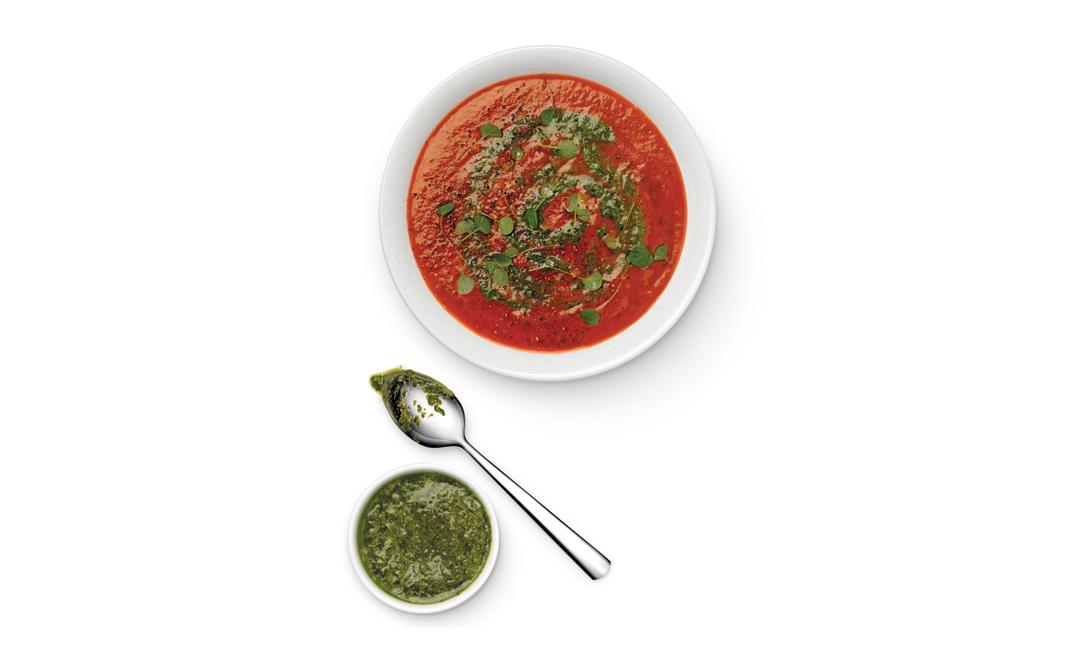 Roasted Tomato and Pepper Soup with Salsa Verde
Ingredients
---
6 (3 oz) large Roma tomatoes

halved lengthwise

2 (24¾ oz) large red bell peppers

quartered, seeds removed

1 (5½ oz) small red onion

peeled, quartered

Freshly ground pepper

to season

2 cups (16 fl oz) vegetable stock

1 cup (¾ oz) loosely packed basil leaves
For the salsa verde:
7 drained oil-packed anchovy fillets

4 cups (2¾ oz) loosely packed flat-leaf parsley leaves

½ cup (4 fl oz) olive oil

Freshly ground black pepper

to taste
Instructions
1

To make the salsa verde, put all the ingredients in the blender and secure the lid. MIX for 35-40 seconds until well combined. Season with pepper. You will need 1/3 cup (80ml) for this recipe. Transfer the remaining salsa verde to a clean, airtight container and store in the refrigerator for up to 3 days.

2

To make the roasted tomato and pepper soup, preheat the oven to 400°F. Line a roasting pan with parchment paper.

3

Put the tomatoes, peppers, onion and garlic in the pan. Drizzle with oil and season with salt and pepper. Toss lightly to coat. Roast for 40-45 minutes, until lightly colored and softened. Set aside to cool for 5 minutes.

4

Using tongs, transfer the roasted vegetables to the blender. Add the stock and tomato paste. Secure the lid. Blend on the SOUP program until the program finishes.

5

Add the basil and secure lid. PUREE for 30 seconds or until the soup is smooth. Pour into a saucepan. Stir over medium heat until hot. Season with salt and pepper.

6

Divide the soup among serving bowls. Top with the salsa verde and garnish with baby herbs.

Tip: Serve Salsa Verde on top of soups or serve over grilled or pan-fried meats, poultry, seafood or roasted vegetables. Mix unused Salsa Verde with lemon juice or mayonnaise and use as a dressing for potato salad.