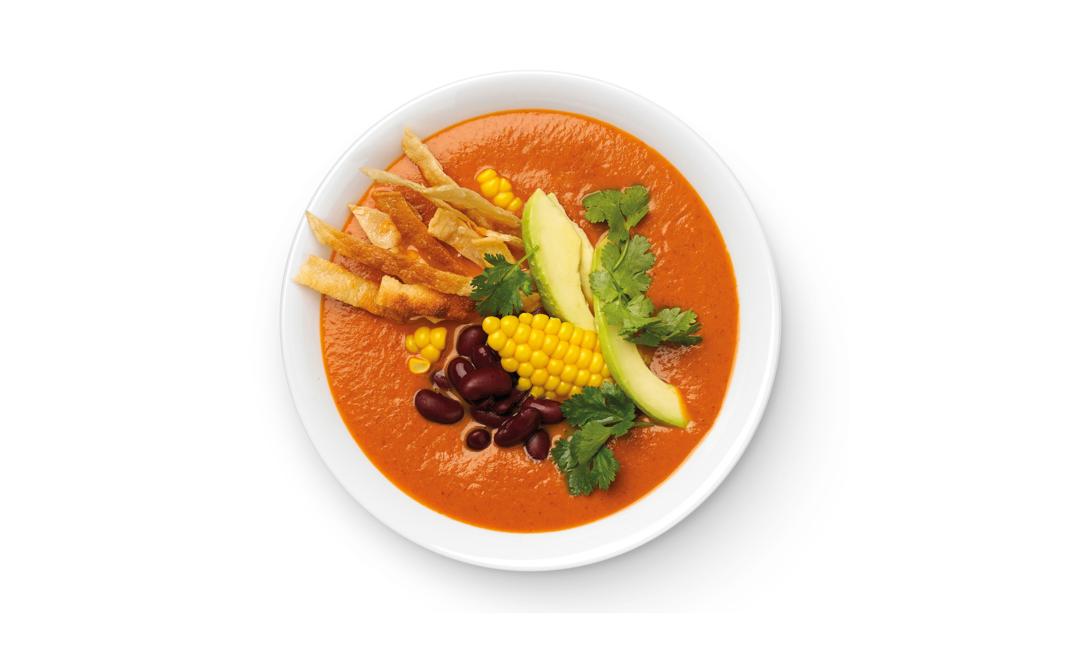 Ingredients
---
¼ cup (2 fl oz) vegetable oil

2 tsp Mexican chili powder

14½ oz can diced tomatoes

2 cups (16 fl oz) vegetable stock

15½ oz can red kidney beans

drained, rinsed

Freshly ground black pepper

to season

3 4-inch/10cm-diameter corn tortillas

cut into ¼-inch/5mm strips
Instructions
1

Put the onion and garlic in the blender and secure the lid. CHOP for 10 seconds or until coarsely chopped.

2

Heat 1 tablespoon of the oil in a small skillet over medium heat. Add the onion mixture, chili powder and cumin. Cook, stirring, for 3 minutes until the onion is soft. Add the tomato paste and cook, stirring, for 1 minute until fragrant. Transfer to the blender.

3

Add the tomatoes, stock, celery and oregano to the blender and secure the lid. Blend on the SOUP program until the program finishes.

4

Reserve 1/3 cup (3 ½ oz) of the drained kidney beans. Add the remaining beans to the blender and secure the lid. PUREE for 2 minutes until smooth. Transfer to a clean saucepan and stir over medium-high heat until hot. Season with salt and pepper.

5

Meanwhile, heat 1 tablespoon of the remaining oil in a large non-stick skillet over medium-high heat. Add half the tortilla strips. Cook, turning, for 2 minutes until golden and crisp. Transfer to a plate lined with paper towel. Repeat with the remaining oil and tortilla strips.

6

Divide the soup among serving bowls, top with avocado, corn, the reserved beans, cilantro and tortilla strips.