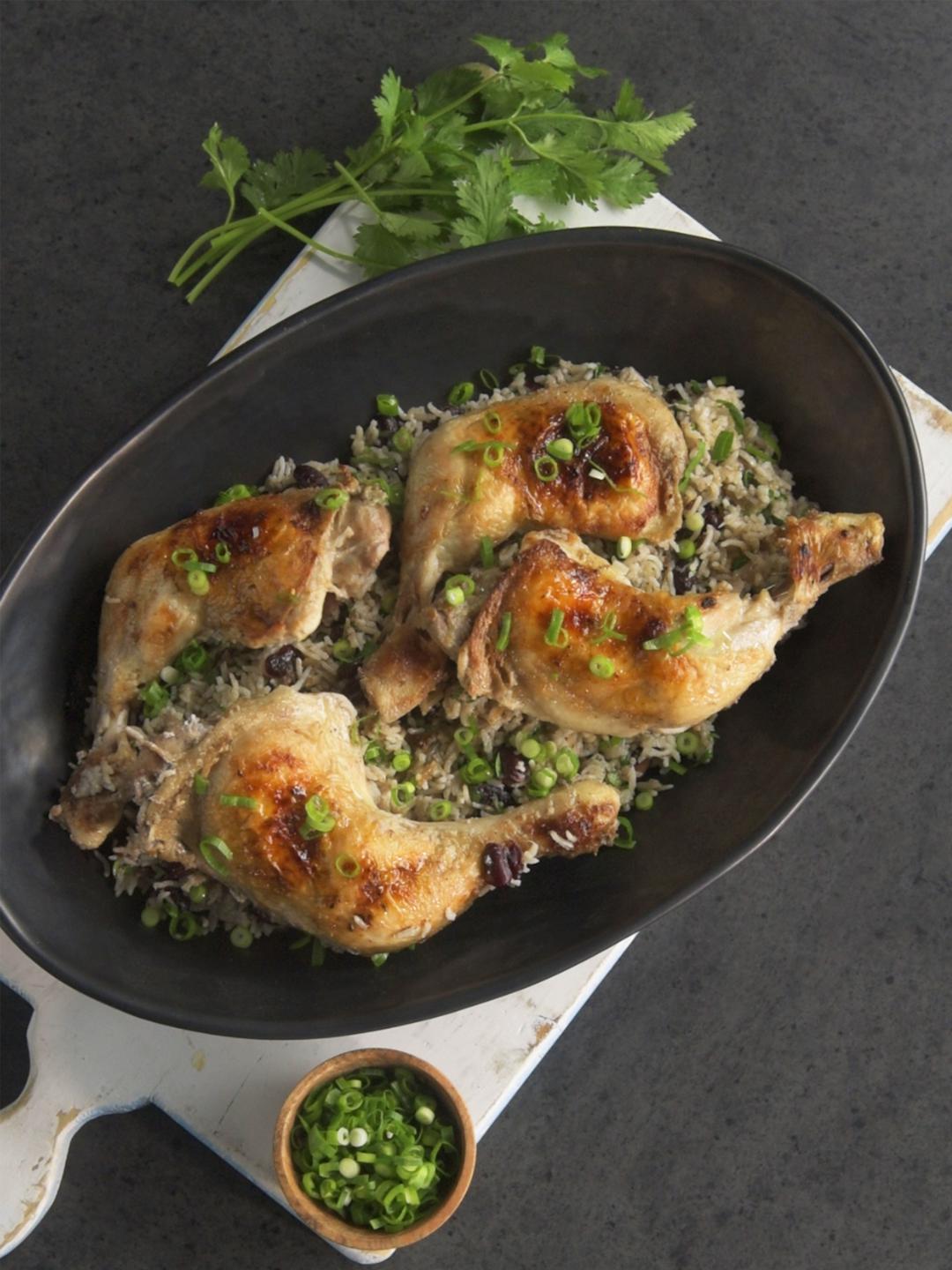 Chicken and Coconut Rice Skillet
Great for easy entertaining or weeknight dinner, this Jamaican inspired recipe comes together effortlessly. Coconut, cilantro and allspice flavored rice is teamed up with garlic, lemon chicken.
Ingredients
---
½ tsp freshly ground black pepper

5 cloves garlic

divided, minced

4 x 11 oz whole chicken legs (drumstick and thigh)

1¼ cups (10 fl oz) reduced sodium chicken broth

1¼ cups (10 fl oz) coconut milk

1 habanero pepper

split in half without cutting through the stem (optional)

½ small onion

cut into 1/4-inch thick slices

1 x 15 oz can red kidney beans

drained, rinsed

1 cup (7 oz) basmati rice

¼ cup (¼ oz) chopped cilantro

2 green onions

thinly sliced, plus extra to serve
Instructions
1

Combine the lemon juice, oil, salt, pepper and garlic in a bowl. Add the chicken, turn to coat and set aside.

2

Place the broth, coconut milk and pepper (if using) in a saucepan over medium heat. Bring to a boil, cover, then immediately remove from the heat to allow the pepper to infuse.

3

Insert the wire rack into position 6. Meanwhile, continue to the next step.

4

Heat a 12-inch cast iron skillet over medium heat. Add the remaining oil and onion and cook, stirring for 2 minutes, or until starting to brown.

5

Add the remaining garlic and stir. Add the allspice and thyme and cook, stirring for 30 seconds, or until fragrant. Reduce the heat to low.

6

Add the beans, spreading in an even layer over the onion mixture without stirring. Evenly sprinkle the rice over the top. Pour in the hot broth mixture. (Remove the pepper if less spice is preferred.)

7

Nestle the chicken pieces in the pan, skin-side up, pour over juice from bowl and cover with foil.

8

Once preheated, place in the oven and start the timer.

9

Start Autopilot to continue cooking. The oven will bake then switch to broil.

10

To test if the chicken is cooked, insert a meat thermometer into the thickest part, away from the bone, it should read a minimum of 167°F. If not, give it a bit more.

11

Transfer the chicken to a plate and rest for 5 minutes. Remove the pepper and thyme sprigs. Stir to loosen the rice and add the cilantro and green onions.

12

Spoon the rice into a serving dish, top with the chicken and sprinkle with onion.