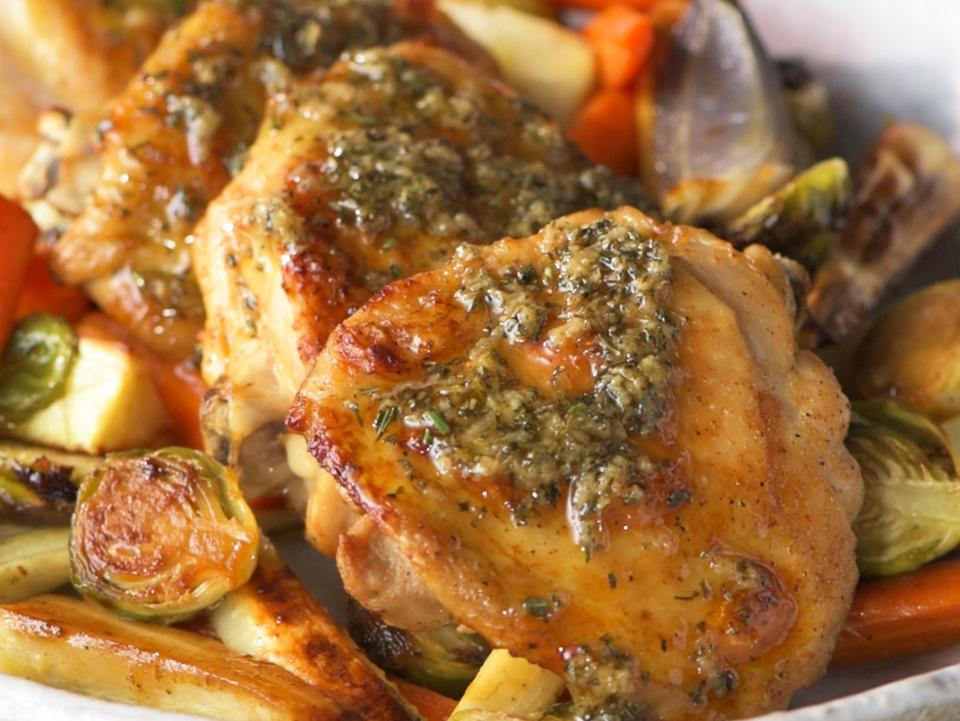 Chicken Sheet Pan Dinner with Lemon and Rosemary
Loaded with vegetables and topped with chicken, the flavor is enhanced with a drizzle of a warm rosemary, garlic and lemon infused dressing.
Ingredients
---
For the chicken:
¼ tsp freshly ground black pepper

4 x 8 oz bone-in, skin-on chicken thighs
For the vegetables:
Freshly ground black pepper

to season
For the dressing:
1 tbsp finely chopped rosemary
Instructions
1

Insert the wire rack into position 6 and place the roasting pan on the rack. Select ROAST/SUPER CONVECTION/400°F/25 minutes and enable Rotate Remind. Press START to preheat. The burst of heat from the hot pan crisps the chicken skin and stops it sticking to the pan.

2

Meanwhile, combine the salt, mustard, paprika and pepper. Drizzle the chicken with the lemon juice, spice mixture and oil, turn to coat between each addition.

3

Once preheated, place the chicken, skin side down, in the hot pan. When the Rotate Remind signals, rotate the pan and turn the chicken over. Continue cooking until the chicken is cooked through.

4

Meanwhile prepare the vegetables. Cut the carrots and parsnips into 3-inch long and ¾-inch wide wedges and place in a bowl. Cut the onion into ¾-inch wedges, leaving the core intact so they hold their shape. Cut the Brussels sprouts in half and add to the bowl. Add the oil, salt and season with pepper and toss.

5

Transfer the chicken to a dish, skin side up, and keep warm. Drain off the excess fat from the pan. Add the vegetables to the pan and toss.

6

Select ROAST/SUPER CONVECTION/400°F/20 minutes and press START.

7

Once preheated, place the vegetables in the oven and cook until tender.

8

Meanwhile make the dressing. Heat the oil in a saucepan over medium heat. Add the garlic and cook, stirring for 1 minute, or until lightly browned. Add the rosemary, lemon zest and juice and salt, stir and immediately remove from the heat.

9

Place the chicken, skin side up, on top of the vegetables, and pour any juice from the chicken over the vegetables.

10

Move the wire rack to position 4. Return the pan to the oven. Select BROIL/HIGH/2 minutes and press START. Broil until the chicken is browned and crisp.

11

Serve drizzled with the dressing.