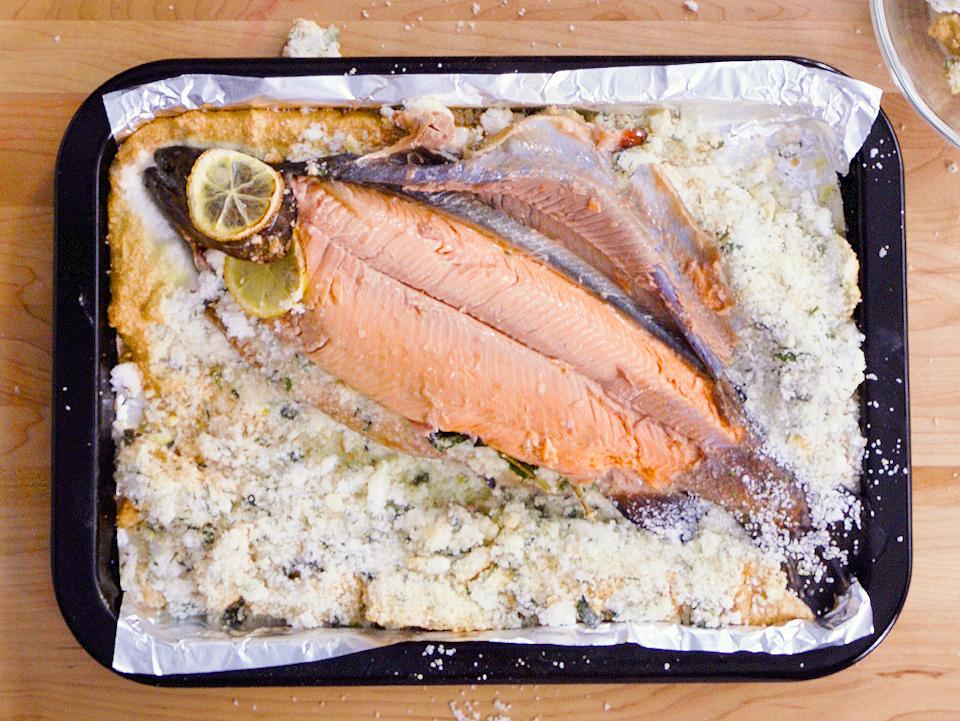 Salt and Tarragon Crusted Trout with Citrus Beurre Noisette
Trout is delicately steamed in a tarragon scented salt crust and served with a lemon infused, rich and silky butter that has been cooked until golden brown for a savory nutty flavor.
Ingredients
---
For the salt and tarragon crust:
1 bunch tarragon

leaves picked and coarsely chopped
For the fish:
1 x whole trout (approximately 1 lb)

cleaned
For the citrus beurre noisette:
4 oz salted butter

(1 stick)
Instructions
1

Insert the wire rack into position 4. Select BAKE/CONVECTION/400°F/20 minutes and enable Rotate Remind. Press START to preheat. Meanwhile, prepare the salt and tarragon crust.

2

Whisk the egg whites until frothy, add the water and whisk. Add the egg whites to the salt and mix to combine. Add the fresh and dried tarragon and combine.

3

Wipe the fish from head to tail on both sides with paper towel. Season the cavity with the kosher salt and place the tarragon sprigs in the cavity.

4

Line the roasting pan with foil. Spread approximately a third of the salt mixture over the base of the pan, slightly larger than the fish. Place the fish on the salt mixture. Evenly spread the remaining salt mixture over the fish body, leaving the head, gills and tail uncovered. Place a lemon slice into the gill slit and another over the eye.

5

Create a small hole in the salt crust, along the back in the thickest part of the fish, to later test with a thermometer.

6

Once preheated, place the pan in the oven and cook for 20 minutes. When the Rotate Remind signals, rotate the pan and continue cooking. The fish is ready when a meat thermometer inserted into the hole reads 145°F. Meanwhile, make the beurre noisette.

7

Place the lemon zest and tarragon sprigs in a small liquid measuring cup. Line a sieve with a paper towel. Melt the butter in a small saucepan over medium heat. Increase the heat to medium-high and whisk constantly until the butter turns a hazelnut brown color. Turn off the heat and quickly add the lemon juice. Strain the beurre noisette through the sieve into the measuring cup and keep warm.

8

Remove the fish from the oven and stand for 5 minutes.

9

Crack open the crust by tapping with a spoon and remove, avoiding the fish. Brush off any remaining salt. Gently peel back the fish skin. Remove the fish from the bones and transfer to a serving plate.

10

Strain the beurre noisette and pour over the fish.

Tip: If your fish weighs more than 1 lb add approximately 5 minutes cooking time per extra 3½ oz.