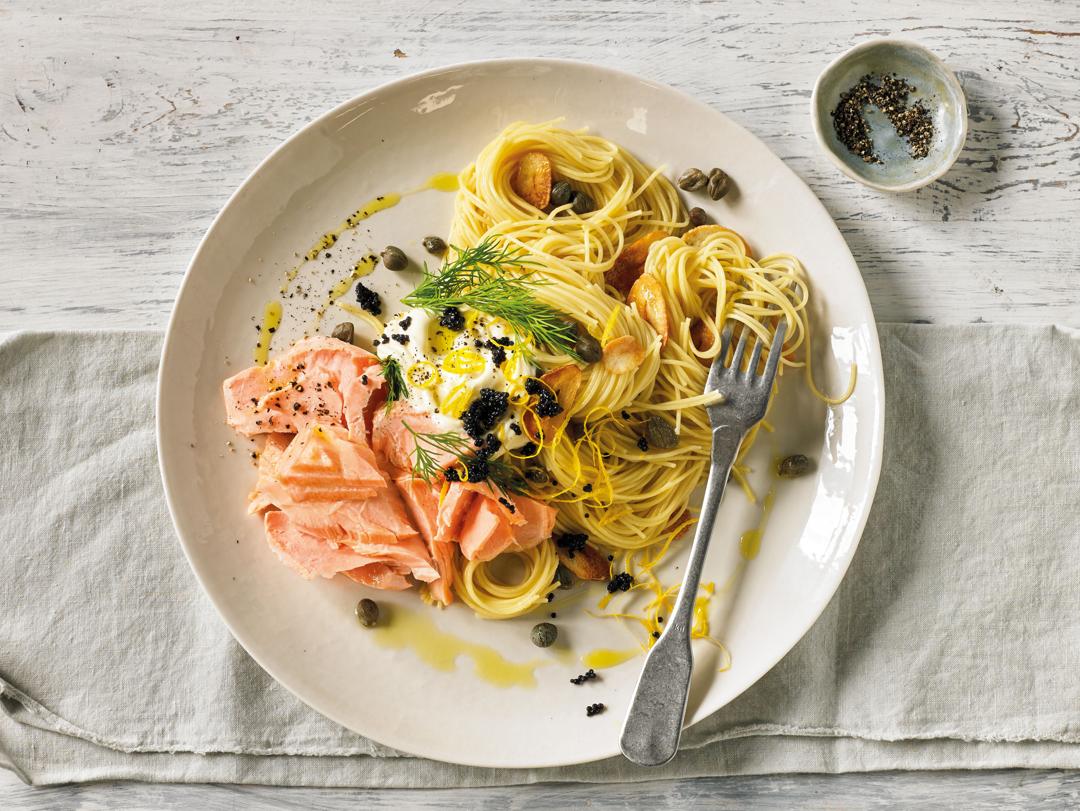 Sous Vide Salmon with Pasta and Lemon Creme Fraiche
Ingredients
---
½ cup (4 fl oz) olive oil

divided

Freshly ground black pepper

to season

½ cup (4¼ oz) crème fraîche

½ lemon

zest finely grated, then juiced

2 cloves garlic

thinly sliced

2 tsp salted baby capers

rinsed and drained
Instructions
1

Fill the pot of the Precision Poacher with water up to the SOUS VIDE fill line. Put the egg tray into the pot. Cover with the lid and insert probe through the vent. Press METHOD button to select SOUS VIDE. Press TEMPERATURE button to select 136°F. Press TIME button to select 30 minutes. Press START to preheat water.

2

While the water is preheating, put each piece of salmon into a vacuum bag or strong resealable bag. Add 1 tablespoon of the oil to each bag, then season with pepper. Vacuum seal the bags or seal the resealable bags, making sure all air is pressed out.

3

Once preheated the unit will beep. Lower the bags into the water ensuring they are submerged. Cover with the lid and insert probe through the vent. Press START. Remove bags once cooked, cutting to open and serve.

4

Meanwhile, combine crème fraiche, lemon zest and juice in a small bowl. Season and set aside.

5

Cook the pasta in a large saucepan of salted boiling salted water according to package instruction until al dente. Drain well and return to pan.

6

Heat the remaining oil in a skillet over medium-high heat. Add the garlic and cook, stirring constantly, for 30 seconds until just starting to turn golden. Remove the pan from the heat and add the capers, stirring to coat. Pour the garlic oil mixture over the pasta and toss well to combine.

7

Divide the pasta, salmon and oil mixture from the bags among serving plates. Garnish with the lemon crème fraiche, caviar and dill. Serve.