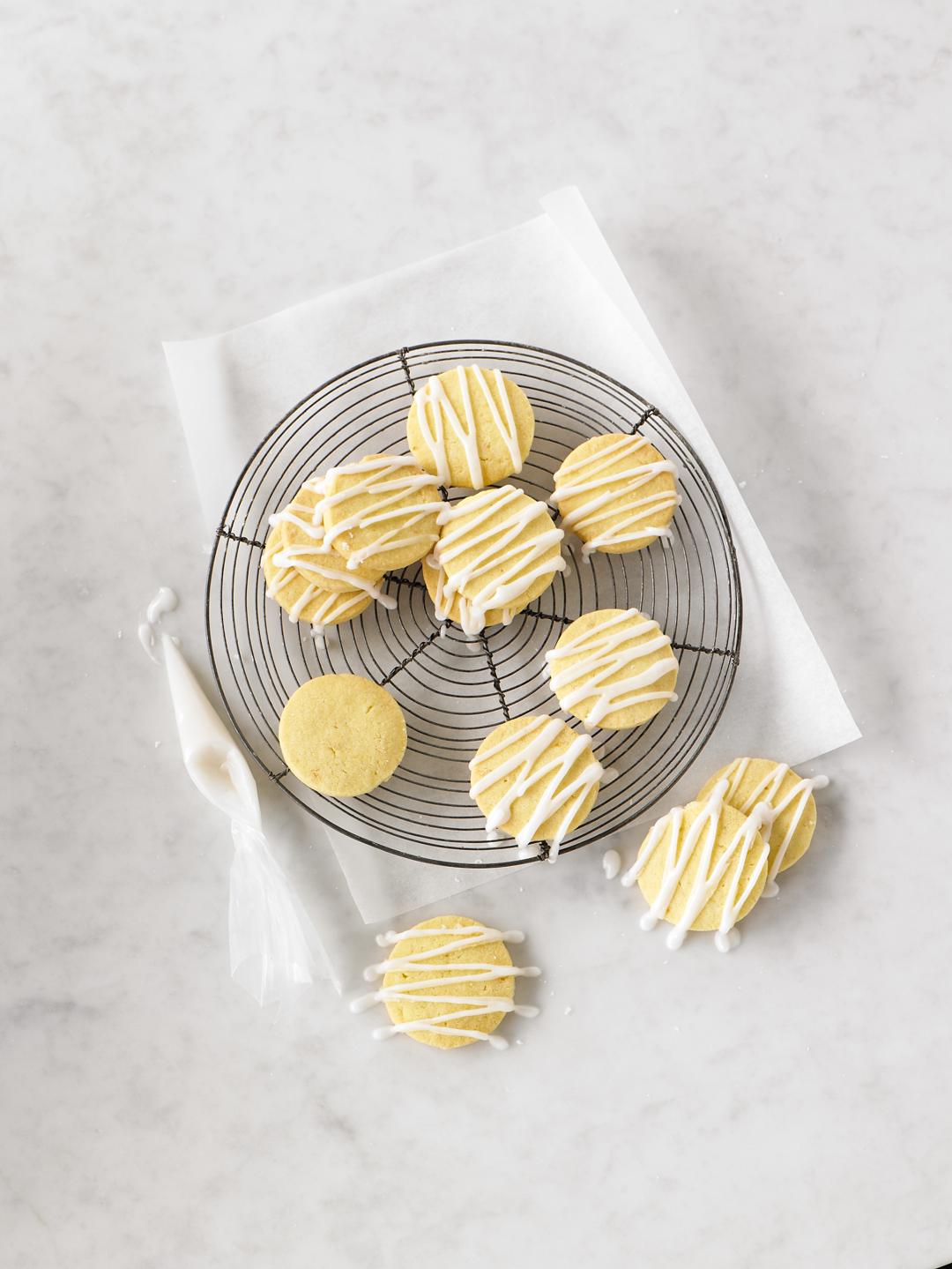 Ingredients
---
8¾ oz unsalted butter

at room temperature

½ cup (3½ oz) superfine sugar

1 tbsp finely grated lemon zest

2¼ cups (11¾ oz) all-purpose flour
For the icing:
1 cup (5 oz) powdered sugar

sifted
Instructions
1

Preheat the oven to 325°F. Line two baking sheets with parchment paper.

2

Assemble the mixer using the glass mixing bowl and scraper beater. Put the butter, sugar and lemon zest in the bowl. Slowly turn the mixer to LIGHT MIXING setting and beat until butter, sugar and zest start to combine. Gradually increase to CREAMING/ BEATING setting and beat for 5 minutes until butter is very pale in color.

3

Reduce the speed to LIGHT MIXING setting and gradually add the flour. Once all the flour is added, increase the speed slightly to mix thoroughly for 30 seconds.

4

Transfer the dough to a clean surface and lightly knead to combine (see tip).

5

Using a lightly floured rolling pin, roll the dough out until ½-inch thick. Using a 2-inch round cutter, cut shortbread into rounds and place on the prepared baking sheets. Gather and re-roll the dough scraps to get as many rounds as possible. Refrigerate shortbread rounds for 15 minutes.

6

Bake for 25-30 minutes until light golden and firm.

7

Allow shortbread to cool on baking sheets for 5 minutes before transferring to a wire rack to cool completely.

8

To make the icing, put the powdered sugar, lemon juice and milk in a small bowl and mix well to combine. If the mixture is still a little thick add ¼–½ teaspoon milk to loosen. Spoon the icing into a resealable bag. Snip one corner to make a small opening and drizzle the icing over the shortbread.

9

Set the shortbread aside for 15 minutes or until icing has set.

10

Shortbread can be stored in an airtight container for up to 1 week.

Tip: The buttery texture of the dough should not need a floured surface, but if very sticky on your work surface then lightly flour the surface.