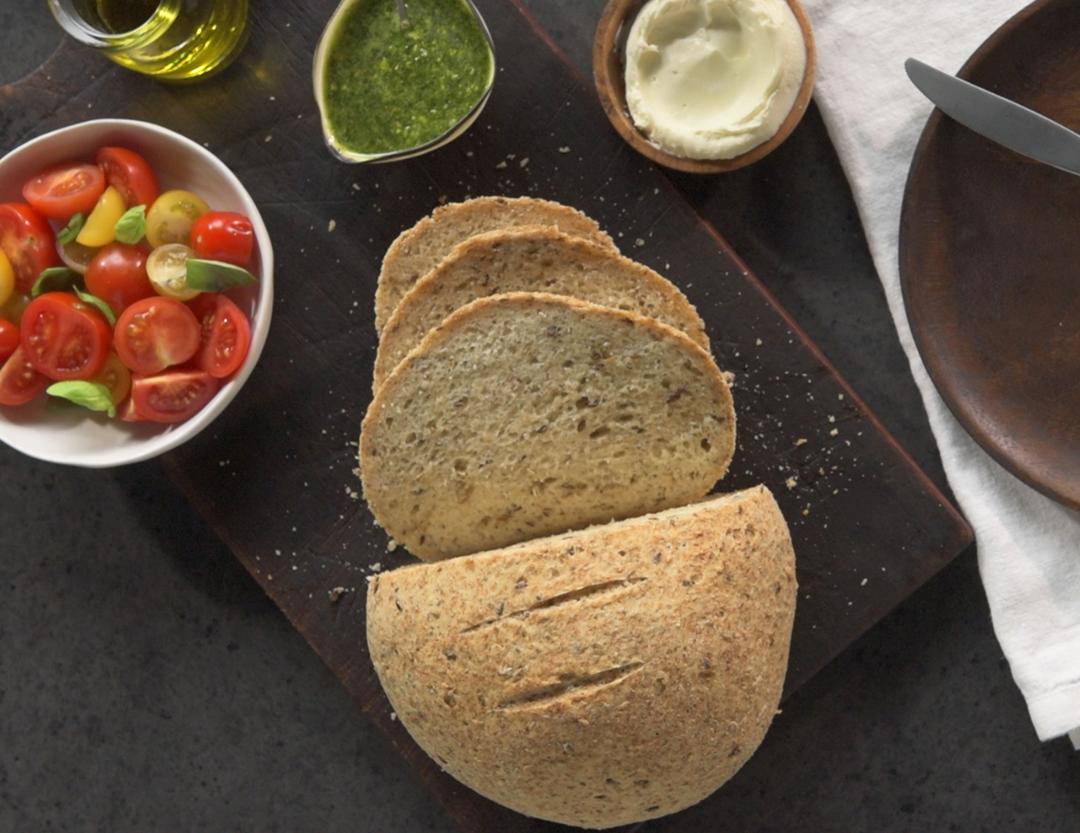 Gluten-Free Seeded Cottage Loaf
Ingredients
---
¼ cup (2 fl oz) olive oil

plus extra for brushing

⅔ cup (5½ fl oz) unsweetened almond milk

¾ cup (6 fl oz) warm water

2 tsp apple cider vinegar

2½ cups (13¼ oz) gluten-free all-purpose flour

2 tsp flaky sea salt

crushed

⅓ cup (¾ oz) psyllium husk

1 tbsp instant dried yeast

¼ cup (1½ oz) mixed seeds (flaxseed, chia, fennel, poppy, sesame)
Instructions
1

Combine the oil, almond milk, warm water and vinegar in a liquid measuring cup and whisk to combine.

2

Put the flour, salt, psyllium husk, xanthan gum, yeast, seeds and honey in the bowl of a stand mixer with the dough hook. Mix on medium speed to combine.

3

Add the almond milk mixture and knead on medium speed for 10 minutes, until the dough is smooth and elastic.

4

Turn the dough onto a countertop and knead into a ball.

5

Spray the pizza pan lightly with cooking oil spray. Put the dough on the pan. Cover with plastic wrap and set aside in a warm place for 1 hour or until the dough doubles in size.

6

Brush the top of the bread with oil and score the top to help it expand during cooking.

7

Insert the wire rack into the bottom shelf. Preheat the oven. Select BAKE/CONVECTION/350°F/50 minutes and press start.

8

Once preheated, remove the plastic wrap, brush the top of the loaf with oil and put the bread in the oven. Bake for 50 minutes until golden and the loaf sounds hollow when the bottom is tapped.

9

Cool on a wire rack.