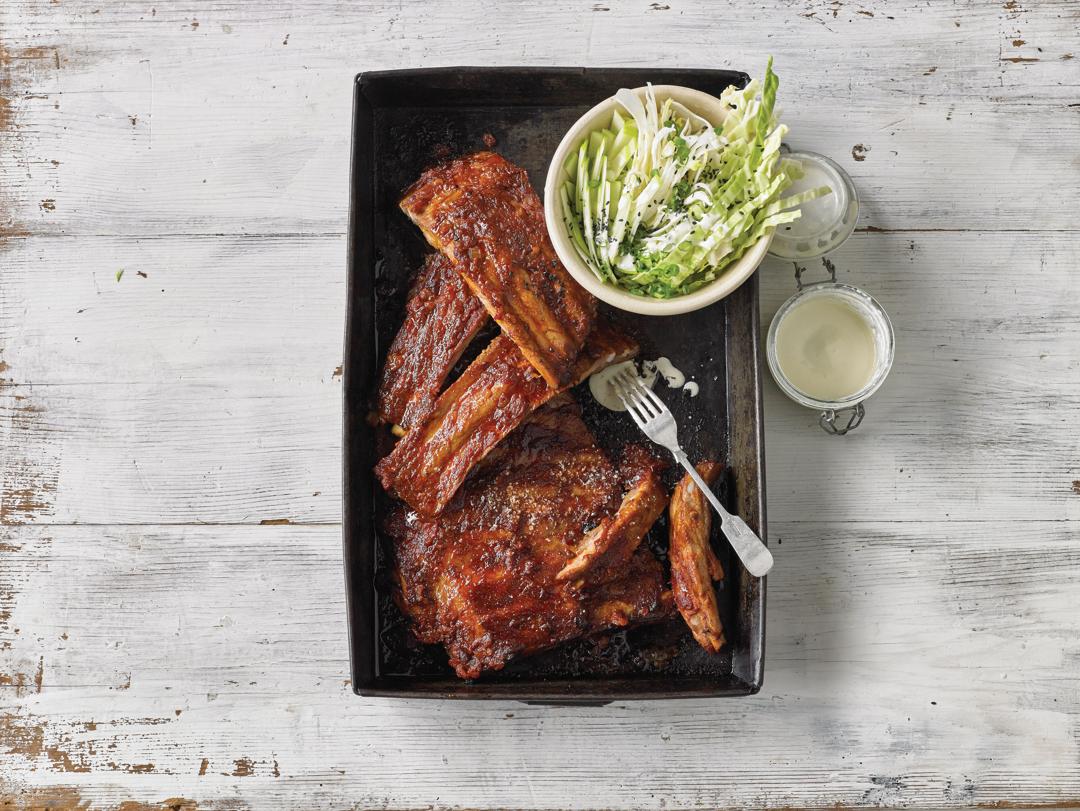 Smoked Pork Ribs with Coleslaw
Ingredients
---
4½ lb baby back pork ribs

Pinch of hickory wood chips
For the marinade:
1 small onion

finely chopped

2 tbsp Worcestershire sauce

13½ oz can diced tomatoes

Pinch of hickory wood chips
For the coleslaw:
½ small cabbage

finely shredded

½ green apple

cored, cut into thin sticks

2 green onions

thinly sliced

Freshly ground black pepper

to season
Instructions
1

Preheat the oven to 300°F.

2

To make the marinade, heat the oil in a medium saucepan over medium heat. Add the onion and garlic and cook, stirring, for 2-3 minutes until onion has softened.

3

Add the whiskey and bring to a boil. Stir in the smoked paprika, brown sugar, Worcestershire sauce and tomatoes. Reduce the heat and simmer, stirring occasionally, for 15-20 minutes until thickened. Cool.

4

Transfer the marinade to a blender and pulse until smooth.

5

Pour half the marinade into a bowl, cover with plastic wrap and set aside.

6

Place the ribs on a large baking sheet and brush with the remaining marinade. Cover with foil and bake for 1 hour until the ribs are tender.

7

Meanwhile, connect the large end of the hose to the Smoking Gun barrel. Add a pinch of wood chips to the burn chamber and place the other end of the hose under the plastic wrap on the bowl of reserved marinade, with the opening sitting above the marinade. Seal with plastic wrap.

8

Turn the smoking gun on to HIGH Speed and ignite the wood chips. Switch to LOW Speed for a few seconds until the bowl is filled with a dense smoke. Switch to OFF position. Remove the hose and reseal the plastic wrap. Infuse for 3 minutes, then stir well.

9

Remove the ribs from the oven. Remove and discard the foil. Brush with about half of the smoked marinade. Increase the oven to 400°F.

10

Return the ribs to the oven and cook, uncovered, for 30 minutes or until well glazed and browned, brushing with the remaining smoked marinade halfway through cooking time.

11

Meanwhile, to make the coleslaw, combine cabbage, apple, onions and aioli in a bowl. Season with salt and pepper. Sprinkle with sesame seeds.

12

For smokier flavoured ribs, transfer the cooked ribs to a large bowl or serving dish. Cover with foil and repeat the smoking process (referring to steps 6 and 7, placing hose under the foil covering).

13

Serve the ribs with the coleslaw.