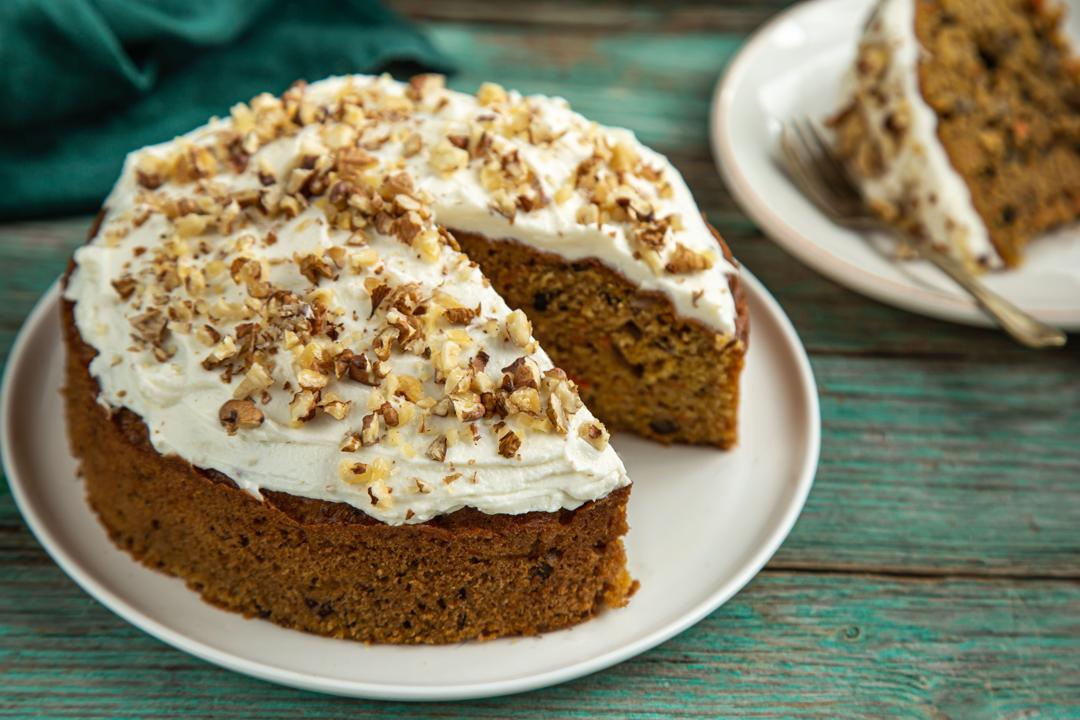 Carrot Cake with Cream Cheese Frosting
Ingredients
---
½ cup (4 fl oz) light olive oil

1 cup (7 oz) superfine sugar

1½ cups (8 oz) self-rising flour

1 cup grated carrot

about 3 medium

½ cup well drained canned crushed pineapple in natural juice

½ cup (1¾ oz) chopped walnuts

plus extra to serve
For the cream cheese frosting:
1 oz unsalted butter

at room temperature

4½ oz cream cheese

at room temperature

½ tsp pure vanilla extract

1½ cups (7¼ oz) powdered sugar

sifted
Instructions
1

Preheat the oven to 350°F. Grease a 8-inch round cake pan. Line the base and sides with parchment paper.

2

Assemble the mixer with the glass mixing bowl and scraper beater. Add the eggs, oil, milk, and sugar to the bowl. Slowly turn the mixer to the CREAMING/BEATING setting for 2 minutes until the mixture is well combined.

3

Turn the mixer down to FOLDING/KNEADING setting and add the flour, cinnamon and baking soda and fold until mixture is just combined.

4

Stir in the carrot, pineapple and walnuts. Pour mixture into the prepared pan.

5

Bake for 1 hour 15 minutes until a skewer inserted in the center comes out clean.

6

Transfer to a wire rack to cool completely.

7

To make the frosting, assemble mixer with the glass mixing bowl and scraper beater. Add the butter, cream cheese and vanilla to the bowl. Turn the mixer to CREAMING/BEATING setting and beat for about 1-2 minutes until well combined. Reduce speed to LIGHT MIXING and gradually add the powdered sugar. Once all sugar has been added, increase speed again and mix well.

8

Spread frosting on cooled cake and sprinkle with extra chopped walnuts.