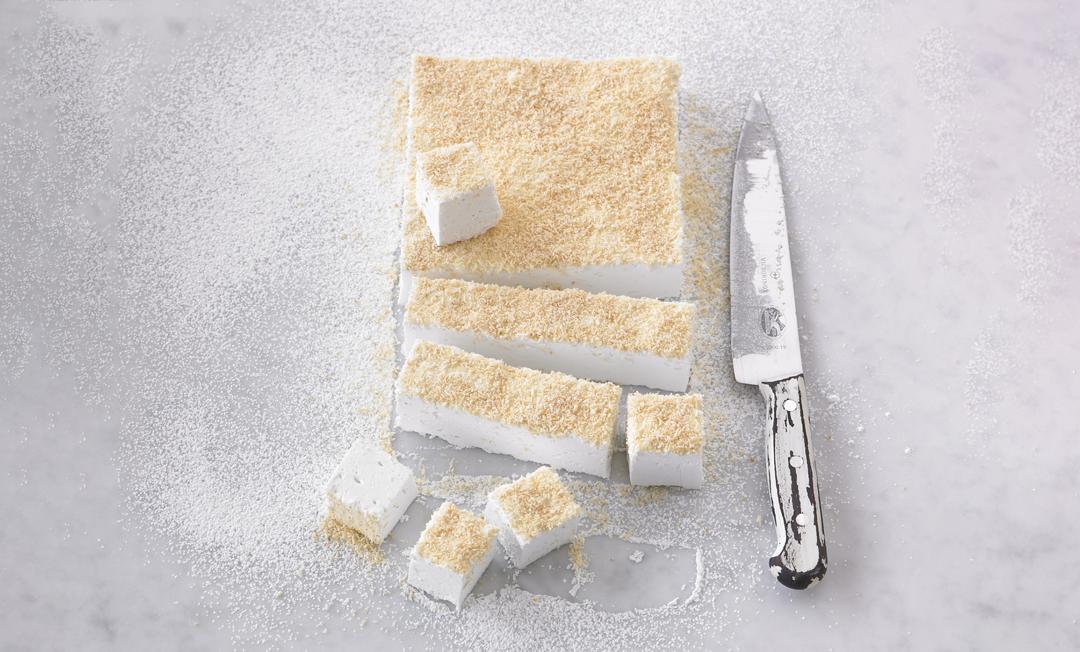 Ingredients
---
2 cups (14 oz) superfine sugar

6 tsp powdered unflavored gelatine

½ cup (4 fl oz) cold water

2 cups (5½ oz) desiccated coconut

toasted
Instructions
1

Grease a 7x11-inch rectangular cake pan. Line the bottom and sides with parchment paper, allowing the paper to hang over all sides.

2

Combine the sugar and warm water in a medium saucepan and cook, stirring constantly, over medium heat until the sugar dissolves. Brush down the sides of the pan with a wet pastry brush to dissolve any sugar crystals. Bring to a boil and boil gently, without stirring, for 5 minutes until a candy thermometer reaches 225°F.

3

Sprinkle the gelatine over the cold water and stir with a fork to combine. Stir the gelatine mixture into the hot sugar syrup and cook, whisking constantly, until the mixture returns to a gentle boil.

4

Pour the gelatine mixture into the glass mixing bowl and set aside for 20-30 minutes to cool to room temperature.

5

Stir the vanilla into the gelatine mixture. Assemble the mixer using the whisk attachment. Place the bowl onto the mixer. Slowly turn the mixer to AERATE/WHIP setting and whisk for 5 minutes until very thick and white.

6

Spoon into the prepared pan and level the surface. Set aside for 2 hours to set.

7

Turn the marshmallow out of the pan. Remove and discard parchment paper. Use a wet knife to cut into 24 squares.

8

Toss the marshmallow in the coconut and serve.

Tip: Store the marshmallow in an airtight container.