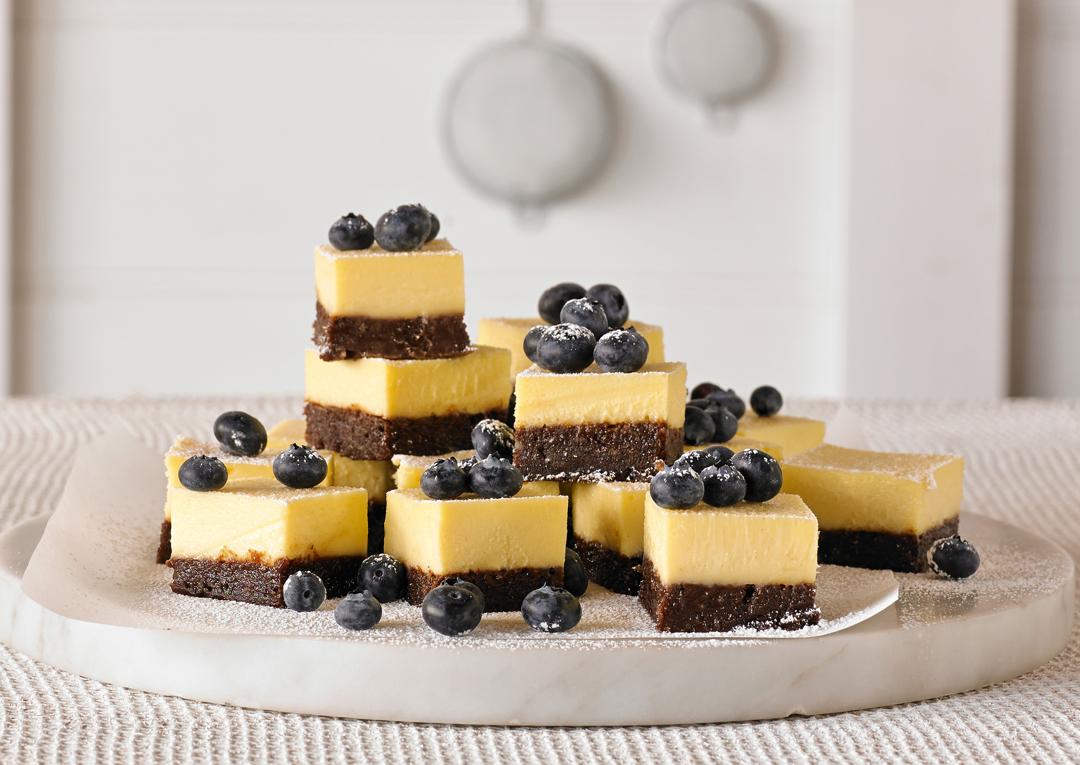 Chocolate Brownie Cheesecake
Ingredients
---
7 oz unsalted butter

chopped

7 oz dark chocolate (70% cocoa)

chopped

1 cup (7 oz) firmly packed light brown sugar

2 large eggs

at room temperature

½ cup (2½ oz) all-purpose flour

¼ cup (1¼ oz) self-rising flour

½ cup (1½ oz) desiccated coconut
For the cheesecake:
17½ oz cream cheese

at room temperature

1 cup (7 oz) superfine sugar

1 tsp pure vanilla extract

2 large eggs

at room temperature

1¼ cups (10 fl oz) heavy cream
Instructions
1

Preheat the oven to 350°F. Grease a 9-inch cake pan. Line the bottom and sides with parchment paper, extending the paper ¾ inch over the sides.

2

Put the butter and chocolate in a small saucepan. Stir constantly over low heat until melted and smooth. Remove from the heat and stir in the sugar. Transfer mixture to a bowl.

3

Add the eggs, one at a time, stirring well between additions. Stir in the flours and coconut until just combined. Spoon mixture into prepared pan and level the top.

4

Bake for 20 minutes (base will still be soft). Set aside for 15 minutes.

5

Reduce the oven to 338°F.

6

Assemble the mixer using the glass mixing bowl and scraper beater. Place Put the cream cheese, sugar and vanilla in the bowl. Turn the mixer to FOLDING/KNEADING setting and mix for 1 minute. Increase the speed to LIGHT MIXING setting and beat for 2-3 minutes until pale and creamy. Reduce speed to FOLDING/KNEADING setting and add the eggs, one at a time, then add the cream and beat for 30 seconds until just combined.

7

Carefully pour the cheesecake mixture over the lukewarm brownie base.

8

Bake for 35-40 minutes until cooked (the centerre will still wobble slightly).

9

Turn the oven off and cool in the oven, with the door ajar, for 2 hours. Refrigerate overnight.

10

Serve the chocolate brownie cheesecake in cut pieces topped with blueberries and dusted with icing powdered sugar.