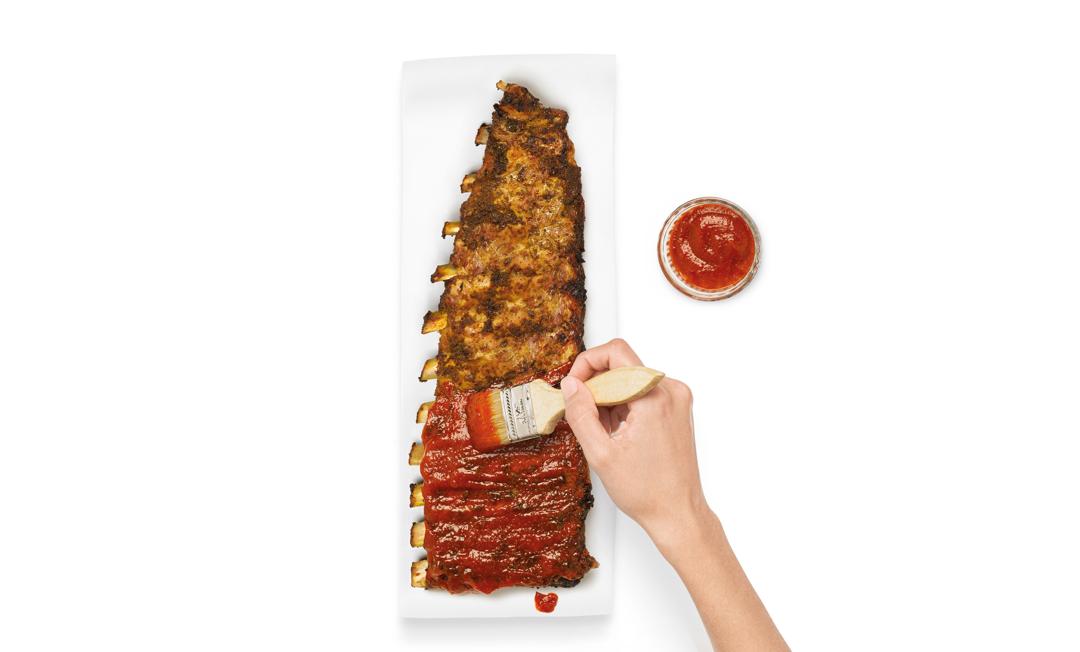 Ingredients
---
4½ lb pork spareribs, preferably St. Louis-cut
For the spice rub:
1 tbsp dried minced garlic

½ tsp yellow mustard seeds

½ tsp brown mustard seeds

2 oz habanero or scotch bonnet peppers

halved, seeds removed

½ cup (½ oz) loosely packed flat-leaf parsley leaves

2 green onions

coarsely chopped

¼ cup (2 fl oz) apple cider vinegar

¼ cup (2 fl oz) fresh orange juice
For the Jamaican jerk sauce:
1 (5½ oz) small red onion

peeled, quartered

¼ cup (2 fl oz) Jamaican or Caribbean spiced dark rum

3¾ cups (30 fl oz) ketchup

¼ cup (2 fl oz) apple cider vinegar

⅓ cup (2¼ oz) light brown sugar
Instructions
1

To make the spice rub, put the rosemary, allspice, cinnamon, dried garlic, curry powder, salt and mustard seeds in the blender and secure the lid. MILL for 10 seconds until finely ground.

2

Add the peppers, parsley, green onion, thyme, vinegar and orange juice to the blender and secure the lid. PUREE for 30 seconds until well blended.

3

Rub the spice rub over both sides of the pork ribs. Put into a large resealable bag. Seal. Marinate in the refrigerator for 2-4 hours.

4

Preheat the oven to 350°F. Line a large roasting pan with parchment paper. Insert a lightly greased wire rack.

5

Put the ribs on the rack. Carefully pour 1-2 cups of water into the pan (water should cover the bottom of the pan).

6

Bake, uncovered, for 30 minutes. Cover tightly with foil and bake for a further 1½ hours until the ribs are tender, adding more water to the pan, if needed.

7

To make the Jamaican jerk sauce, put all the ingredients in the blender and secure the lid. PUREE for 15-20 seconds until smooth. Pour the mixture into a medium saucepan over medium-low heat. Partially cover and cook, stirring occasionally, for 1 hour until the sauce thickens and becomes darker in colour. Set aside to cool.

8

Remove the ribs from the oven, uncover and brush both sides with some of the jerk sauce. Return to the oven and bake, uncovered, for 10-15 minutes until golden and sticky.

9

Cut the ribs into serving size portions and serve with the remaining jerk sauce.

Tip: The spice rub and jerk sauce are also great with chicken, lamb and seafood.