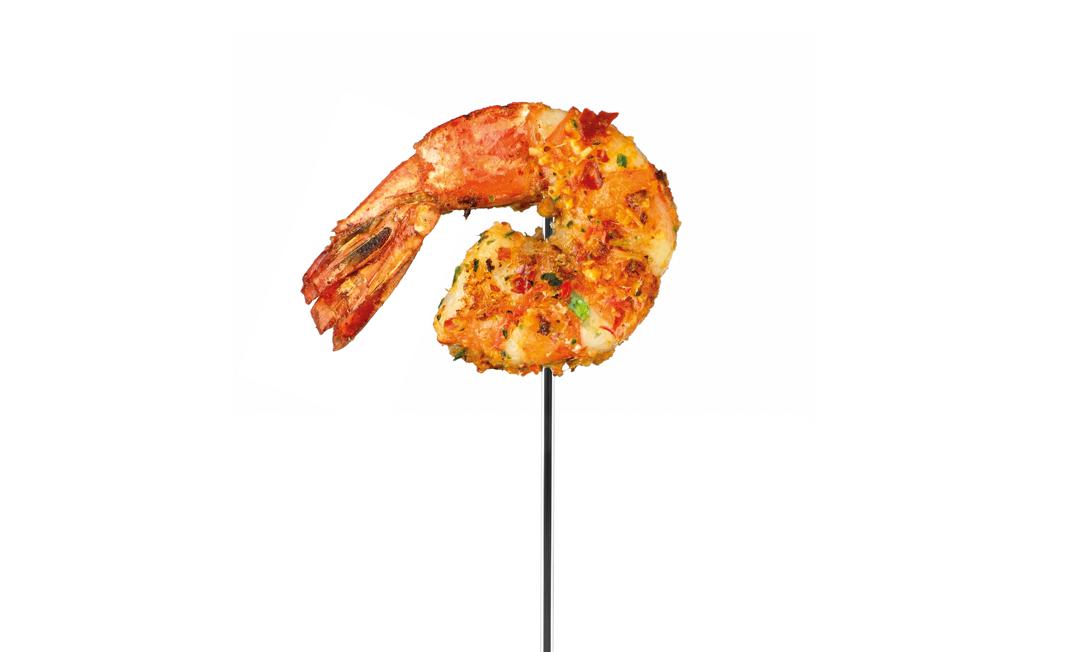 Ingredients
---
½ cup (4 fl oz) coconut milk

4 tbsp Thai red curry paste

4 fresh makrut (wild) lime leaves

stems removed

1¼ lb jumbo shrimp

peeled and deveined, tails intact

Olive oil cooking spray

to grease
For the Thai red curry paste:
¾ oz dried long hot red chili peppers (about 2 ½ inches)

1 x 1 1/2 inch piece (3/4 oz) galangal or ginger

peeled, sliced

2 lemongrass stalks

white part only, coarsely chopped

12 thick cilantro stems

washed

1 tsp roasted shrimp paste (Belacan)

optional

10 single fresh makrut (wild) lime leaves

stems removed, coarsely chopped

4 large shallots

peeled, coarsely chopped

⅓ cup rice bran or vegetable oil
Instructions
1

To make the Thai Red curry paste, put the dried chilies in a heatproof bowl. Cover with boiling water and soak for 15-20 minutes until softened. Drain.

2

Place the drained chilies, galangal, lemongrass, cilantro stems, shrimp paste, lime leaves, shallots, garlic and salt in the blender and secure the lid. MIX for 20 seconds until finely chopped, scraping down the side and stopping occasionally to use the tamper to press the ingredients into the blades. Add the oil and BLEND for 30-40 seconds until desired texture. You will need 4 tablespoons for this recipe. Transfer the remaining paste to a clean, sterilized glass jar. Cover with a thin layer of vegetable oil and secure the lid. The paste can be stored in the refrigerator for 2 weeks or frozen for 1 month.

3

Use the CLEAN program to clean the blender jug.

4

To make the red curry shrimp skewers, put the coconut milk, 4 tablespoons curry paste and lime leaves in the blender and secure the lid. PUREE for 10 seconds until well combined.

5

Pour the coconut milk mixture into a bowl. Add the shrimp. Stir to combine. Cover and refrigerate for 1 hour to marinate.

6

Meanwhile, soak bamboo skewers in a shallow dish of cold water for 30 minutes then drain.

7

Preheat a grill on medium high heat.

8

Thread the shrimp onto the skewers. Spray both side of the shrimp with oil.

9

Grill, in batches, for 1-2 minutes each side until cooked through.

10

Transfer to a large serving platter. Squeeze over the lime and garnish with cilantro.

Tip: Roasted shrimp paste can be found in Asian markets. If you can't get roasted shrimp paste, purchase unroasted shrimp paste and roast it before using. To roast: Wrap the shrimp paste in a piece of foil. Put on a small baking sheet and cook under a preheated broiler for 2 minutes each side. Allow to cool before unwrapping and using.