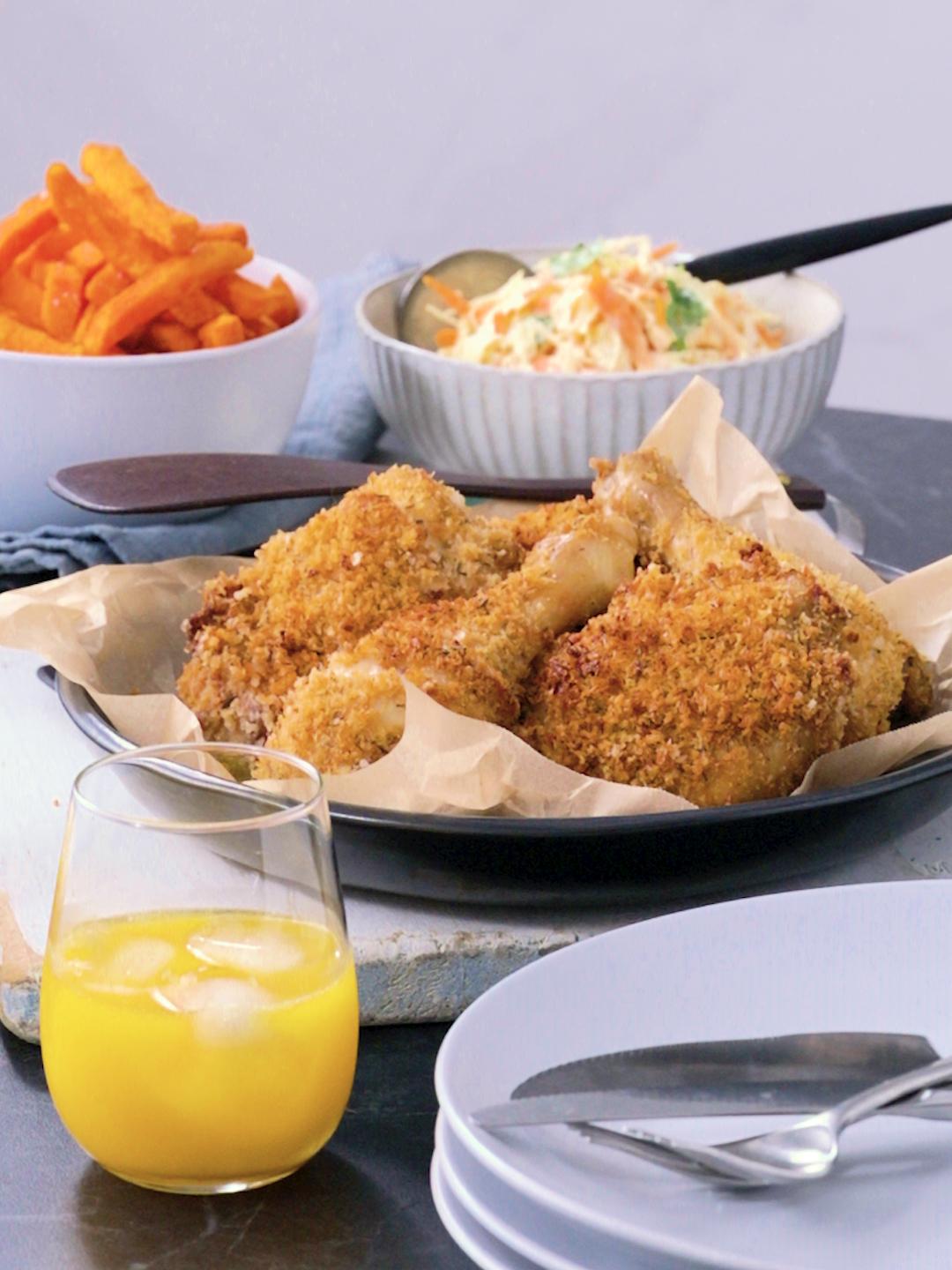 Shake and Air-Fried Chicken
For a few decades shake and bake was an American staple. This updated version is not only air-fried but uses pre-toasted breadcrumbs in the "shaking step" ensuring even color and a crispy coating.
Ingredients
---
2½ cups (5¼ oz) panko breadcrumbs

¼ cup (2 fl oz) olive oil

3 whole chicken legs (drumstick and thigh)

Freshly ground black pepper

to season
Instructions
1

Insert the wire rack into position 4. Meanwhile, continue to the next step.

2

Combine the crumbs and oil and rub together. Spread evenly over the base of the roasting pan and shake the pan to level.

3

Once preheated, place the pan in the oven and start the timer. When the Rotate Remind signals, stir the crumbs and continue cooking. Meanwhile, prepare the chicken.

4

Cut the chicken legs in half through the joint. Place in a large bowl.

5

Transfer the crumbs to a bowl to cool. Wipe out the roasting pan. Move the wire rack to position 8 and place the roasting pan on the rack to catch any drips during cooking. Insert the air fry basket into position 3. The oven will adjust the setting to cook the chicken. It'll signal when ready. Meanwhile, continue to the next step.

6

Place the crumbs, salt, onion powder, thyme and pepper in a large resealable bag, seal and shake to combine.

7

Whisk the egg and the water together. Pour over the chicken and mix well to coat.

8

Working in batches, remove the chicken pieces from the bowl shaking off any excess egg mixture and place in the bag. Seal and shake well to coat.

9

Once preheated, place the chicken evenly spaced apart in the basket and start the timer.

10

The chicken should be golden, crisp and cooked through when a meat thermometer inserted into the thickest part reads a minimum of 167°F. If not, give it a bit more.

11

Serve the crispy chicken with your favorite veggies and salad.