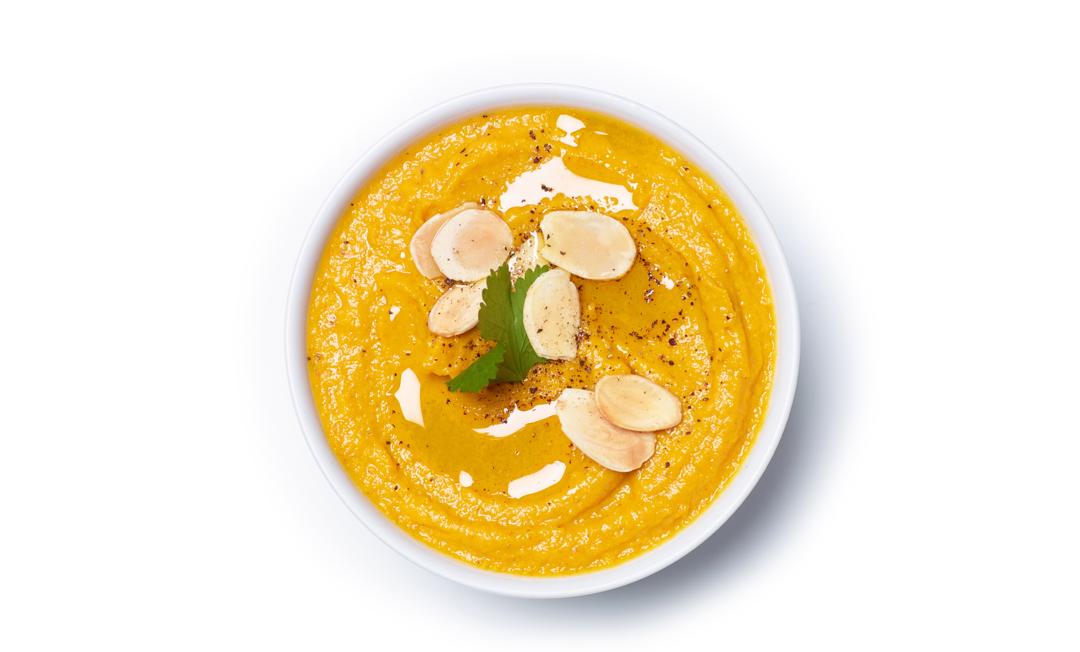 Ingredients
---
1 tsp flaky sea salt

crushed

Freshly ground black pepper

to season

4 (21 oz) medium carrots

ends trimmed, halved, cut into (¾-inch/2cm) pieces

1 (5¼ oz) medium yellow onion

peeled, cut into wedges

2 thick cilantro stems

washed, chopped

¼ cup (2 fl oz) extra-virgin olive oil

divided

½ (4¼ oz) medium navel orange

peeled, pith and seeds removed

⅔ cup (5½ oz) plain yogurt

½ cup (3¼ oz) canned drained chickpeas

rinsed and well drained
To serve:
Freshly ground black pepper
Instructions
1

Preheat the oven to 400°F. Combine the spices, salt and pepper in a small bowl.

2

Put the carrots, onion and cilantro stems in a roasting pan. Sprinkle with the spice mix. Drizzle with 2 tablespoons of the oil and turn to coat. Roast for 35-40 minutes, turning twice during cooking, until the carrots are tender. Remove from the oven and drizzle with the honey. Cover and set aside for 10 minutes to steam and soften, making it easier to blend.

3

Put the orange, yogurt, chickpeas and remaining 2 tablespoons oil in the blender. Add the carrot mixture, scraping any spice mix on the base of the pan into the blender. Secure the lid.

4

BLEND for 2 minutes in 10-15 second bursts, scraping down the side and base until almost smooth (dip should still have a little texture). Transfer to a bowl. Cover and refrigerate for 3-4 hours, until cold.

5

Spoon the dip into a shallow bowl, sprinkle with almonds and cilantro. Drizzle with extra virgin olive oil and top with pepper.