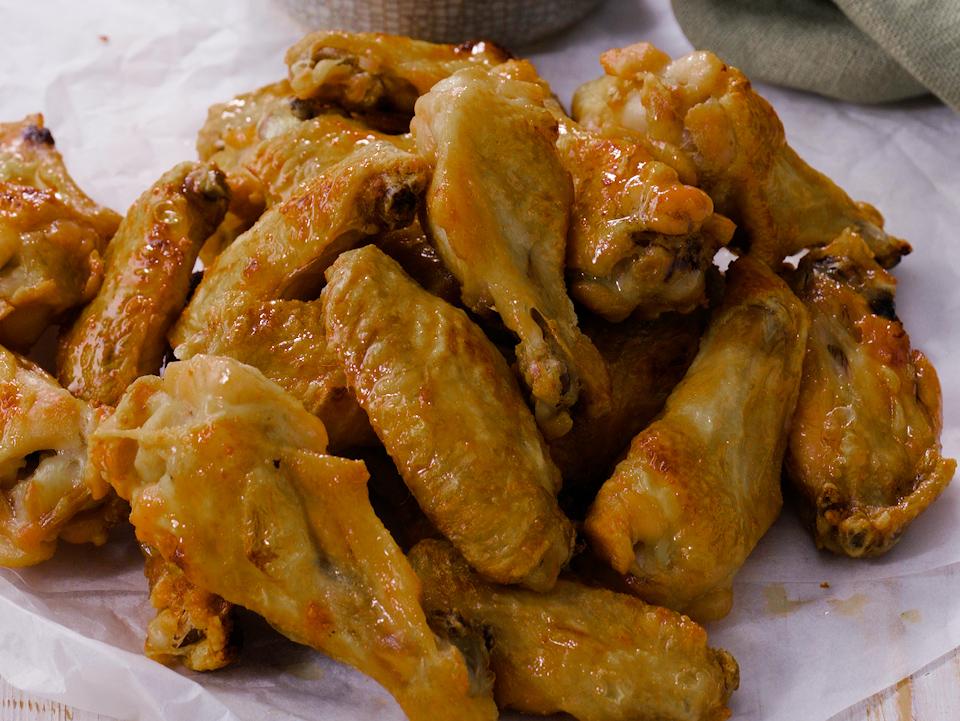 Air-Fried Chicken Wings with Ranch Sauce
An air-fried version of a home-grown favorite, that is big on flavor. Succulent wings with America's darling of dressings…creamy, tangy, yum! Add a sprinkle of cayenne to the chicken coating to spice it up.
Ingredients
---
3 lb chicken wing drumettes and flats (party wings)
For the ranch sauce:
¼ tsp ground black pepper
Instructions
1

Insert the wire rack into position 7, place the roasting pan on the rack so it sits beneath the basket to catch any drips during cooking. Press PHASE COOK, for P1 select AIR FRY/SUPER CONVECTION/300°F/20 minutes and press CONFIRM. For P2 select AIR FRY/SUPER CONVECTION/425°F/20 minutes and press START to preheat.

2

Place the wings on paper towels and pat dry to remove any excess moisture.

3

Place the baking powder, salt and cornstarch in a small bowl and stir to combine. Place a third of the chicken and a third of the coating in a large bowl and toss. Repeat two more times with the remaining chicken and coating. Place the chicken in the air fry basket, evenly spaced apart.

4

Once preheated, place the basket into rack position 3. When the oven signals, turn the chicken over and continue cooking. When the oven signals a second time, turn the chicken again. Select BROIL/HIGH/10 minutes and press START. Broil, turning the chicken halfway, until browned and cooked through.

5

Meanwhile, make the ranch sauce. Place all the ranch ingredients in a bowl and whisk to combine.

6

Transfer the wings to a serving platter and serve with the ranch sauce.