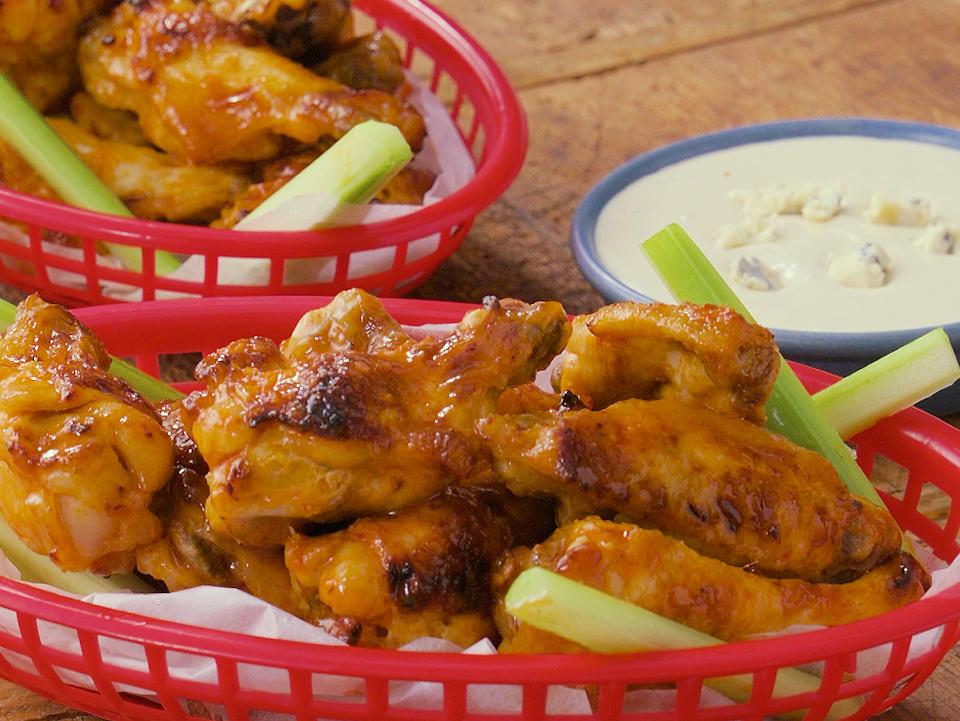 Air-Fried Buffalo Wings with Blue Cheese Sauce
These buffalo wings are an American classic, crispy on the outside and juicy on the inside all without a deep-fryer in sight. Tossed in a hot and tangy sauce and broiled until deliciously caramelized. Served with a creamy blue cheese sauce and celery sticks, they will have you craving for more.
Ingredients
---
For the chicken wings:
3 lb chicken wing drumettes and flats (party wings)
For the buffalo sauce:
½ cup (4 fl oz) hot sauce

2 oz unsalted butter

melted

2 tsp apple cider vinegar
For the blue cheese sauce:
4 oz creamy blue cheese

crumbled, plus extra for garnish
Instructions
1

Place the air fry basket into rack position 3. Insert the wire rack into position 7 and place the roasting pan on the rack so it sits beneath the basket to catch any drips during cooking. Press PHASE COOK, for P1 select AIR FRY/SUPER CONVECTION/ 375°F/15 minutes and press CONFIRM. For P2 select BROIL/HIGH/4 minutes and press START to preheat.

2

Place the wings on paper towels and pat dry to remove any excess moisture.

3

Place the milk powder, salt and oil in a large bowl and whisk to combine. Add the wings and mix to coat.

4

Once preheated, carefully place the wings in the basket, evenly spaced apart. Cook until the wings are browned and cooked through.

5

Meanwhile, place all the buffalo sauce ingredients in a large bowl and whisk to combine. Set aside.

6

Make the blue cheese sauce, place the blue cheese in a bowl, add the sour cream and mayonnaise and whisk to combine. Add the juice, milk and garlic and whisk until well combined. Set aside.

7

Remove the basket from the oven. Transfer the wings to the buffalo sauce and turn to coat. Remove the roasting pan from the oven and discard the cooking juices. Return the wings and any sauce from the bowl to the roasting pan.

8

Move the wire rack to position 3. Place the pan in the oven. Select BROIL/HIGH/3 minutes and press START. Broil the wings until caramelized.

9

Stand the wings in the pan for 5 minutes to absorb some of the pan juices.

10

Crumble a little blue cheese over the blue cheese sauce and serve the wings with the sauce and celery sticks.