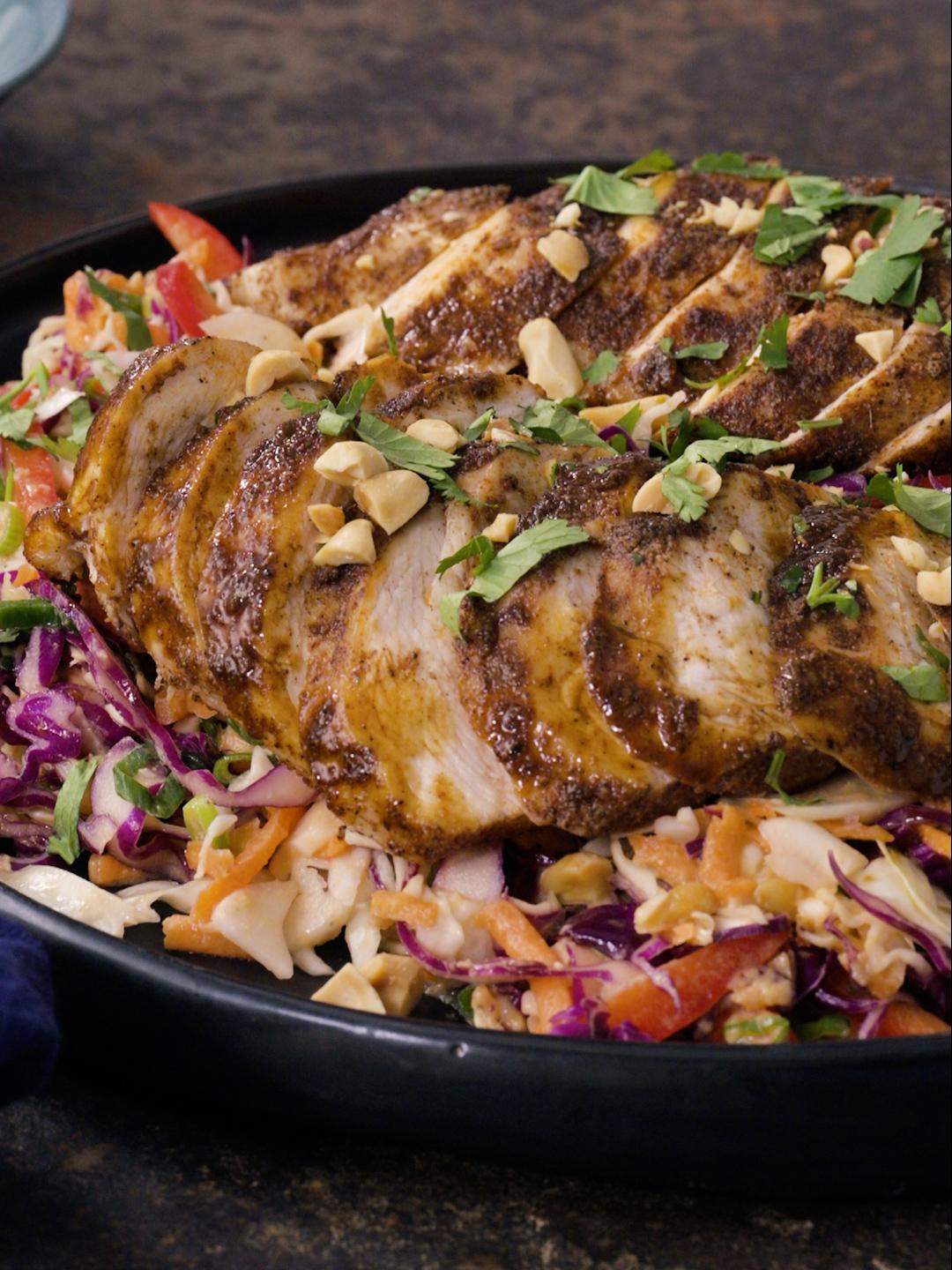 Chicken and Red Slaw with Sweet and Spicy Peanut Dressing
This healthy recipe is a fusion of Asian, African and Caribbean flavors. Spiced chicken breast roasted to juicy perfection is served with a vibrant slaw and peanut dressing spiked with hot sauce, garlic and ginger. It ticks all the boxes - easy entertaining, midweek dinner and lunchbox leftovers that'll make your workday brighter.
Ingredients
---
For the chicken:
½ tsp freshly ground black pepper

2 x 12 oz boneless and skinless chicken breasts
For the slaw:
¼ medium red cabbage

shredded

¼ medium savoy cabbage

shredded

1 small red bell pepper

thinly sliced

5 green onions

thinly sliced

¼ cup coarsely chopped cilantro

divided

¼ cup (1¼ oz) coarsely chopped unsalted dry roasted peanuts

divided
For the peanut dressing:
⅓ cup (2¾ oz) natural peanut butter

2 tsp finely grated ginger

¼ cup (2 fl oz) plus 1 tbsp rice vinegar
Instructions
1

Insert the wire rack into position 6. Meanwhile, continue to the next step.

2

Place all the ingredients listed below in a bowl and stir to combine.

3

Season the chicken on both sides with the spice mix. Drizzle with the oil and gently pat to evenly coat.

4

For easy cleaning and to avoid burning, line the roasting pan with foil and place the broiling rack on top. Lay the chicken on the rack.

5

Once preheated, place the pan in the oven and start the timer. When the Rotate Remind signals, turn the chicken over and continue cooking. Meanwhile, prepare the slaw.

6

Place all the ingredients listed below in a large bowl and toss to combine.

7

The chicken is ready when a meat thermometer inserted into the thickest part reads a minimum of 167°F. If not, give it a bit more.

8

Remove the pan from the oven and set aside to rest for 10 minutes. Meanwhile, make the peanut dressing.

9

Place all the ingredients listed below in a bowl and whisk to combine. Pour over the slaw and toss.

10

Cut the chicken into approximately ¼-inch thick slices.

11

Top the slaw with the chicken, sprinkle with the remaining peanuts and cilantro and serve.