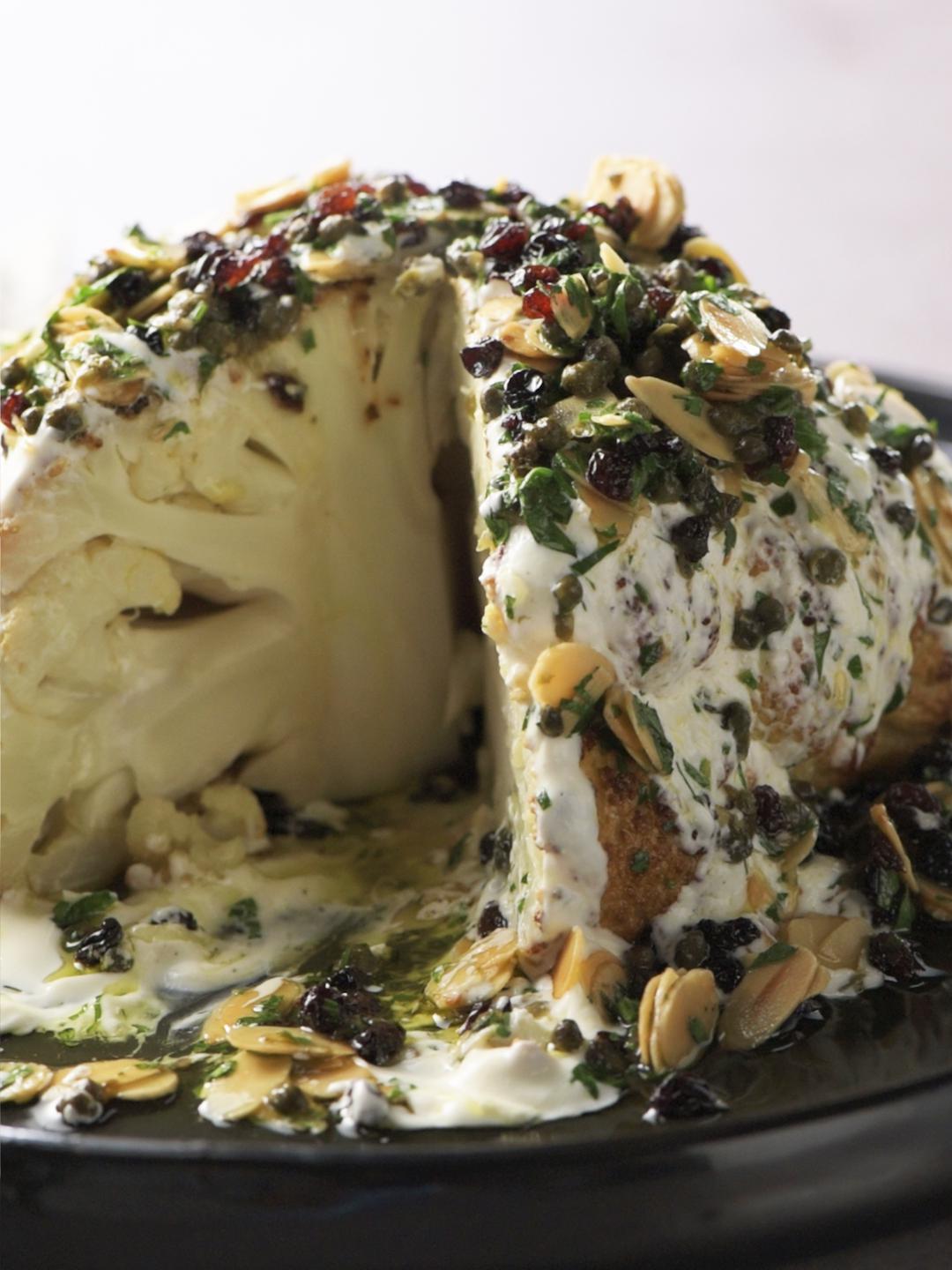 Air-Fried Whole Cauliflower with Yogurt and Almonds
Crisp on the outside and beautifully tender on the inside, the cauliflower's mild and slightly nutty taste is perfectly teamed up with the sweet currants, salty capers and yogurt.
Ingredients
---
2 tbsp extra-virgin olive oil

Freshly ground black pepper

to season
For the yogurt dressing:
1¼ cups (10½ oz) plain Greek-style yogurt

Freshly ground black pepper

to season
For the almond topping:
¼ cup (2 fl oz) extra-virgin olive oil

½ cup (1½ oz) sliced almonds

⅓ cup (2 oz) dried currants

¼ cup (¼ oz) flat-leaf parsley leaves

finely chopped
Instructions
1

The oven will preheat. Meanwhile, continue to the next step.

2

Trim the base and remove the leaves.

3

Place the cauliflower in the center of the air fry basket and brush all over with the oil. This ensures it crisps evenly. Season with salt and pepper.

4

Once preheated, place the basket in rack position 5 and start the timer. Meanwhile, make the dressing.

5

Using a microplane, grate the garlic over the yogurt. Add the salt, season with pepper and whisk together. Cover and refrigerate.

6

The cauliflower should be well browned. To test if it's cooked, insert a small sharp knife or skewer right to the base, it should slide easily. If not, give it a bit more.

7

Heat the oil in a small saucepan over medium heat. Add the almonds, stirring for 1 minute, or until golden. Add the currants and capers, stirring for 1 minute, or until the currants swell and the capers are lightly fried. Remove from the heat and add the parsley.

8

Serve the cauliflower topped with the yogurt dressing and spoon over the almond topping.