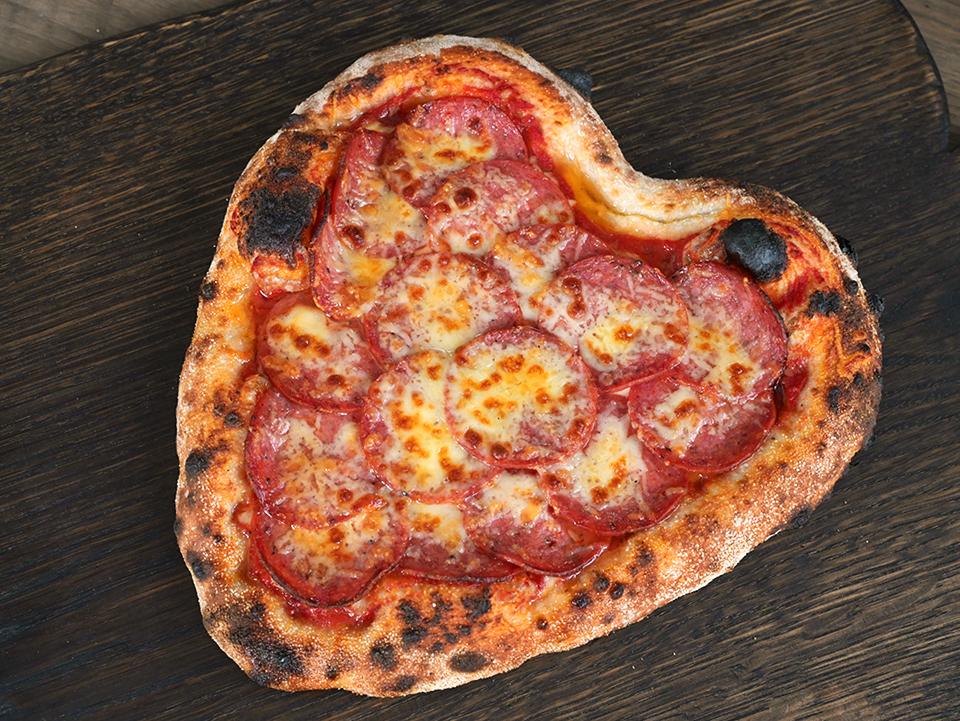 Ingredients
---
For the pizza dough:
1 tsp instant dried yeast

1½ cups (12 fl oz) cold water
For the pizza:
1 cup (8 fl oz) marinara sauce

2 cups (7 oz) shredded mozzarella cheese

8 oz spicy pepperoni slices

½ cup (1½ oz) grated parmesan cheese
Instructions
1

Place the flour, salt and yeast in the bowl of a stand mixer. Using the dough hook, mix to combine. Add the water and knead on low speed for 5-6 minutes or until the dough is smooth and elastic.

2

Cover the bowl with plastic wrap and let the dough rest in a warm, draft-free place for 1 hour, or until doubled in size.

3

Turn the dough out onto a lightly floured countertop and divide into 4 x 8½ oz pieces. Shape each piece into a smooth ball.

4

Lightly sprinkle two baking sheets with semolina and place the dough balls on the baking sheets, leaving 4-inches between the balls. Drizzle each ball with a little oil, spread the oil to coat the dough. Cover each baking sheet with plastic wrap and refrigerate for at least 6 hours or up to 5 days.

5

An hour before cooking, remove the dough from the refrigerator and stand, covered, at room temperature. Meanwhile, continue to the next step.

6

In a medium bowl, combine the marinara sauce, salt and oregano. Set aside until required.

7

About 20 minutes before the dough has finished resting preheat the oven. Select the WOOD FIRED setting. Turn the DARKNESS setting to the DARKER dial and select 3 minutes on the TIMER dial (preheat can take up to 20 minutes).

8

Sprinkle semolina on a clean countertop. Use a bench scraper to lift one of the dough balls and place on the countertop. Sprinkle semolina over the dough. Keep the remaining dough covered to prevent it from drying out. Gently press out the dough working from the center into a 9-inch round, leaving a ½-inch border. Lightly sprinkle the peel with semolina. Carefully transfer the dough onto the peel, removing any excess semolina. Gently pull down the top of the dough and form the side and base into a heart shape.

9

Spread a quarter of the sauce evenly over the dough to the border. Scatter with ¼ cup mozzarella, then top with a quarter of the pepperoni. Scatter ¼ cup mozzarella and a quarter of the parmesan on top.

10

Once preheated, place the pizza in the oven and press the TIMER dial to start the timer. Cook for 3 minutes, or until the crust is spotted brown and the cheese has melted.

11

Transfer to a cutting board, slice and serve. Repeat with the remaining dough, sauce and toppings.