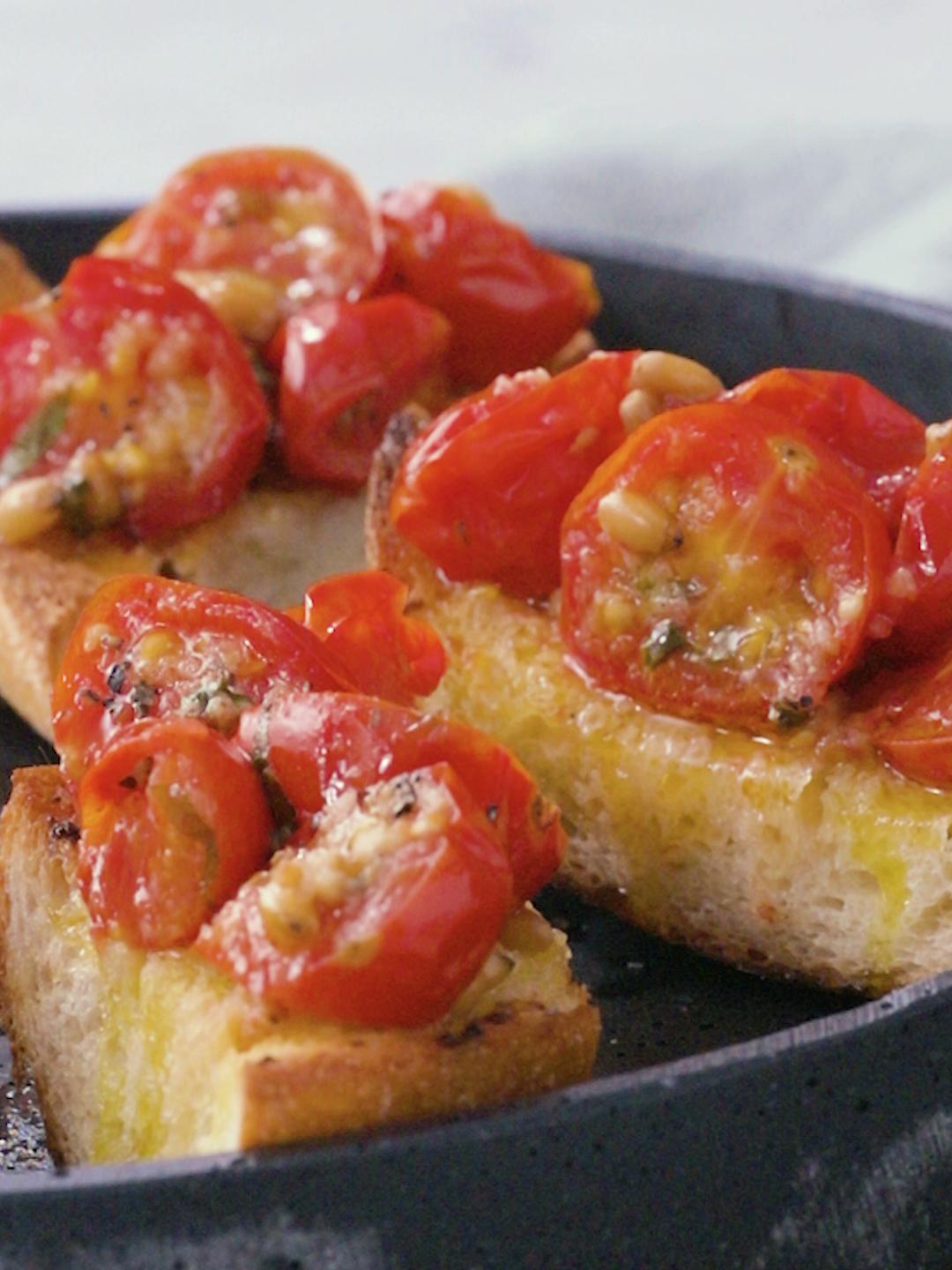 Roasted Tomato, Garlic and Pine Nut Bruschetta
Whether it's served as part of an Italian feast or as an appetizer, this is sure to be a hit. Cooking the tomatoes with the pine nuts and garlic in a parcel makes all of the flavors develop and infuse together.
Ingredients
---
3 cloves garlic

divided, finely chopped

5 basil leaves

finely chopped

Freshly ground black pepper

to season

8 oz cherry tomatoes

halved
Instructions
1

Insert the wire rack into position 5.

2

Once preheated, place the pine nuts on the pizza pan and place in the oven. When the Rotate Remind signals, stir the pine nuts and continue cooking.

3

The pine nuts should be golden. If not, give it a bit more.

4

The oven will adjust the setting to cook the tomatoes. It'll signal when ready. Meanwhile, continue to the next step.

5

Place 2 cloves garlic, salt, basil, oil and pepper in a bowl and mix to combine. Add the tomatoes and pine nuts and stir.

6

Place a rectangular piece of parchment paper approximately 16-inch x 10-inch over a piece of foil the same size. Place the tomato mixture in the center. Fold and seal the paper and foil over the tomato mixture to enclose and place in the roasting pan.

7

When the oven signals, place the pan in the oven and start the timer. Meanwhile, prepare the baguette.

8

Cut the baguette on an angle into four slices, approximately 1½-inch thick. Cut the slices in half and place on the pizza pan. Combine the remaining oil and garlic in a small bowl and brush over the baguette.

9

Carefully open the parcel so it can be resealed. The tomatoes should be just starting to collapse. If not, reseal and give it a bit more.

10

Remove the tomatoes from the oven and set aside to cool to room temperature.

11

Carefully move the wire rack to position 3.

12

Place the pan in the oven and start the timer.

13

The baguette slices should be golden. If not, give it a bit more.

14

Top the baguette slices with the tomato mixture and a little of the cooking juices. Season with sea salt and pepper and serve.