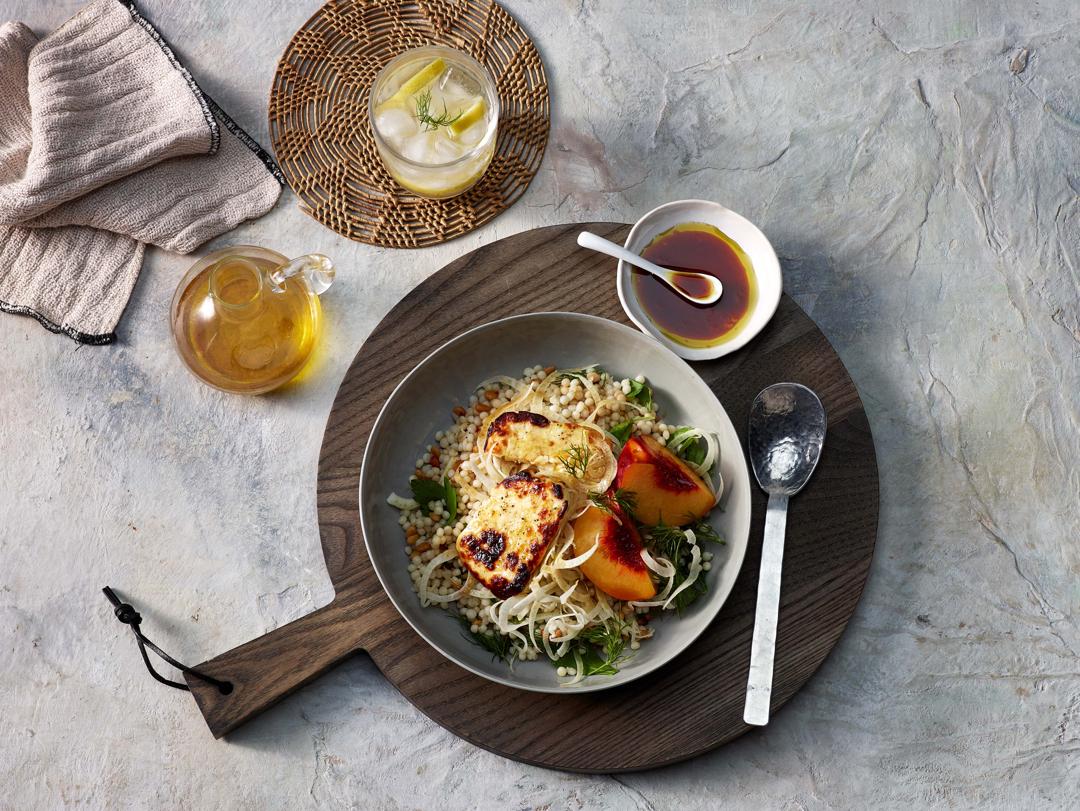 Broiled Haloumi, Peach and Fennel Salad
Ingredients
---
For the salad:
1½ cups (5¼ oz) pearl couscous

⅔ cup (¾ oz) firmly packed basil leaves

coarsely chopped

⅔ cup (¾ oz) firmly packed flat-leaf parsley leaves

coarsely chopped

¼ cup (¼ oz) firmly packed dill sprigs
For the vinaigrette:
1 tbsp pomegranate molasses

1 tbsp chardonnay vinegar

1 tbsp extra-virgin olive oil

Freshly ground black pepper

to season
Instructions
1

To make the salad, put the water and 1 teaspoon of the oil in a small saucepan and bring to a boil over high heat. Add the couscous, reduce the heat to medium and simmer for 8 minutes until the couscous is tender and the water is absorbed.

2

Transfer the couscous to a bowl. Add the sea salt and 1 teaspoon of the remaining oil. Stir to combine. Cover with plastic wrap and pierce a few small holes for the steam to escape. Refrigerate to cool.

3

Insert the wire rack into the middle shelf position. Preheat the oven. Select ROAST/CONVECTION/350°F/4 minutes and press start.

4

Spread the pine nuts over the bottom of the roasting pan.

5

Once preheated, put the pine nuts in the oven and roast for 4 minutes until golden. Transfer the pine nuts to a bowl and set aside to cool.

6

Using a mandolin, thinly shave the fennel. Put it in a bowl and cover with cold water.

7

To make the vinaigrette, combine all the ingredients in a bowl, season with salt and pepper and whisk until well combined.

8

Slice the haloumi into 6 slices. Brush both sides with the remaining olive oil.

9

Set the broiling rack over the roasting pan. Place the haloumi on the rack, in a single layer.

10

Set the oven to BROIL/HIGH/4 minutes.

11

Put the haloumi in the oven. When the timer finishes, remove the pan, turn the haloumi over using a spatula, and return to the oven.

12

Set the oven to BROIL/HIGH/3 minutes.

13

Transfer the haloumi to a board and cut 2 pieces in half.

14

Stir the couscous with a fork to break up any clumps then spoon it into a large bowl.

15

Drain the fennel well. Pat dry with paper towel. Add to the couscous with the basil, parsley, dill and pine nuts. Stir to combine. Pour over the vinaigrette and stir to coat.

16

Cut each peach into 4 thick wedges.

17

Divide the salad between serving bowls. Top with 2 wedges of peach and 1½ slices of haloumi. Season with pepper and serve.