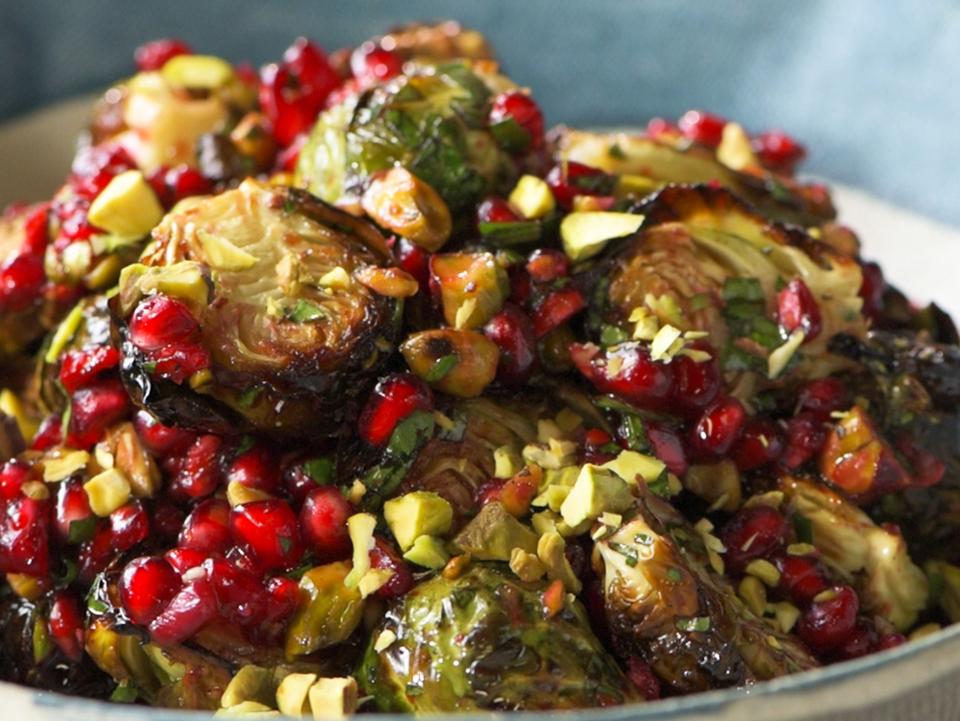 Air-Fried Brussels Sprouts with Pomegranate Dressing
Pomegranate molasses is a thick syrup-like sauce that imparts an intense sweet and sour taste to the dressing that is perfectly paired with the slightly bitter taste of Brussels sprouts.
Ingredients
---
2 tbsp extra-virgin olive oil

Freshly ground black pepper

to season

¼ cup (¼ oz) flat-leaf parsley leaves

coarsely chopped

¼ cup (1 oz) shelled pistachios

coarsely chopped, divided
For the dressing:
2 tbsp pomegranate molasses

3 tbsp extra-virgin olive oil
Instructions
1

Select AIR FRY/SUPER CONVECTION/400°F/16 minutes and press START to preheat.

2

Meanwhile, trim the base from the Brussels sprouts and cut the larger ones in half. Remove any tough outer leaves. Combine with the oil, salt and pepper and toss to coat. Place in a single layer in the air fry basket, ensuring they are not touching.

3

Once preheated, place the basket in rack position 3 and cook until the Brussels sprouts are browned and tender.

4

Meanwhile, prepare the dressing. Cut the pomegranate in half, hold the cut side in your hand over a large bowl to catch the juice and seeds, and firmly tap with a rolling pin or large spoon to loosen and release the seeds. Squeeze the pomegranate to extract as much juice as possible. Pick through the seeds to remove any white membrane. Add the molasses and oil to the pomegranate and stir.

5

Add the Brussels sprouts, parsley and half the pistachios to the pomegranate dressing, and stir to combine.

6

Serve sprinkled with the remaining pistachios.