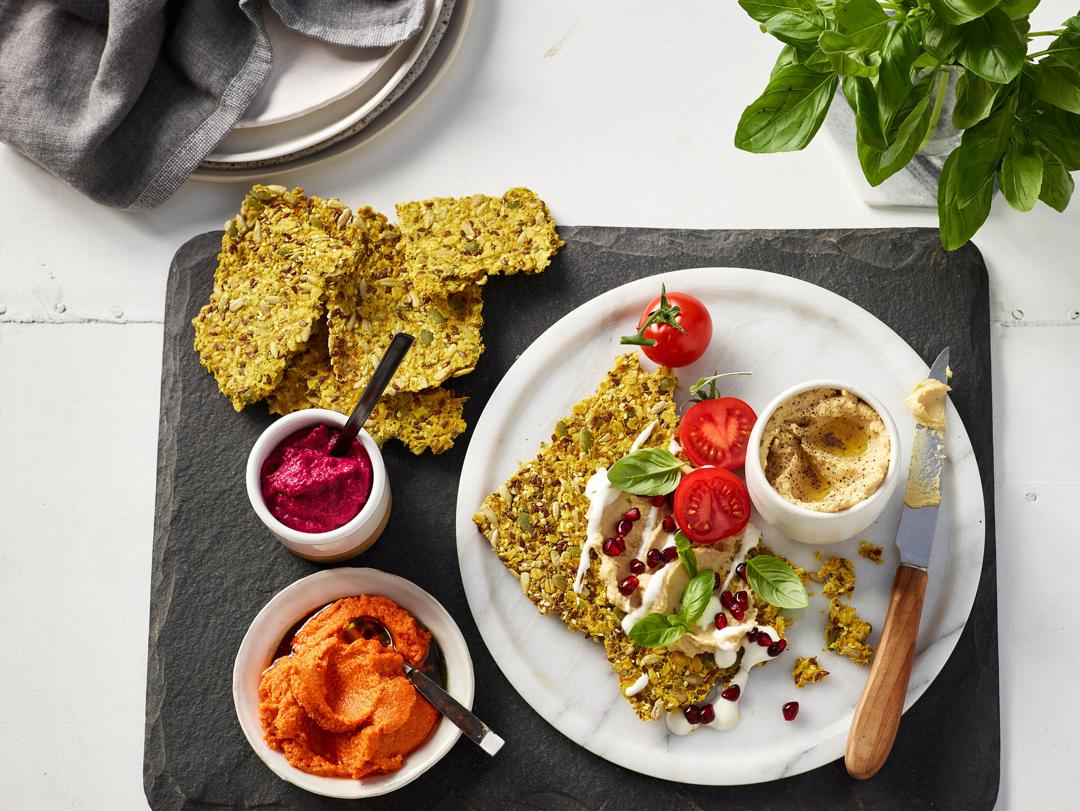 Ingredients
---
3 tbsp psyllium husk powder

1 tsp freshly ground black pepper

2 tsp ground turmeric

divided

3 tbsp melted coconut oil

1 (10 oz) large parsnip

finely grated
Instructions
1

In a large bowl combine all the seeds, oats, psyllium husk, salt, pepper and 1 teaspoon ground turmeric.

2

Whisk coconut oil and water together in a measuring cup. Add to the dry ingredients and mix very well until everything is completely soaked and dough becomes very thick.

3

Mix grated parsnip with 1 teaspoon turmeric and stir to combine. Add to the seed dough and stir to thoroughly combine. Divide the dough in half, and set aside one half.

4

Shape the first half into a disk and place it between two sheets of parchment paper. Using a rolling pin, firmly roll dough into a thin sheet the size of the dehydrate basket.

5

Place dough and parchment paper in the dehydrate basket. Remove top sheet of parchment.

6

Repeat steps 4–5 with remaining dough.

7

Place dehydrate baskets in rack positions 3 and 5. Select DEHYDRATE/150°F/SUPER CONVECTION/6 hours and enable Rotate Remind. Press START.

8

Dehydrate crackers until dry. When prompted by Rotate Remind, rotate the baskets front to back and switch rack levels. Carefully flip over the cracker dough.

9

Remove baskets from oven and let rest for 10 minutes. Break crackers into shards.

10

Let cool completely before storing in an airtight container for up to 2 weeks.

Tip: For uniformly shaped crackers, use the tip of a knife to score the dough into shapes before dehydrating. Note: You will need two dehydrate baskets for this recipe. Otherwise, dehydrate in two batches and keep the second batch refrigerated until ready to use.