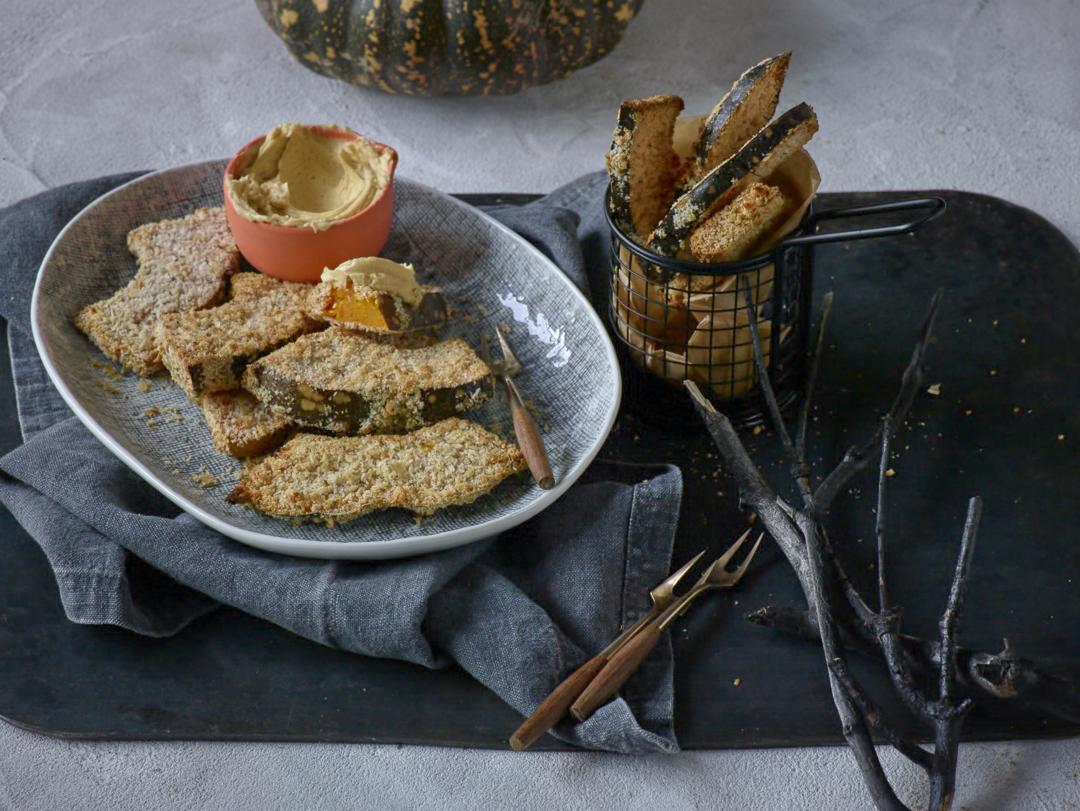 Crispy Acorn Squash with Brown Butter Aioli
Ingredients
---
¼ tsp freshly ground black pepper
Brown butter aioli (yields ¾ cup):
1 large egg yolk

at room temperature

Freshly ground black pepper
Instructions
1

Cut squash in half lengthwise and scoop out seeds and stringy pulp. Save seeds for airfried pumpkin seeds or discard. Slice each half crosswise into ½-inch thick slices. Peel slices, if desired.

2

Combine panko, sage, chili powder, kosher salt and black pepper in the bowl of a food processor. Pulse until ingredients are well combined and slightly finer in texture, 5-7 pulses. Transfer panko mixture to a shallow dish.

3

Place egg whites in a separate shallow dish and combine with 2 tablespoons water. Place flour in a third shallow dish.

4

Working in batches, toss squash slices in flour and shake off any excess. Dip squash in egg white and allow excess to drain off. Dredge squash in panko mixture, ensuring all sides are well crusted. Place breaded squash on a large plate or baking pan.

5

Arrange half of the squash in a single layer on the airfry basket, leaving space between each piece. 6. Select AIRFRY/400°F/SUPER CONVECTION/20 minutes and press START to preheat oven.

6

Cook in rack position 4 until brown and crispy, about 20 minutes. Repeat with remaining squash. Make brown butter aioli while squash cooks.

7

Serve immediately with brown butter aioli.

8

Brown Butter Aioli. Melt butter in a small saucepan over medium heat. Cook, stirring frequently and scraping bottom, until butter turns brown and smells nutty, about 4 to 6 minutes. Remove from heat and transfer to a glass measuring cup. Let cool to just above room temperature.

9

Combine egg yolk, garlic, lemon juice, water and salt in a medium bowl. Whisk well to combine. Whisking constantly, slowly add the brown butter to the yolk mixture a few drops at a time. Once about half of the butter is incorporated, increase the speed to a slow, thin stream. Do not add the butter too quickly. Whisk until aioli is thick and spreadable.

10

Season to taste with salt and black pepper. Serve immediately or cover and refrigerate. If refrigerating, remove from the refrigerator 10-15 minutes before using and stir well to restore creamy consistency.