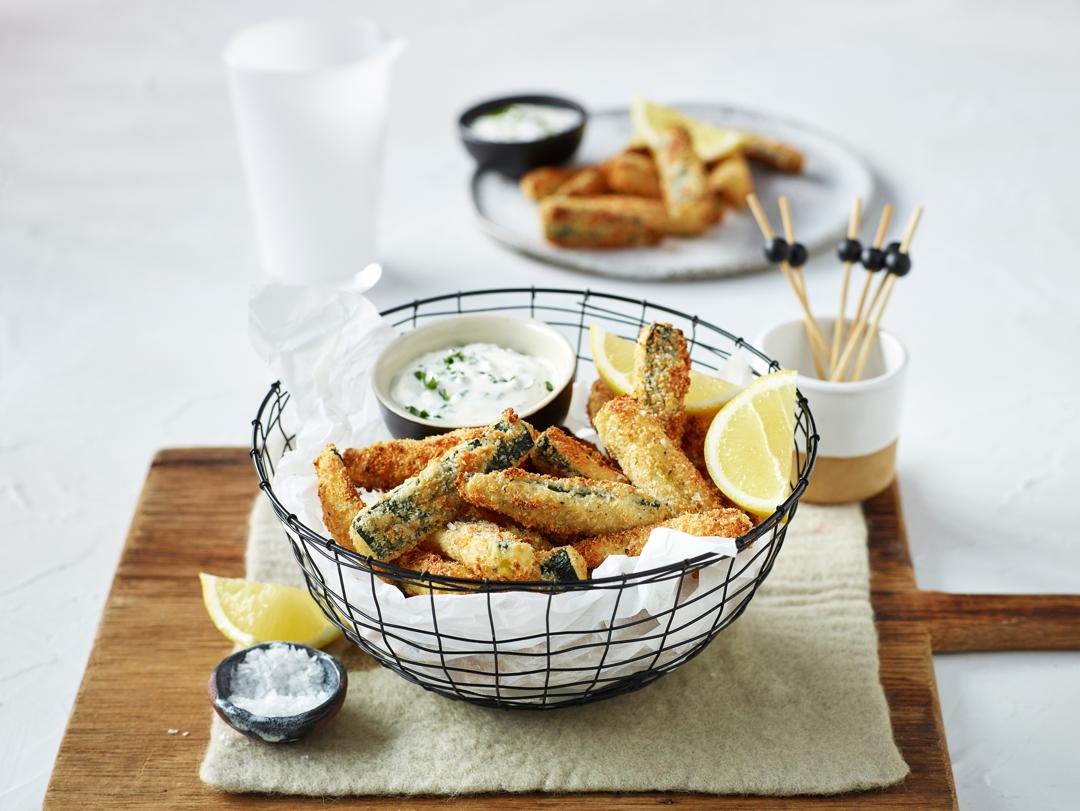 Zucchini Fries with Herbed Yogurt Dip
Ingredients
---
4 medium zucchinis

ends trimmed

1½ tsp flaky sea salt

crushed

1 cup (2 oz) panko breadcrumbs

¾ cup (2 oz) finely grated parmesan cheese

¼ cup (1¼ oz) all-purpose flour
For the herbed yogurt dip:
1 cup (8½ oz) Greek-style yogurt

1 small clove garlic

finely grated

3 tbsp finely chopped chives

2 tbsp finely chopped flat-leaf parsley

¼ tsp freshly ground black pepper
Instructions
1

Cut the zucchini in half crosswise and then cut each in half lengthwise. Cut each piece into ½-inch thick wedges. Sprinkle the zucchini with the salt and put in a colander set over a bowl. Set aside for 30 minutes.

2

Rinse the zucchini under cold running water to get rid of the excess salt. Pat dry with paper towels.

3

To make the herbed yogurt dip, put all the ingredients in a small bowl and stir until well combined. Cover and refrigerate until ready to use.

4

Combine the breadcrumbs, Parmesan, oregano and cayenne in the bowl of a food processor. Pulse until the ingredients are well combined and slightly finer in texture. Transfer the crumb mixture to a tray.

5

Place the flour in a shallow dish.

6

Whisk the egg whites in a bowl until slightly foaming.

7

Working with a few zucchini wedges at a time, coat the zucchini in the flour mixture, dusting off any excess, dip in the egg whites then breadcrumbs, pressing on the crumbs, ensuring all sides are well coated. Place on a plate. Continue until all the zucchini wedges are coated.

8

Place the zucchini in the air fry basket, ensuring they are not touching each other. Spray the zucchini with the oil to coat. Turn the zucchini and spray the other side.

9

Preheat the oven. Select AIRFRY/SUPER CONVECTION/425°F/16 minutes and press start.

10

Once preheated, place the zucchini in the AIR FRY position and cook for 16 minutes until golden and crisp.

11

Serve immediately with the herbed yogurt dip.