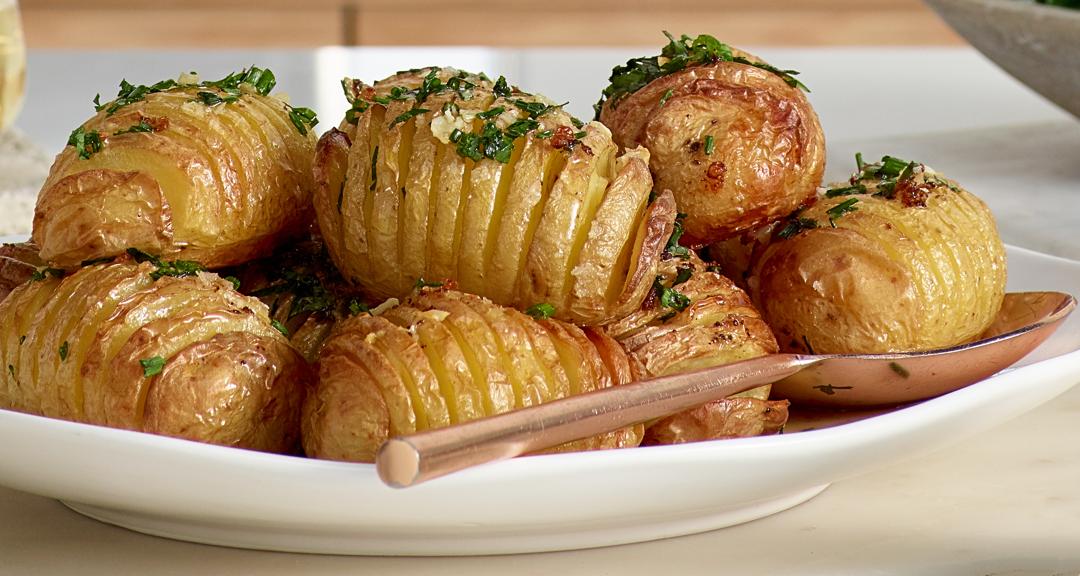 Crispy Hasselback Potatoes
Ingredients
---
½ tsp freshly ground black pepper

2 lb small-medium yellow or white potatoes

3 cloves garlic

finely chopped (about 2 teaspoons)
Instructions
1

Place butter, olive oil, salt and pepper in a small saucepan over very low heat. Warm the mixture until the butter melts, stirring to dissolve the salt. Keep warm.

2

Cut a thin slice from the bottom side of each potato to create a more stable base. Place a potato lengthwise between 2 chopsticks or the flat handles of two spatulas. Cut slits into the potato, 1/8 to ¼-inch apart, stopping when the knife hits the chopsticks. Repeat for the remaining potatoes.

3

Insert wire rack in rack position 6. Select ROAST/425°F/SUPER CONVECTION/45 minutes and enable Rotate Remind. Press START to preheat oven.

4

Line the roasting pan with foil. Place a potato in the bottom of a small bowl. Being careful not to pull apart the potato, gently open the top edge of each slice and, using a pastry brush, drizzle the butter mixture between each slice and on the outside of the potato. Set the buttered potato on the roasting pan. Repeat with each potato.

5

Transfer any butter that collected in the bowl back to the saucepan. Add the garlic and keep warm over very low heat, stirring occasionally, while the potatoes cook.

6

Cook the potatoes until the Rotate Remind signal sounds, about 30 minutes, and then remove the roasting pan from the oven. Using the pastry brush, coat the top of each potato with the garlic mixture. Return the pan to the oven and continue roasting until the potatoes are browned and crisp on the edges and the garlic is deeply caramelized, about 15 more minutes.

7

Serve potatoes immediately, garnished with chopped chives and parsley and a sprinkle of kosher salt.