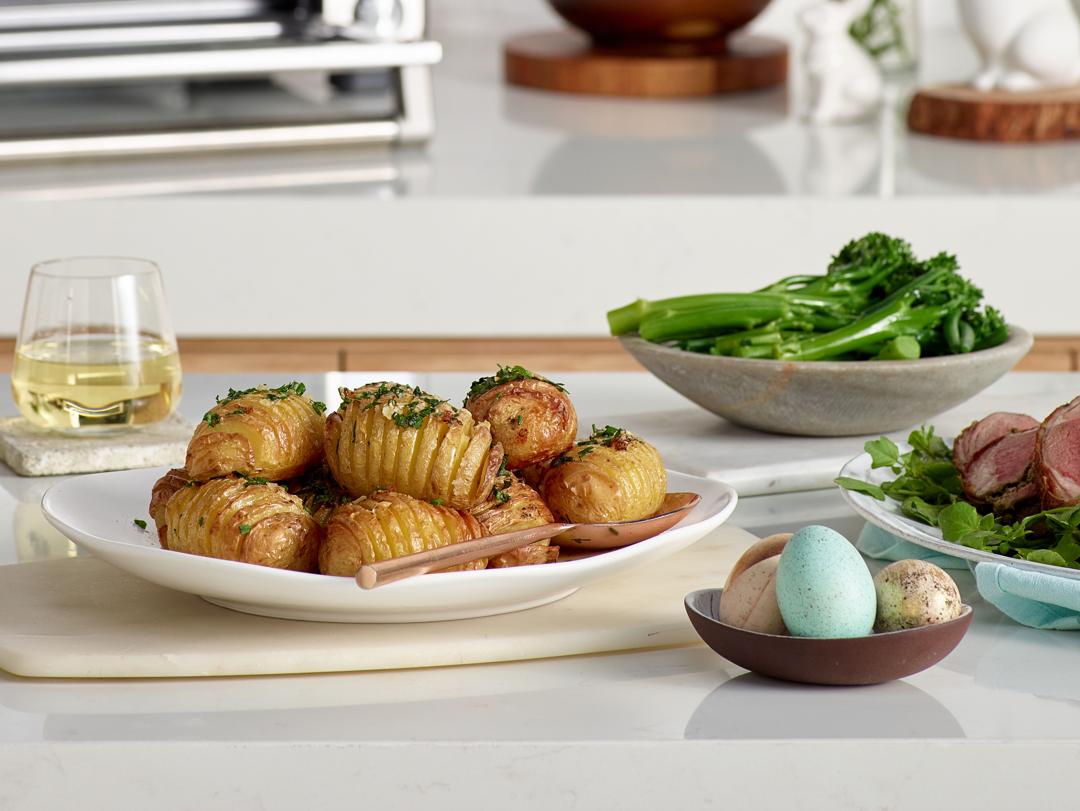 Garlic Hasselback Potatoes
Ingredients
---
2 oz unsalted butter

chopped

¼ cup (2 fl oz) olive oil

plus extra for greasing

2 tsp flaky sea salt

crushed

½ tsp freshly ground black pepper

10 (2¼ lb) small red or yellow skin potatoes

unpeeled
To serve:
1 tbsp chopped flat-leaf parsley leaves
Instructions
1

Put the butter, oil, garlic, salt and pepper in a small saucepan over low heat. Heat for 3-4 minutes until the butter has melted and the salt dissolved. Cover to keep warm.

2

Cut a thin slice from the bottom of each potato to create a flat, stable base. Place one potato lengthwise between 2 chopsticks or flat-handled wooden spoons. Cut slits into the potato, 1/8-inch apart, stopping when the knife hits the chopsticks. Repeat with the remaining potatoes.

3

Insert the wire rack into the middle shelf position. Preheat the oven. Select ROAST/CONVECTION/425°F/45 minutes and press start.

4

Grease the roasting pan. Place the potatoes in the roasting pan, flat side down. Brush generously with the garlic butter mixture.

5

Once preheated, put the potatoes in the oven and roast for 30 minutes.

6

Remove the pan from the oven, brush the potatoes with the remaining garlic butter mixture and return to the oven.

7

Roast for another 15 minutes until the potatoes are golden and tender.

8

Transfer to a serving plate, sprinkle with chives and parsley and serve.