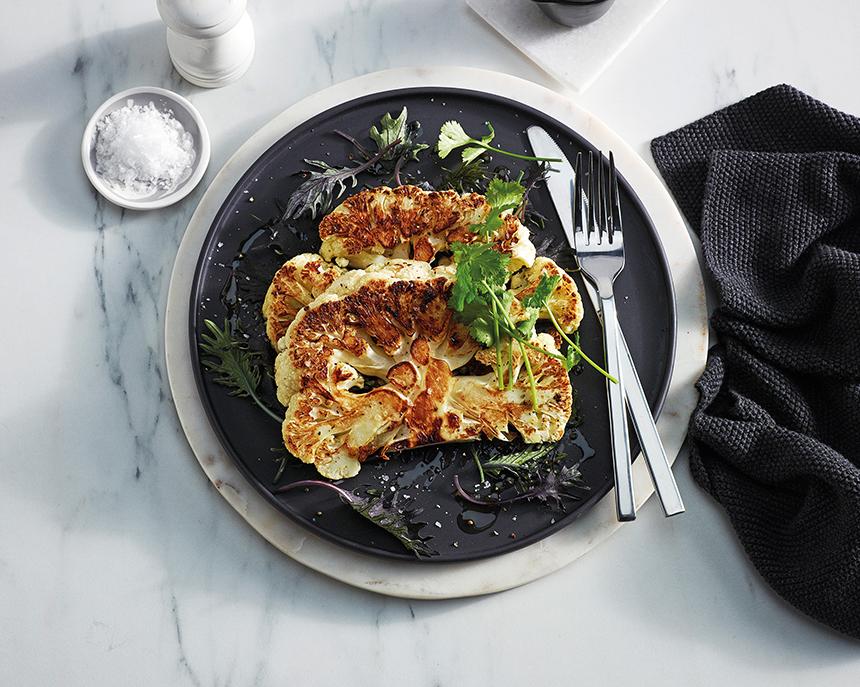 Cauliflower Steak with Red Zhug Sauce
Ingredients
---
Red Zhug sauce:
5 Fresno chilies

roughly chopped

¾ cup lightly packed cilantro leaves
Cauliflower steaks:
1 (1½ lb) medium head cauliflower

Kosher salt and freshly cracked black pepper
Instructions
1

Make Red Zhug Sauce: Place all ingredients in small food processor and process until combined. Transfer sauce to small bowl, cover and reserve.

2

Remove leaves and trim stem end of cauliflower, leaving core intact. Cut cauliflower from top to base into 2 x 1½-inch thick steaks. Place cauliflower steaks in a large bowl, add oil and turn to coat.

3

Season with salt and pepper.

4

Press AIRFRY and set 450°F for 20 minutes. Place Combi Crisp pan on turntable in high position and press START to preheat pan. Place one cauliflower steak in preheated pan and press START to begin cooking. Turn steak over when prompted halfway through cooking.

5

Repeat with remaining cauliflower steak.

6

Serve immediately with Red Zhug Sauce.