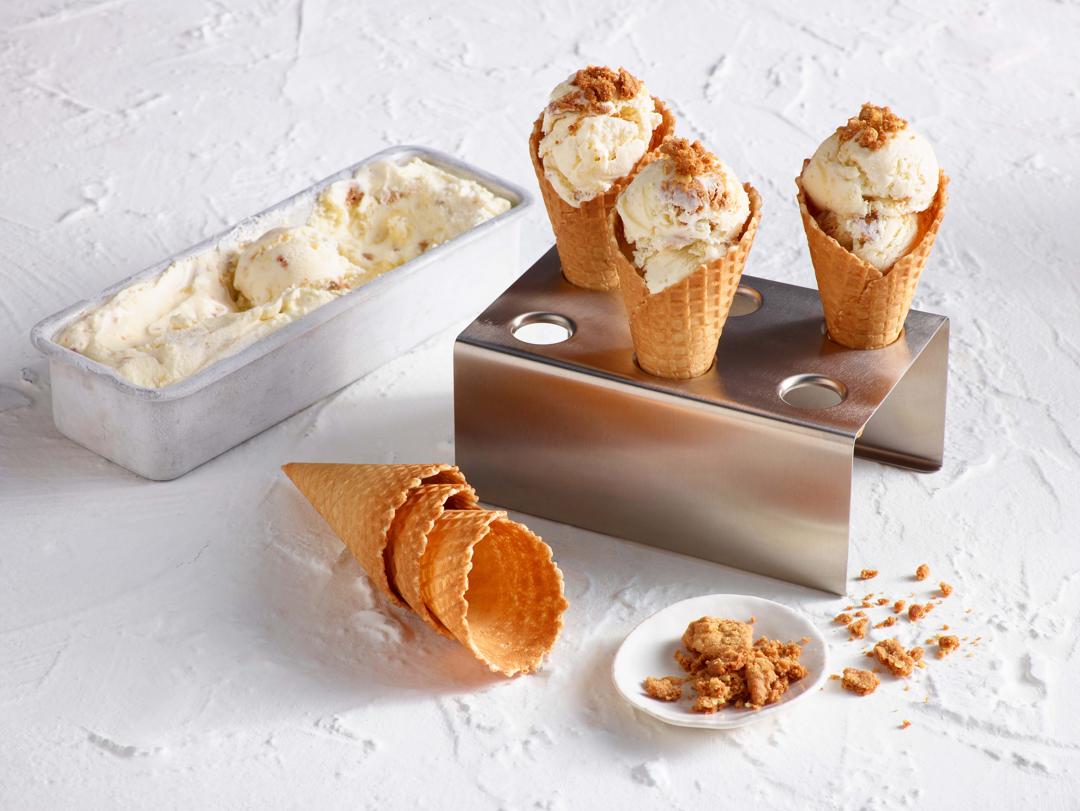 Ingredients
---
For the crumble:
½ cup (2½ oz) all-purpose flour

2 oz unsalted butter

chopped

2 tbsp old fashioned rolled oats
For the apple mixture:
1 (7 oz) large Granny Smith apple

peeled, cored and thinly sliced
For the ice cream:
2½ cups (20 fl oz) heavy cream

14 oz can sweetened condensed milk
Instructions
1

To make the crumble, preheat the oven to 350°F. Line a baking sheet with parchment paper. Combine the flour and baking powder in a bowl. Add the butter. Rub the butter into the flour mixture with your fingertips until it resembles fine crumbs. Add the brown sugar and oats and stir until the crumble starts to clump together. Spoon mixture onto the baking sheet and bake for 10-15 minutes, stirring the crumble every 5 minutes until golden. Cool the crumble on the baking sheet.

2

To make the apple mixture, combine the apple, sugar and water in a small saucepan. Stir over medium heat until the sugar has dissolved. Cover and cook, gently shaking the pan occasionally, for 5 minutes until the apple is just tender. Spoon the apple mixture onto a plate and spread into a single layer. Cool. Refrigerate until ready to add to the ice cream.

3

To make the ice cream, combine the cream and sweetened condensed milk and a large measuring cup. Cover and refrigerate for 1-2 hours until cold.

4

Pour the chilled mixture into the ice cream bowl. Set the ice cream maker to the desired setting and churn.

5

Add the apple and ½ cup of the crumble mixture once the machine specifies to add in Mix-Ins.

6

Once the ice cream is frozen transfer to a freezer-safe container, just large enough to contain the ice cream. Freeze for 6 hours or overnight for firmer ice cream.

7

Serve scooped into waffle cones sprinkled with the remaining crumble mixture.

8

Store ice cream in the freezer for up to 2 weeks and crumble in an airtight container in the fridge for up to 2 weeks. The ice cream will become very firm after freezing overnight, so remove from the freezer and stand at room temperature for 5-10 minutes before serving for easier scooping.