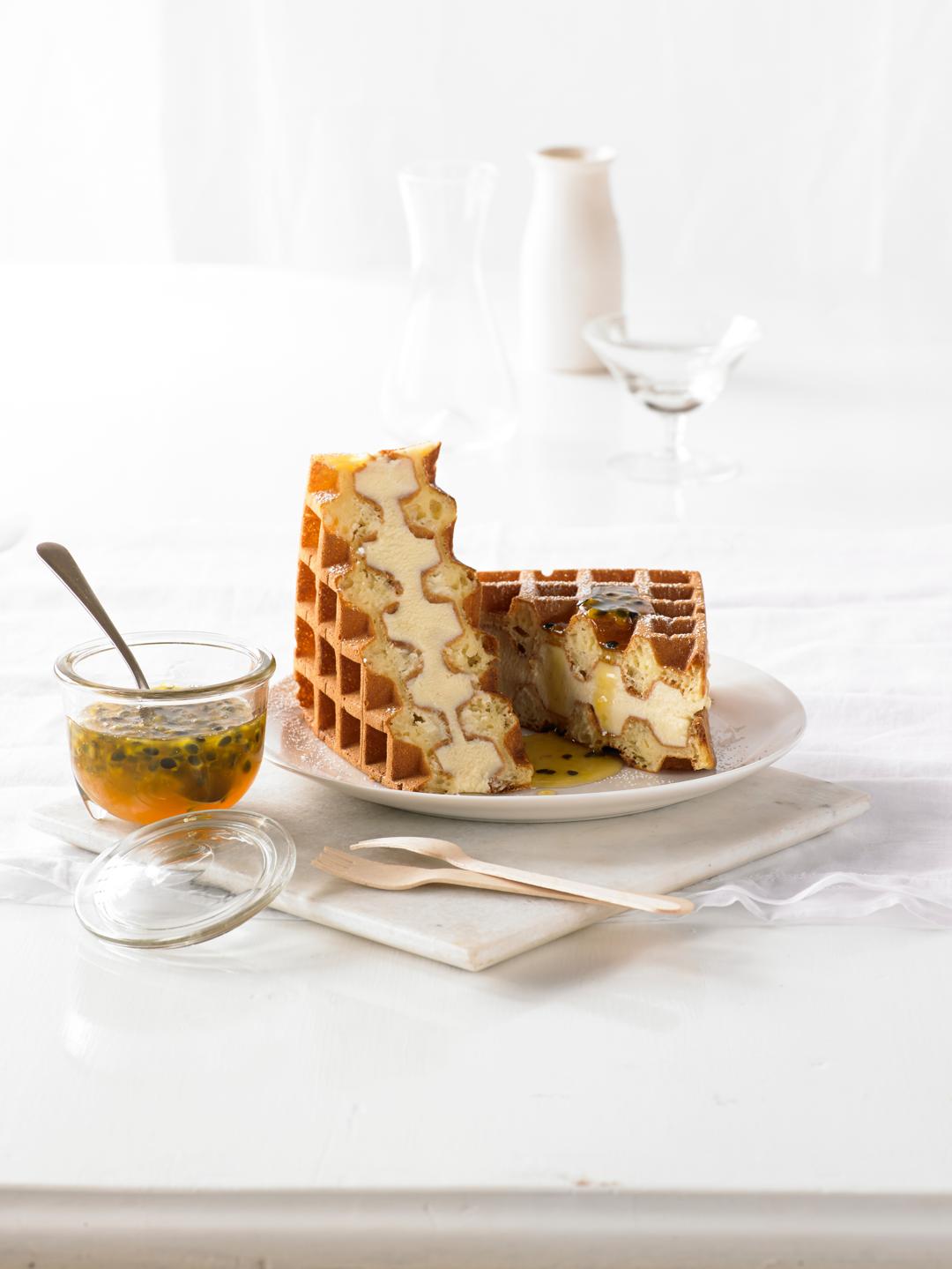 Lemon Ricotta Cheesecake Waffles
Ingredients
---
1 cup (8 oz) unsalted butter

melted and cooled

2¼ cups (11¾ oz) self-rising flour

¼ cup (1¾ oz) superfine sugar
For the passionfruit sauce:
1 cup (8 fl oz) passionfruit pulp (approx. 12)

¼ cup (1 oz) powdered sugar
For the lemon cheesecake filling:
1¼ cups (10½ oz) smooth ricotta
Instructions
1

To make the passionfruit sauce, put the passionfruit pulp, water and sugar in a small saucepan. Bring to a boil over medium-high heat. Reduce the heat to medium and simmer, for 5 minutes, until the sauce thickens. Transfer to a bowl and set aside to cool.

2

Put the egg yolks, milk, butter and vanilla in a medium bowl and whisk until well combined.

3

Combine the flour and sugar in a large bowl and make a well in the centre.

4

Whisk the egg mixture into the flour mixture to form a smooth batter.

5

Beat the egg whites with a stand mixer until stiff peaks form. Gently fold the egg whites into the batter.

6

Select BELGIAN waffle setting and dial up number 6 on temperature control dial.

7

Preheat until the orange light flashes and the word HEATING disappears.

8

Pour ½ cup of the batter into each waffle square and close the lid to cook.

9

Repeat with the remaining batter. Set aside to cool completely.

10

To make the lemon cheesecake filling, put the ricotta and lemon curd in a medium bowl and stir to combine.

11

Cut each waffle in half diagonally. Spoon some of the lemon cheesecake filling over each half, then sandwich the halves together.

12

Serve drizzled with the passionfruit sauce.