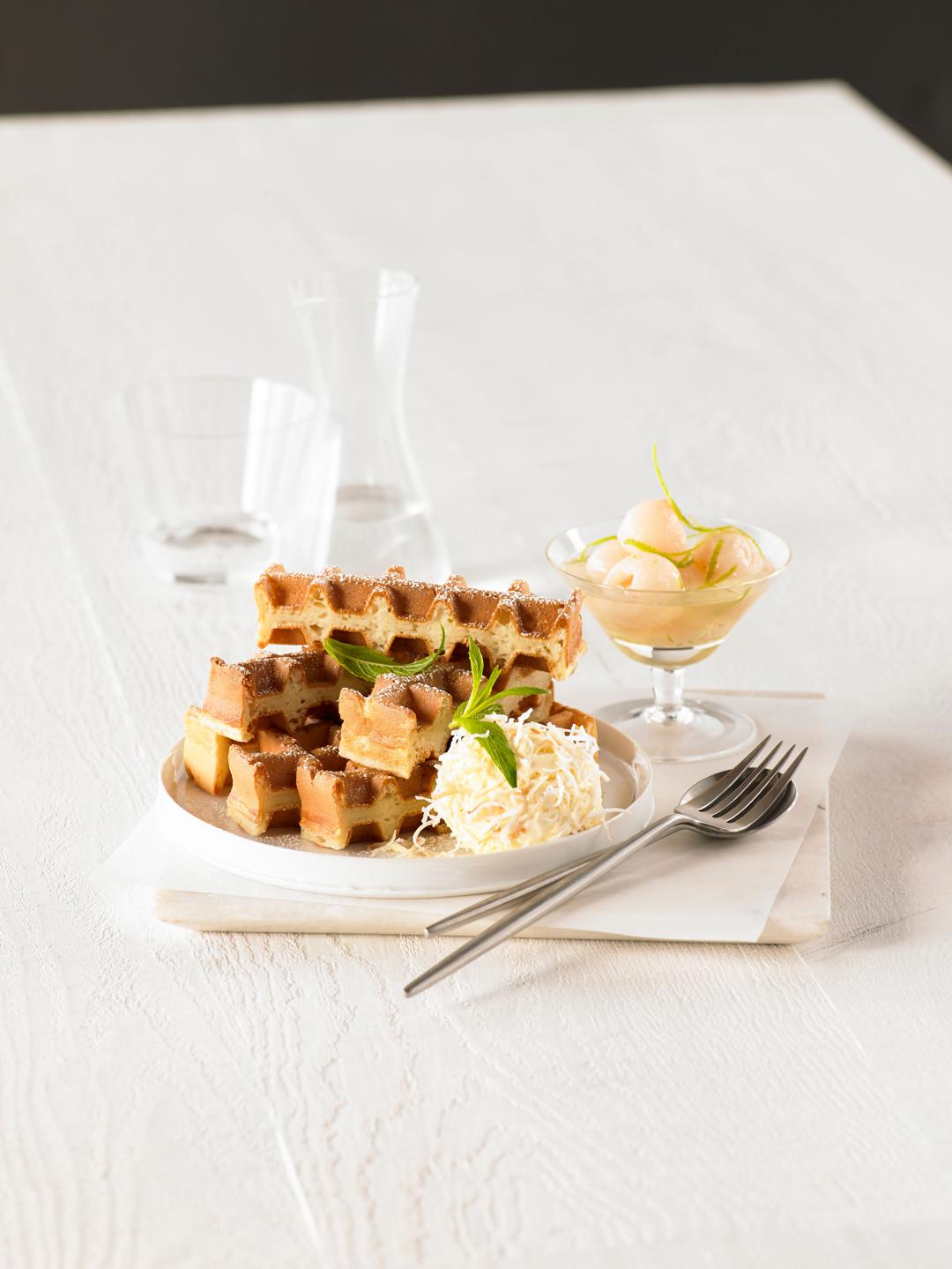 Coconut Waffles with Lime and Lychee Syrup
Ingredients
---
2 cups (10½ oz) self-rising flour

⅓ cup (2¼ oz) superfine sugar

1 cup (2½ oz) shredded coconut

toasted, divided

13½ fl oz 13.5-oz can of coconut milk

⅓ cup (2¾ fl oz) coconut or vegetable oil
For the lime and lychee syrup:
18 oz can lychees

drained, syrup reserved

⅓ cup (2¼ oz) superfine sugar
Instructions
1

To make the lime and lychee syrup, put the zest and juice, reserved lychee syrup and the water in a small saucepan. Add the sugar and bring to a boil. Reduce the heat to low and simmer, for 15 minutes or until reduced by half. Add the lychees and simmer until syrup is thick. Remove from heat. Set aside.

2

Select CLASSIC waffle setting and dial up number 6 on temperature control dial.

3

Preheat until the orange light flashes and the word HEATING disappears.

4

Meanwhile, combine the flour, sugar, ¾ cup of the coconut and the baking powder in a large bowl and make a well in the center.

5

Put the coconut milk, eggs and coconut oil in a medium bowl and whisk until well combined.

6

Whisk the egg mixture into the flour mixture to form a smooth batter.

7

Pour ½ cup of the batter into each waffle square and close the lid to cook.

8

Repeat with remaining batter.

9

Serve waffles with the lychee syrup, ice cream, mint sprigs and remaining coconut.