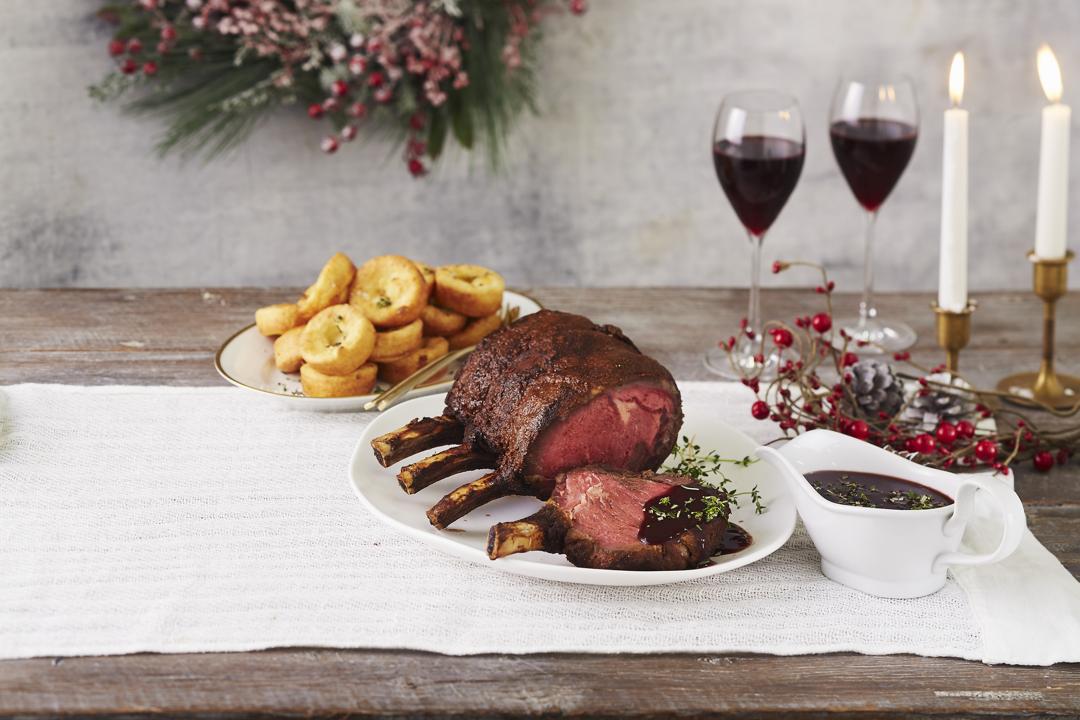 Espresso-Ancho Chili Rubbed Prime Rib
Ingredients
---
1 x 3-bone prime rib, 6–7½ pounds
Rub:
1½ tbsp ancho chili powder
Red wine and herb jus:
2 cups low-sodium or unsalted beef broth

1 tsp finely chopped fresh thyme

1 tsp finely chopped fresh rosemary

Freshly ground black pepper
Instructions
1

Combine rub ingredients in a small bowl.

2

Rub the entire roast with the spice mixture, lifting the roast from the bones to apply to the underside. Place roast back on the bones and secure with butcher twine between each bone. Place roast in a large bowl and place in the refrigerator, uncovered, for 24–48 hours.

3

2–3 hours before roasting, remove roast from the refrigerator and allow it to come up to room temperature. Place the roast, bones down, in the roasting pan.

4

Insert wire rack in rack position 8. Select ROAST/300°F/SUPER CONVECTION/2 hours and press START to preheat oven.

5

Once preheated, place the roast in the oven and cook until an instant-read thermometer reads 110°F for medium-rare and 120°F for medium. Check the temperature after about 1 hour and 45 minutes. If roast has not reached desired temperature, continue cooking until temperature is reached. Do not overcook, as the temperature of the roast will continue to rise during resting.

6

Transfer roast to a platter, loosely cover with foil and let rest for 30–60 minutes.

7

While the roast is resting, prepare the jus. Drain off all but 2 tablespoons of fat from the roasting pan. Place the pan on 2 burners set to medium-high heat. Add red wine to deglaze the pan and cook, stirring up the browned bits, until the wine has reduced by half. Add broth and again allow the liquid to reduce by half. Pour in any accumulated juices from the resting roast, add thyme and rosemary, and season with salt and pepper to taste. Remove from heat and pour into a gravy bowl.

8

Place roast on a cutting board. Cut and remove butcher's twine, and remove the ribs. Slice the roast and serve with jus drizzled over or passed on the side. Slice and serve the ribs if desired.

Tip: Ask your butcher to separate the rib bones from the roast.