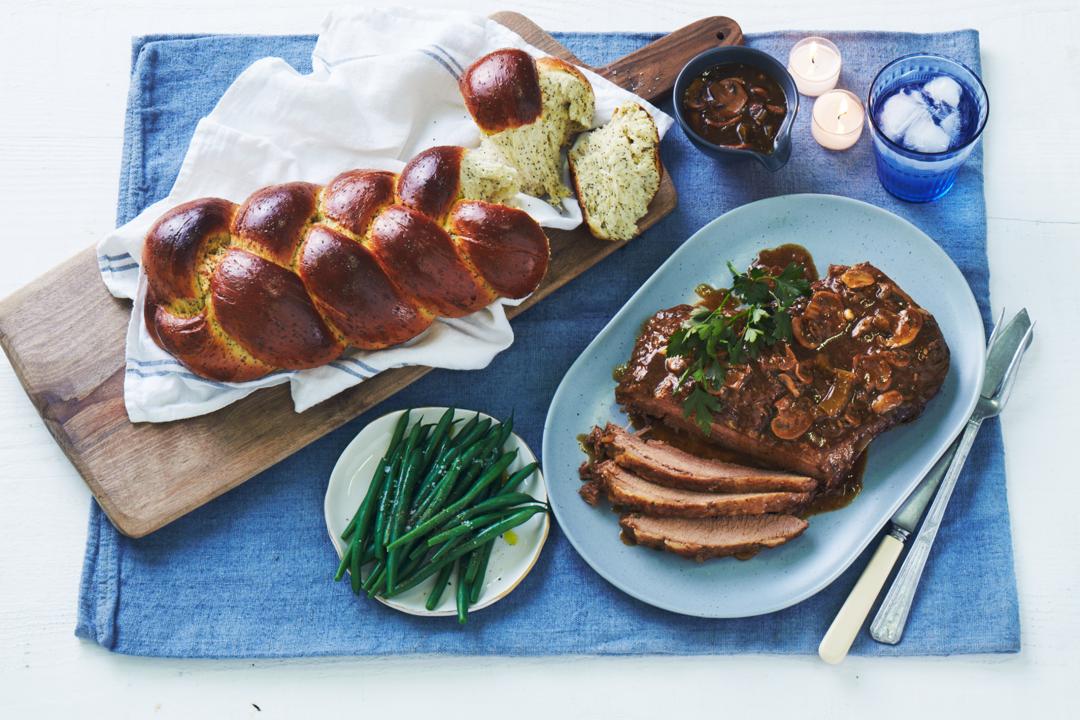 Ingredients
---
1 tbsp kosher salt

divided

2 tsp freshly ground black pepper

divided

1 (4 lb) flat-cut beef brisket

4 stalks celery

cut in ½-inch (1cm) lengths

1 (14½ oz) can low-sodium chicken broth or beef broth

2 tbsp chopped Italian parsley
Instructions
1

Combine 2 teaspoons salt, 1 teaspoon pepper, mustard and paprika in a small bowl. Rub seasonings on outside of brisket. Place brisket in large bowl, cover with plastic wrap and refrigerate for 8 hours or overnight.

2

Remove brisket from refrigerator and allow it to sit at room temperature for 30 minutes.

3

Heat 1 tablespoon olive oil in a large Dutch oven over medium-high heat. Add brisket fat-side down and sear well on both sides, about 3–5 minutes per side. Remove brisket and place on a platter.

4

Pour off all but 2 tablespoons of fat and discard excess. Add mushrooms to pan and cook until browned, about 7 minutes. Remove and place in a small bowl. Add 1 tablespoon olive oil, celery, onions and garlic to pan and cook until onions are browned, about 8 minutes. Return mushrooms to the pan. Stir to combine vegetables and season with remaining 1 teaspoon each of salt and pepper.

5

Add wine and cook, stirring occasionally, until reduced by half, about 5 minutes. Add broth and bring to a simmer and cook for 3 minutes. Remove from heat.

6

Insert wire rack into rack position 8. Select SLOW COOK/CONVECTION and HIGH/5 hours or LOW/7 hours. Press START to preheat oven.

7

Transfer contents of Dutch oven to a large bowl. Place brisket fat side up in the bottom of Dutch oven. Spread vegetables on top of brisket and pour over the liquid. Tuck the thyme and bay leaves into the liquid around the brisket. Cover Dutch oven with lid.

8

Once preheated, place the brisket in oven and cook on HIGH for 5–6 hours or LOW for 7–8 hours. Meat should be very tender but not falling apart.

9

Remove brisket from Dutch oven, place on a cutting board and cover loosely with foil. Skim fat from the surface of the gravy. Cook gravy over medium-high heat to reduce to desired consistency, 10–15 minutes. Remove thyme sprigs and bay leaves.

10

Trim fat from brisket and slice across the grain. Transfer brisket to serving platter and top with vegetables and gravy. Garnish with parsley and serve.

Tip: Cooked brisket can be cooled to room temperature and then refrigerated overnight or up to 2 days. When ready to serve, remove fat from surface of the gravy and place brisket on a cutting board. Reheat gravy over medium-high heat until thickened to desired consistency, 10–15 minutes. Trim fat from brisket and slice, then place brisket slices in the gravy and continue heating until brisket is warmed through. Remove thyme sprigs and bay leaves before serving.