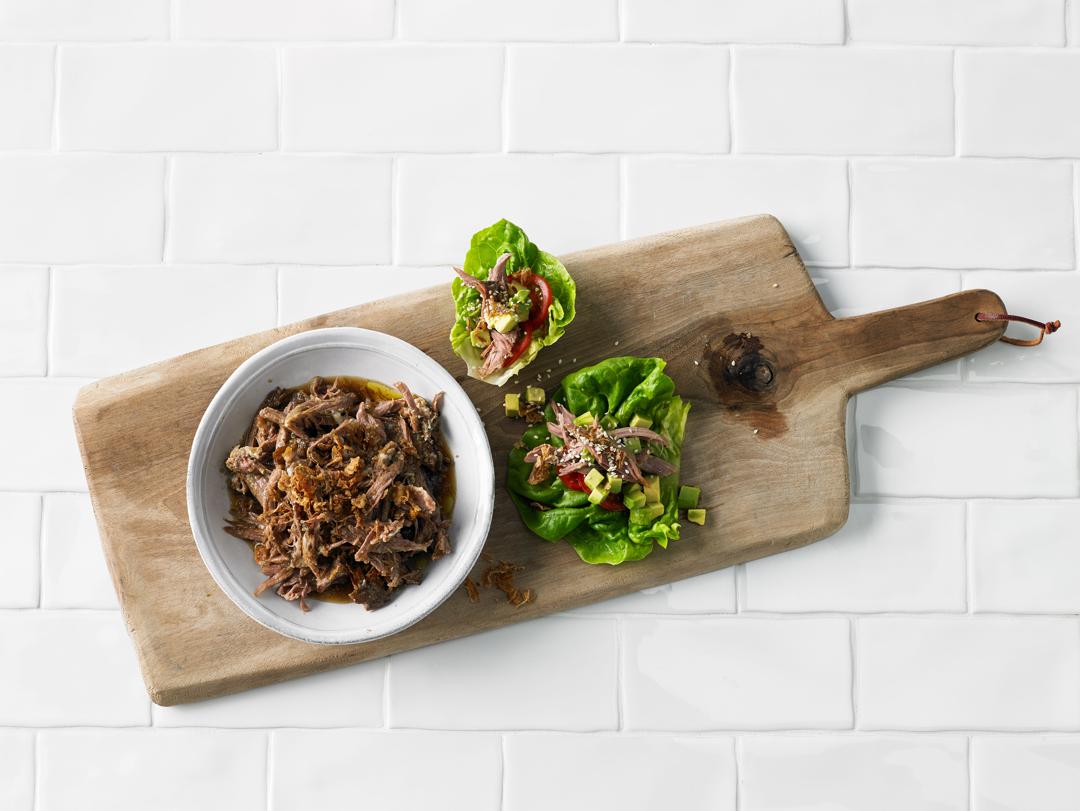 Slow Cooked Lamb Lettuce Cups
Ingredients
---
For the marinade:
1 yellow onion

peeled, coarsely chopped

Freshly ground black pepper

to season
For the slow cooked lamb:
3¾ lb boneless lamb shoulder

2 cups (16 fl oz) beef stock

5 (3½ oz) medjool dates

pitted, halved
To serve:
8 large cherry tomatoes

sliced

Sesame seeds

lightly toasted
Instructions
1

To make the marinade, put all the ingredients in a small food processor and process until the onion is finely chopped and the ingredients are well combined.

2

To make the slow cooked lamb, put the lamb on a large plate. Rub the marinade all over the lamb. Cover and refrigerate for at least 2 hours.

3

Insert the wire rack into the bottom shelf position. Preheat the oven. Select SLOW COOK/CONVECTION/HIGH/4 hours and press start.

4

Heat the oil in a 4 ½ qt Dutch oven over medium-high heat. Remove the excess marinade from the lamb, reserving the marinade. Add the lamb and cook, turning, for 10 minutes, until browned all over. Transfer the lamb to a plate and set aside.

5

Add the marinade from the lamb and the carrots to the Dutch oven. Cook, stirring, for 5 minutes until the vegetables start to soften. Add the stock. Gently scrape the bottom of pan with a wooden spoon to loosen any browned bits. Add the dates. Return the lamb and any accumulated juices to the Dutch oven. Cover with a tight-fitting lid or double layer of foil, pressed down around the edges to seal.

6

Once preheated, put the lamb in the oven and cook for 4 hours. The lamb should start to fall apart when you pull it with a fork.

7

Transfer the lamb to a tray. Using two forks shred the lamb and put in a serving bowl.

8

Strain the cooking liquid into a small pitcher and pour a little over the shredded lamb.

9

Place the lettuce leaves on a platter. Top with sliced tomato, avocado and lamb. Sprinkle with sesame seeds and serve.

Tip: Before you start cooking check that the Dutch oven fits in the oven.