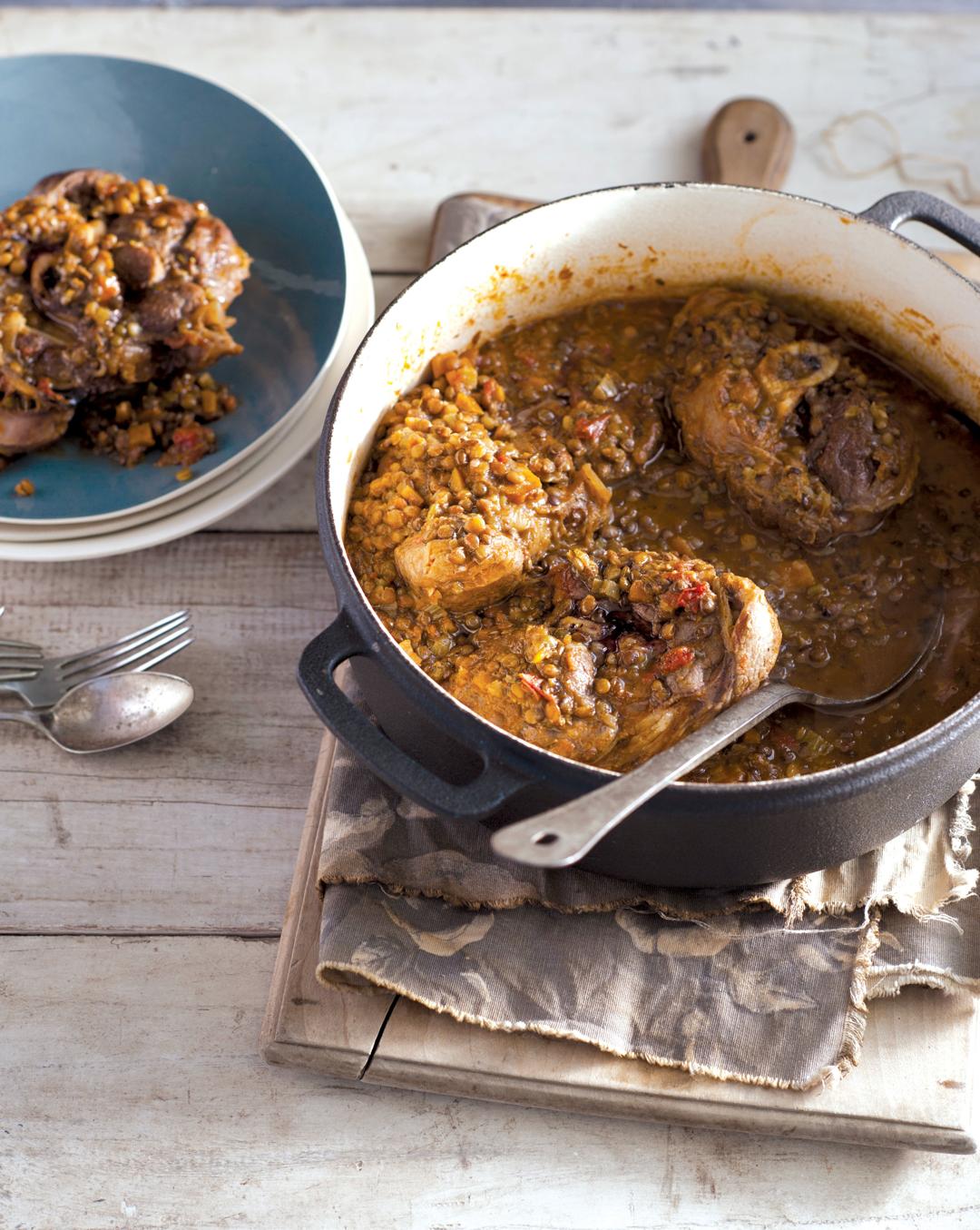 Ingredients
---
4 (2¾ lb) veal shanks for osso bucco

Freshly ground black pepper

to season

1 medium yellow onion

finely chopped

1 medium carrot

finely chopped

2 celery stalks

finely chopped

¾ cup (6 fl oz) white wine

14½ oz can diced tomatoes

1 cup (7 oz) dried French green lentils

rinsed

4 cups (32 fl oz) beef stock
To serve:
Soft polenta or crusty bread
Instructions
1

Heat a 4 ½ qt Dutch oven over medium-high heat until hot. Season the veal with salt and pepper. Add 1 tablespoon of the oil and half the veal. Cook for 2-3 minutes each side until browned all over. Remove to a plate. Repeat with oil and the remaining veal.

2

Reduce the heat to medium, add the remaining oil, onion, carrot, celery and garlic. Cook, stirring for 4 minutes until soft. Add the spices and bay leaves. Cook, stirring for 1 minute.

3

Add the wine and bring to a boil, boil gently for 2 minutes. Add the tomatoes, lentils and stock. Return the veal and any accumulated juices to the Dutch oven, ensuring the veal is submerged in the sauce. Press a piece of parchment paper onto the surface, this helps keep the veal submerged. Cover with a tight fitting lid or double layer of foil, pressed down around the edges to seal.

4

Insert the wire rack into the bottom shelf position. Preheat the oven. Select SLOW COOK/HIGH/4 hours and press start.

5

Once preheated, put the veal in the oven and cook for 4 hours. The meat should start to fall off the bone when you lift it out of the sauce. Remove and discard the bay leaves.

6

Spoon the veal and sauce into serving bowls. Season with salt and pepper and serve with polenta or crusty bread.

Tip: Before you start, check that the Dutch oven fits in the oven.