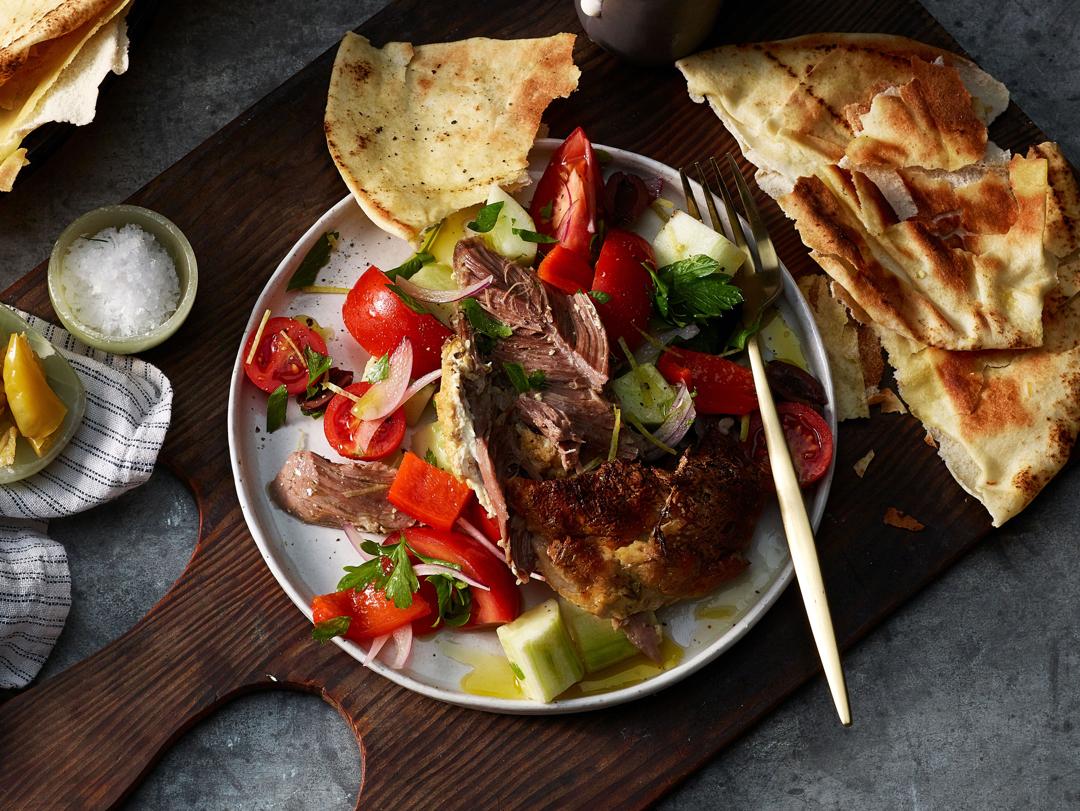 Slow Roasted Lamb Shoulder with Tomato and Olive Salad
Ingredients
---
2 cups (17 oz) Greek-style yogurt

4 thick cilantro sprigs

cleaned, finely chopped

1 tsp freshly ground black pepper

plus extra to season

6 lb bone-in lamb shoulder
For the tomato salad:
1 English cucumber

seeds removed, cut into ¾-inch pieces

1 large red bell pepper

cut into ¾-inch pieces

½ cup (2½ oz) pitted Kalamata olives

halved

1 cup (1 oz) firmly packed flat-leaf parsley leaves

coarsely chopped

3 tbsp (1½ fl oz) extra-virgin olive oil
For the garlic pita:
1 clove garlic

finely grated

2 tbsp extra-virgin olive oil

plus extra for serving
Instructions
1

Put 1 1/3 cups (11 oz) of the yoghurt, garlic, lemon zest, thyme, cilantro, sea salt, and the pepper in a bowl and mix well.

2

Put the lamb on a large plate. Spoon over the yogurt mixture and turn so the lamb is well coated. Cover with plastic wrap and refrigerate for 4 hours or overnight to marinate.

3

Grease the roasting pan with oil. Put the lamb in the roasting pan, fat side up. Spoon any marinade left on the plate over the top of the lamb. Cover with two layers of foil, pressed down around the edges to seal.

4

Insert the wire rack into the bottom shelf position. Preheat the oven. Select ROAST/CONVECTION/275°F/3 hours.

5

Once preheated, put the lamb in the oven and cook for 3 hours.

6

Remove the lamb from the oven.

7

Set the oven to ROAST/CONVECTION/275°F/1 hour.

8

Uncover the lamb and put it back in the oven to roast for 1 hour.

9

Remove the lamb from the oven and set aside to rest for 20 minutes.

10

Meanwhile, make the tomato salad, cut the tomatoes in half and then into thick wedges. Put the tomatoes in a large bowl. Add the cucumber, onion, bell pepper, olives and parsley. Add the oil, lemon juice and salt. Season with pepper and toss gently to combine.

11

To make the garlic pita, combine the garlic and oil in a small bowl. Brush one side of each pita with the oil.

12

Insert the wire rack into the top shelf position. Set the oven to BROIL/HIGH/1 minute. Broil the pita in batches for 1 minute until lightly toasted.

13

Shred the lamb into large pieces and put on serving plates. Drizzle with extra virgin olive oil, serve with tomato salad, pita and the remaining yogurt.