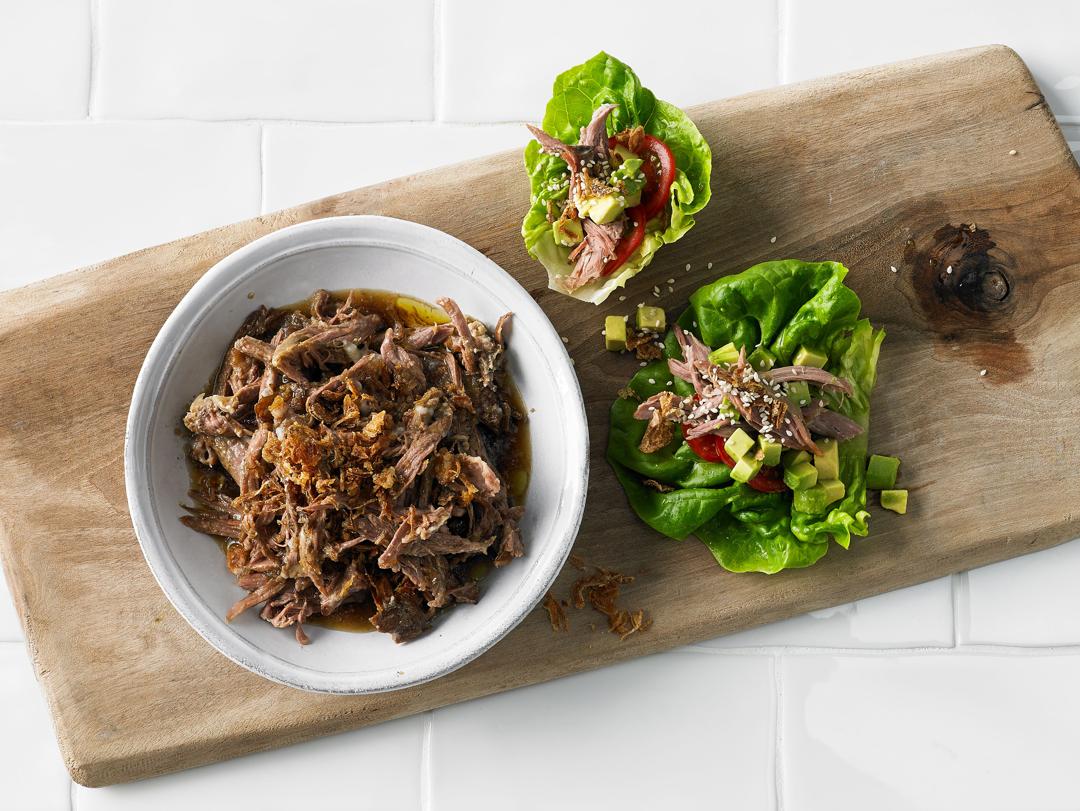 Ingredients
---
For the marinade:
1 medium yellow onion

coarsely chopped

Freshly ground black pepper

to season
For the slow cooked lamb:
3¾ lb boneless lamb shoulder

2 large carrots

finely chopped

2 cups (16 fl oz) beef stock

5 (3½ oz) medjool dates

pitted, chopped
To serve:
8 large cherry tomato

sliced

Sesame seeds

lightly toasted
Instructions
1

To make the marinade, put all the ingredients in a small food processor and process until the onion is finely chopped and the ingredients are well combined.

2

To prepare the lamb, put the lamb on a large plate. Rub the marinade all over the lamb. Cover and refrigerate for at least 2 hours.

3

Insert the wire rack into the bottom shelf position. Preheat the oven. Select SLOW COOK/CONVECTION/HIGH/4 hours and press start.

4

Heat a 4 ½ qt Dutch oven over medium-high heat until hot. Remove the excess marinade from the lamb and reserve. Add the lamb to the Dutch oven and cook, turning for 10 minutes, until browned all over. Transfer the lamb to a clean plate and set aside.

5

Add the reserved marinade and carrots to the Dutch oven. Cook, stirring, for 5 minutes until starting to soften. Add the stock, gently scraping the bottom of the pan with a wooden spoon to dissolve any sediment that has cooked onto the bottom. Bring to a gentle boil. Add the dates. Return the lamb and any accumulated juices to the Dutch oven. Cover with a tight-fitting lid or double layer of foil, pressed down around the edges to seal.

6

Once preheated, put the lamb in the oven and cook for 4 hours. The lamb should start to fall apart when you pull it with a fork.

7

Transfer the lamb to a tray. Using two forks shred the meat and put in a serving bowl.

8

Strain the cooking liquid and spoon a little over the shredded lamb.

9

Place the lettuce leaves on a board. Top with sliced tomatoes, avocado and lamb. Sprinkle with sesame seeds and serve. Tip: Before you start cooking check that the Dutch oven fits in the oven.