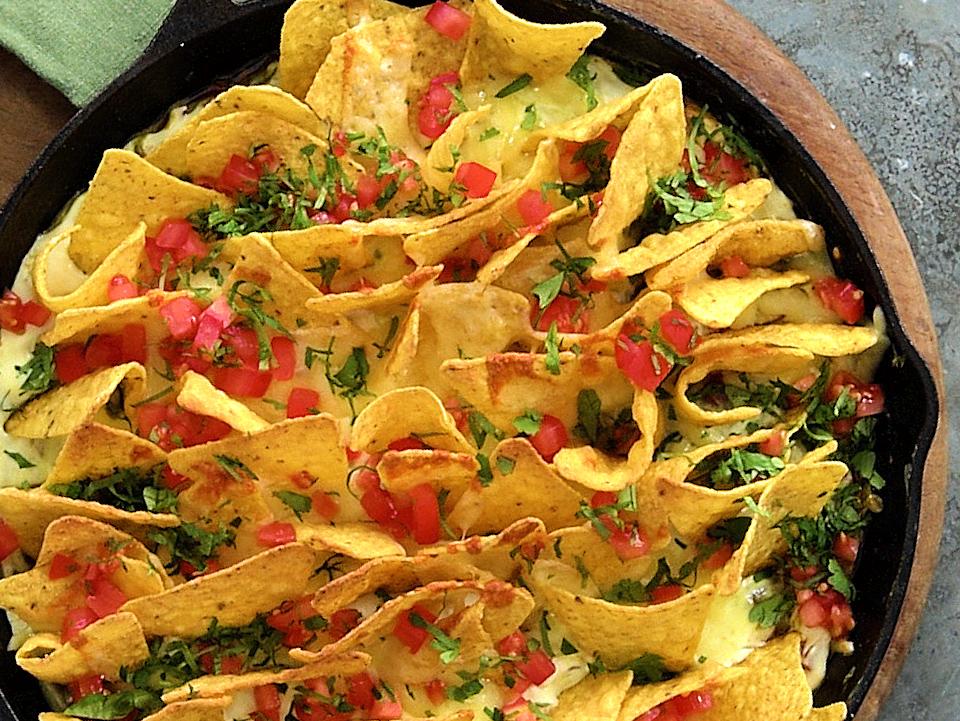 7 Layer Nachos
This is a 7-layer party in a pan - a fiesta of flavor, color and crunch! Beef n beans, gooey cheese and a fresh, zingy guacamole are just the start. There'll be a surprise in every mouthful – all you have to do is dip yer chips!
Ingredients
---
1 yellow onion

finely chopped

14½ oz canned crushed tomatoes

⅓ cup (2¼ oz) chopped pickled jalapeños

4 tomatoes

finely chopped, divided

1¾ cups (8 oz) shredded Monterey Jack cheese

divided
Instructions
1

Heat a 12-inch cast iron skillet over high heat. Add the oil and onion and cook, stirring occasionally, for 4 minutes, or until soft and translucent.

2

Add the ground beef and cook, stirring to break up the meat for 4 minutes, or until cooked through. Add the onion powder, garlic powder, cumin, coriander, paprika, salt and sugar and cook, stirring for 1 minute, or until fragrant.

3

Add the canned tomatoes and bring to a boil. Reduce the heat to low, simmer, stirring occasionally for 5 minutes, or until reduced slightly.

4

Transfer the beef mixture to a bowl.

5

Spread the refried beans over the base of the skillet and top with the beef mixture.

6

Sprinkle with the jalapeños, two-thirds of the tomatoes and about two-thirds of the cheese.

7

Insert the wire rack into position 6. Press PHASE COOK, for P1 select AIR FRY/SUPER CONVECTION/400°F/6 minutes and press CONFIRM. For P2 select BROIL/HIGH/3 minutes and press START to preheat.

8

Once preheated, place the skillet in the oven and cook until the cheese has melted.

9

Meanwhile, make the guacamole. Place the avocados in a large bowl and mash until almost smooth. Add the lime juice and salt.

10

Top the nachos with a layer of guacamole followed with a layer of sour cream.

11

Top with a layer of tortilla chips and sprinkle with the remaining cheese.

12

Return the skillet to the oven. Select BROIL/MEDIUM/3 minutes and press START. Broil until the cheese has melted and the tortilla chips are lightly browned.

13

Serve sprinkled with the remaining tomatoes and cilantro.

Tip: The fat content of tortilla chips varies from brand to brand which can affect the broiling time. Keep a close eye when broiling to avoid overbrowning.