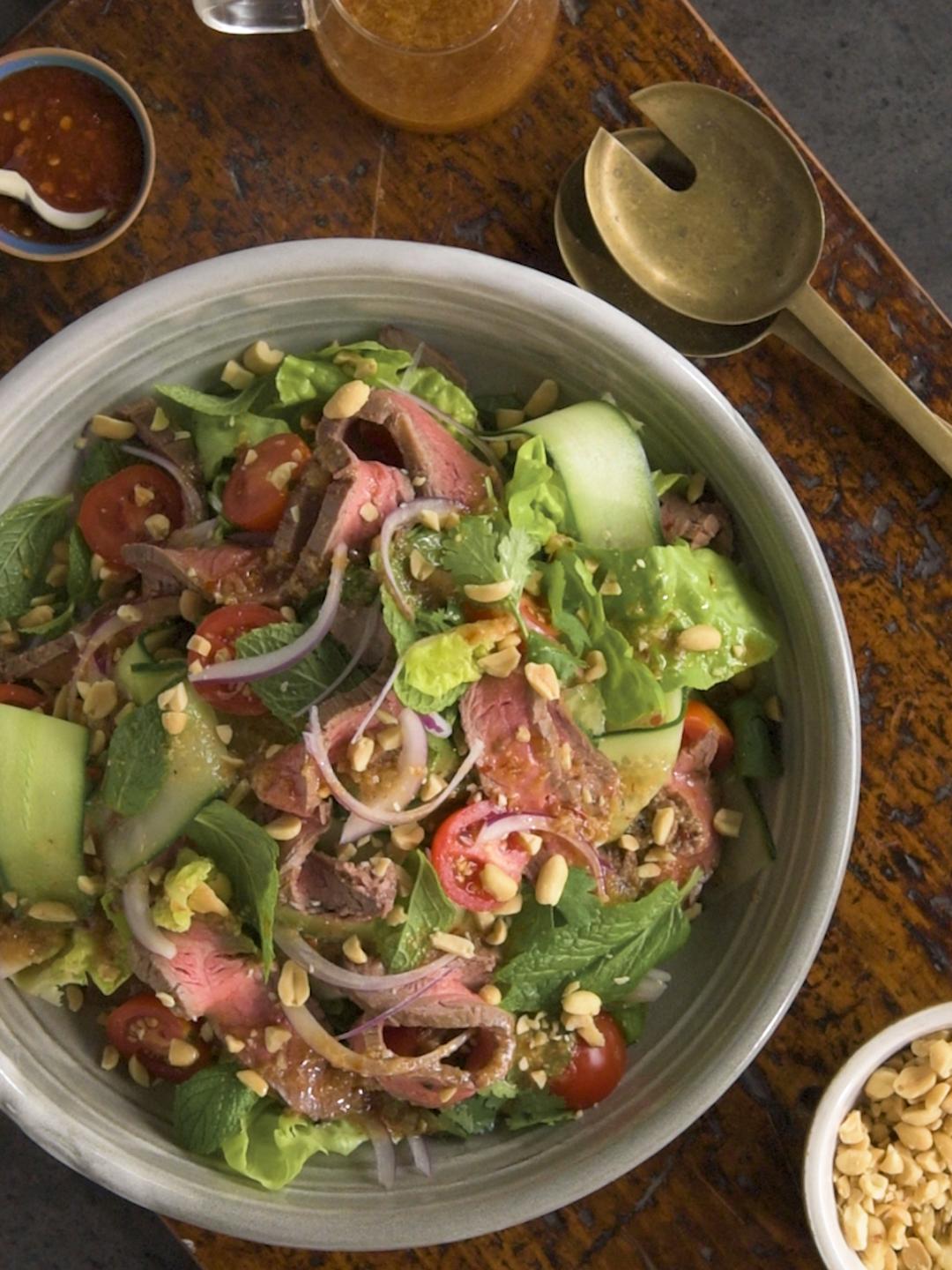 Grilled Thai Beef Salad
This colorful, healthy salad is ready to eat in as little as 30 minutes. The dressing is a perfectly balanced combination of sweet, salty and sour for the finishing touch.
Ingredients
---
For the dressing:
¼ cup (2 fl oz) fresh lime juice

1 tbsp finely grated ginger
For the salad:
1 head butter lettuce

leaves separated

8 oz cherry tomatoes

cut in half

½ cup (½ oz) cilantro leaves

½ small red onion

thinly sliced

⅓ cup (1½ oz) unsalted roasted peanuts

coarsely chopped
Instructions
1

Whisk all the dressing ingredients together. Measure out ¼ cup (2 fl oz) for the marinade and reserve the remaining dressing for the salad.

2

For easy cleaning and to avoid burning, line the roasting pan with foil and place the broiling rack on top. Place the steak on the rack and brush both sides with the ¼ cup dressing.

3

Insert the wire rack into position 2. Place the pan in the oven and start the timer. When the oven signals, turn the steak over and broil the other side. While the steak is cooking, assemble the salad.

4

Combine the lettuce, tomatoes, herbs and onion in a large bowl.

5

Cooking time is for medium doneness. If you like your steak cooked longer, give it a bit more.

6

Once cooked, remove from the oven and cover loosely with foil. Stand for 5 minutes to allow the juices to settle. Meanwhile, continue to the next step.

7

Cut the cucumber in half. Use a mandoline to thinly slice into ribbons and add to the salad.

8

Drain the steak and thinly slice. Add to the salad. Reserve the pan juices.

9

Pour the pan juices into the reserved dressing and stir.

10

Add the dressing and peanuts to the salad.