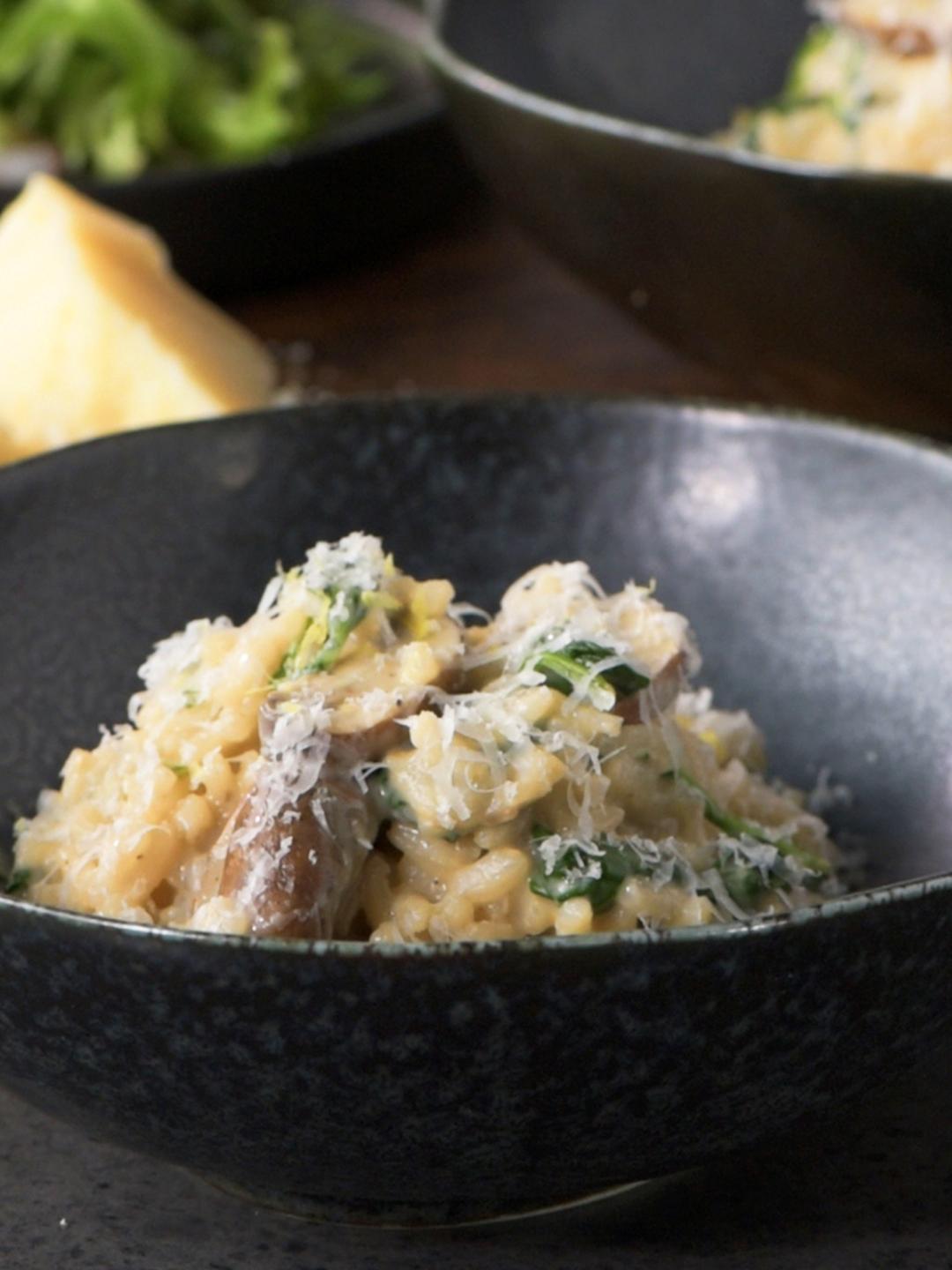 Baked Mushroom and Spinach Risotto
This oven baked risotto gets its richness and creaminess from the creme fraiche that's stirred through at the end. It's an easy weeknight dinner that doesn't require the constant stirring that's usually associated with traditional risottos.
Ingredients
---
1 small onion

finely chopped

8 oz baby bella mushrooms

sliced

2 cups (14 oz) arborio rice

½ cup (4 fl oz) white wine

4½ cups (36 fl oz) boiling water

¾ cup (2 oz) grated parmesan cheese

plus extra to serve

⅓ cup (2½ oz) crème fraîche
Instructions
1

Insert the wire rack into position 7. Meanwhile, continue to the next step.

2

Heat a 5½-quart (10-inch) Dutch oven over medium heat. Add the oil and onion and cook, stirring occasionally for 3 minutes, or until just softened. Add the garlic and cook, stirring for 1 minute, or until fragrant.

3

Add the mushrooms, cook, stirring for 3 minutes, or until lightly browned. Add the rice and cook, stirring for 2 minutes, or until lightly toasted. Add the salt and wine and cook, stirring until the wine is absorbed.

4

Stir to combine then bring to a boil and cover.

5

Once preheated, place in the oven and start the timer.

6

The rice should be just tender and still slightly firm to the bite. If not, give it a bit more. The risotto will thicken and become creamy when the remaining ingredients are added in the next step.

7

Add the spinach and parmesan and stir until the spinach has wilted. Add the creme fraiche and stir until creamy. Add the pepper. Using a microplane, grate over the lemon zest and stir to combine.

8

Serve topped with parmesan.